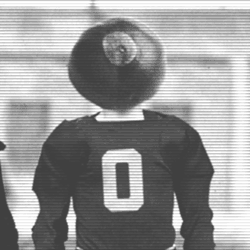 Buckeisenhower
---
MEMBER SINCE April 23, 2015
Recent Activity
I'm rooting for Justin Hilliard. I hope he gets year 6!
Hate to see someone hurt, hope it isn't too serious. As far as our defense or lack there of...Our linebackers run the opposite direction of the ball almost every play and just get covered up on average blocks. Kinda sad to see.
Great win. Optimistic about the future of the season now. Go Bucks!
Rumors typically turn to fact!
I don't think Rex Ryan is wrong at all and it's all for the money not the love of the game.
Clearly our best player yesterday. Curious if that was out of the ordinary for him or that's the standard. If that's his game, no reason for Fuller to start. We haven't seen a defensive backfield player look that good this whole year. Who else on the bench is the team stud?
I wonder why we never see coach Davis talking to the media?
You're in my prayers! An unknown friend who will make it! Stay positive!
I'm not sure if he'd help or not, but, I don't think he could hurt them. I think he can hurt themby leaving. That locker room feeling of if he doesn't care then why should I? That feeling exists whether we want to admit it or not. We all understand why he did it, but we have the right to disagree. I wish him the best but I'll take Aaron Craft in the trenches over Bosa all day! I'll also give Martell a red zone package!
I don't support the decision because I'm a team player. The players/coaches have no say in what they support or don't support...look at the Zach Smith situation. Shit the entire team is walking on ice. No one has anyone's back at this school. Hence quitting the team as a captain.
They are paid. They receive an 100+thousand dollar education for free. That's paid. My cousin was a valedictorian at The Ohio State University and he paid for most of his schooling. It's not free like an athletic scholarship. He should of stayed around for his teammates. Not necessarily to play, but to be the captain he was picked to be. Onto Nebraska.
Captain as voted by his peers...SMH
The best player on every team we play appears to be from Columbus...how do we consistently pass on these guys?
D line was running way too many stunts during passing downs to get to the quarterback. The play was two seconds in before our line even engaged their offensive line. Just beat the god damn man in front of you with your talent and heart. Is he better than you? If not go out there and prove it. Over power him and make the play. If you want it then go get it, that's the talent we've signed...last night they didn't want it and the scheme we drew up was atrocious. I'm no coach but I can see where our problems lie and we are losing in the trenches every play. Our linebacker scheme...? Well that one I will just never understand.
What stood out to me was the Johny Dixon kickoff return that was just a complete lack of hustle or care. He was in the game to field the next kickoff? That play alone puts you on the bench the rest of the game and maybe the following until you can prove you want to be out there. There is a lack of leadership from the coaching staff saying that play is ever ok by letting him stay in the game. Our captain quit the team because he was hurt. The leadership on this team is not setting an example I would expect from The Ohio State.
Life is definitely an under appreciated privilege. Sorry for your loss.
It's pretty awesome to see buckeye fans having the same thoughts as me. I'm ok with a loss tonight to put a smile on Tyler's face. This kid deserves a Purdue win. The buckeyes should pay him a team visit to say they are gonna win. I'd feel ok about it if we were to make that gesture as a friendly battle. Go Bucks! Go Tyler. I'll pray for him today. Couldn't imagine anyone having to be in that situation. Inspiring.
He can run a hell of a wildcat!
He can run a hell of a wildcat!
I miss Braxton Miller "the quarterback". I wish he would of stayed at quarterback. Braxton is a game changer from the pocket. A cornerbacks worst nightmare. You're almost forced to play zone every play because in man to man he will run away. I hope he plays quarterback in the Canadian League where I can be an awe of his plays once again.
From what I understood Zach Smith was horny. Great Recruiter, keep him around. Don't condone cheating but sounds like I would of cheated on that crazy bitch.
https://www.thepetitionsite.com/961/390/951/fire-michael-drake-ohio-state-president/?taf_id=58578255&cid=fb_na#bbfb=527642247
https://www.thepetitionsite.com/961/390/951/fire-michael-drake-ohio-state-president/?taf_id=58578255&cid=fb_na#bbfb=527642247
https://www.thepetitionsite.com/961/390/951/fire-michael-drake-ohio-state-president/?taf_id=58578255&cid=fb_na#bbfb=527642247
https://www.thepetitionsite.com/961/390/951/fire-michael-drake-ohio-state-president/?taf_id=58578255&cid=fb_na#bbfb=527642247