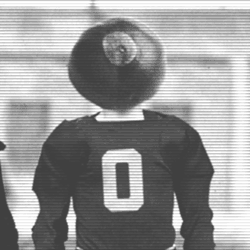 BuckDavis
---
Member since 07 May 2012 | Blog
Recent Activity
RE: "Spotted: Ricky Stanzi"
Well-played, sir. Well-played.
+1
Couldn't have said it better myself. According to Deadspin, for what it's worth, ESPN hadn't done half the research Deadspin had done. Deadspin was definitely in a position to report it with credibility, and they did. ESPN wanted to get a public interview with Te'o for him to reveal the story, thus giving Te'o and ESPN continued control of the narrative.
I do agree it seems a little harsh to drill her about it considering she's a columnist and not a reporter. At the same time, I can get some of the criticism. I don't remember everything from her interview with him, but the biggest complaint about it back then was that she really didn't press him on some of his more questionable answers, such as when he said he didn't even know about such a thing as "rape and a man." She alludes to these issues in the new column, saying he didn't always give "lucid answers" to her questions, but the criticism is that she really let him get away with some things in that interview.
Well, Craig just asked them how the team during some nonspecific season, just trying to joke like he kind of knew something about college football. I think the fan just picked a random year as a response, or he just made it up off the top of his head since the question wasn't really serious and no actual season was mentioned.
As I was saying earlier, I think the reason it's okay to continue ripping him for "The Decision" is because, at least to my knowledge, he's never acknowledged anything wrong about it and instead continued to rub it in Cleveland fans' faces with the Nike commerical. If he does talk about it being stupid, immature, and wrong at some point, then I think the criticism is no longer justified. As far I know, that hasn't happened.
For the record, I'm not big on Cleveland sports and I am a Cincy fan--I actually didn't mind Cleveland sports until rooming with a few Cleveland friends in college :) And I agree with BuckeyeDude that the way Lebron left Cleveland is the big problem more so than the fact that he left at all. It's his career and he can do with it as he pleases, if you ask me.
But I also agree with you that Clevelanders and everyone else should still be allowed to hate him. I still think "The Decision" was just too classless, and his complete lack of understanding for why it was wrong and lack of remorse about it later on are reason enough to keep ripping on him. The "What Should I Do?" Nike commerical just added to the whole idea that he's completely out of touch with reality, and the video response Cleveland fans put together calls him out on it beautfully (http://www.youtube.com/watch?v=ep-9sSKa0RA).
Instead of admitting in hindsight that he should have handled the situation better, he just rubbed it in Cleveland fans' faces even more. If he admitted that and apologized about it, I think further criticism would be wrong, but as far as I know that hasn't happened. Maybe he's just surrounds himself with too many yes-men.
What's interesting about the assessment of Tressel is that I've actually known Michigan fans that liked Tressel. I mean, they hated that he beat their team constantly, but they thought he was a stand-up guy. Come to think of it, every fan of another Big-10 team I've known has generally hated OSU but just because the Buckeyes win games.
Maybe that's just my experience, though.
To name a few:
Mark May, Stephen A. Smith (excellent parody of Smith if you haven't seen it yet), Colin Cowherd, Pat Forde, Craig James (if he still counts).
And of course, #1 is Skip Bayless, though to be sort of fair, I'm pretty sure Skip doesn't even believe half of what he says.
Long-time lurker, first-time poster. Unless I'm really missing something, it seems clear to me you did the right thing by reporting that guy. It's sort of troubling to me as an OSU fan that some others attacked you for it.
I only hope that any further news stories about this pedophile Buckeye fan associating with recruits also note that it was hardcore Buckeye fans that reported this guy and brought it to light in the first place.