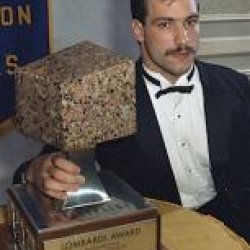 BuckChi
---
from Cincinnati
Member since 04 December 2012 | Blog
Favorites
COLLEGE FOOTBALL PLAYER: Chris Spielman
COLLEGE BASKETBALL PLAYER: Aaron Craft
NFL TEAM: Cincinnati Bengals
NHL TEAM: Chicago Blackhawks
NBA TEAM: Boston Celtics
MLB TEAM: Cincinnati Reds
SOCCER TEAM: The Ladybugs
Recent Activity
Eric, might want to rethink the phrasing of the subtitle on the main page for this article
Well, that's one way to spend your stipend.
Arkansas might be the pick to finish last in the West because they lost half of that star running back duo for the season due to a foot injury
This could be a preemptive strike. In the case of Dak Prescott, he was essentially forced to file for the trademarks to protect his eligibility:
http://deadspin.com/college-qb-forced-to-sue-t-shirt-company-to-retain-elig-1670342300
Got to love the NCAA
I think this list in incomplete. I would add "M*ch*g@n Night Game" Drunk. I lived in Chicago when they hosted their first night game against ND and saw at least 4 different groups of M*ch*g@n fans passed out and/or puking in the gutter...before the game even started. Amateurs.
It may. But I think the university is concerned with more than the legality of this jump. I do think the university is concerned with keeping everyone safe. Not only because they care about their students, but public perception would not be kind to the school if someone were to be seriously injured. I don't think the blow back would come from students, alums, and those familar with the tradition, but others outside. Simply pretending its not happening, or not attemptign real controls will not be enough
These solutions would not cover the non-students who choose to jump, which I think is one of the schools biggest concerns, as they have little to no measure of accountability on non-students.
No, I understand. Your argument is the purpose of hazing is to earn your place within an organization. But why does this need to be done through humilation and enduring physical violence? In the case of an athletic team, why is practising hard, making the team, making plays, and being a good teammate not enough to earn the respect of your peers? What is the purpose of these extra rituals?
I don't belive you understand the dynamics of hazing. Research shows us that hazing frequency and severity increases over time within organizations, as each subsequent generation/group trys to "out-do" the group before it. So to your point, this situation, in a vacuum, is fairly inocuous. However, young men and women at the high school and college level (who are not as morally developed as some adults) see this and copy it. But over time, each new class wants to show the younger class that they must earn they're way onto the team. And since they were hazed as freshman, they want to up the ante, till eventually the price to be apart of that team is enduring a sexual assualt (NJ) or touture (PA).
I don't feel this picture is appropriate for what this post is reporting on.
That damn dyslexia. Fixed to UM
I agree that the report is still credible, however, the way they chose to present it in the example I cited before allows others to dismiss (and ultimately discredit in their own opinions) their reporting.
Umm, VICE, why did you use (unnecessary) subtitles only when African Americans were speaking? Kind of discredits your reporting.