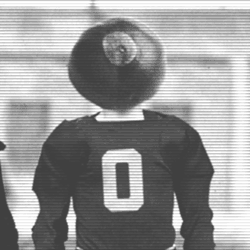 Buckbuster
---
MEMBER SINCE January 12, 2017
Recent Activity
NOW- Let's finish this!!!! GO BUCKS
i feel a lot better now then I did the first of the season about Chug. The kid has a very pretty pass and looks confident.
Alabama should sink out of top ten. They played nobody and when they did they got blitzed. Tua is way overrated. Georgia is a joke to. They should not be in top ten. Beat at home by S.C. who has got beat by a dud team . C'mon this list is a joke. If the Bucks got beat at home by S.C. we would not be in top ten. How can you justify this list????? Clemson has played nobody and has looked very beatable. This list is way off. I hope the committee brings the hammer down on these pretenders. GO BUCKS
Everybody wanting to bash the NCAA for this. It may be a stupid rule but it was and is still a rule. Chase signed and agreed to play by these rules. I can hear the questioning now. " Chase did Ohio State tell you to never do this. Well yes they did. About how many times did they have meetings telling you not to accept loans or money? UHHHH about a ZILLION times. Well Mr. Young why did you do It? UHHHHHHHHH." My disappointment lies with Chase Young. For everyone involved it SUCKS but he's the cause.
So much for a so called family friend. Sounds very fishy. If it was a friend how would anybody know about loan?? I'd say four games sounds about right to me. More will come out about this so called friend.
Well I hope that romp in the sack was worth the heisman and your final year at Ohio State. What a BONEHEAD move.
It's awesome we are going to get three years out of him. Day is letting these young guy's get on the field early and often.
This kids confidence is awesome. He's gonna be a good one.
Luv this kid and I think he will play a huge role down the stretch. Keep your head up Brendon and you will be on the highlight reel soon. GO BUCKS !!!!
Neither one deserves a ring. They both chose to leave so no rings baby. Those are reserved for those who stuck it out through thick and thin. Nuff said.
I nicknamed him 50/50 Victor last year because that's about the chance we had of him catching the ball. I didn't mean that in a bad way but I have always hoped for him to step up and start being the player that Meyer's bragged about in practice. Now's the time for him to start to earn his name, because as history shows if he came start catching passes consistently he will cash in at the draft.GO BUCKS!!!!
L. Johnson should have a TV show made about him. He's an NFL factory, producing stars every year. Every high school kid coming to the Buckeye's d-line is being taught by a Master a Sensei. Here's to rotating and seeing these guys on the field this year. I can't imagine being an opposing player and having guy's rotating in and out that are all just as good as the guy that went out. Scary. Tommy will be a star beside other stars. GO BUCKS !!!!
Hoping this kid comes back better then ever and has a monster year. Let's go Fuller ! Go Bucks!!!!!
He should have been playing sooner. That one is on the coaching.
I like this addition. I think the Buckeye coaches can bring out the best this kid has and combine this with him being a homegrown Buckeye, he can fit real nice here. Like Andretolstoy said earlier, he could surprise us. Definitely a plus. GO BUCKS!!
Well they both looked like rookies. To be honest I'm missing Dewayne. The whole offense didn't look right. The game left me with more doubt and questions then anything else. Good thing we got a lot of time, because after that performance I'm a little worried.
I think this kid will be playing come fall. Looks like he comes from a good family life and will be ready mentally come August. No doubt he has the skills and ability. And man does he look good in Buckeye attire! I'm so impressed by the kids Ohio State recruits. From speaking to the media to how they perform in class room is really unbelievable. If you don't think so go watch some other teams interview some players. Time for another Natty. Day's first year and his first Natty ! You can feel it coming, it's in the air. GO BUCKS !!!!
50/50 Victor is what I nicknamed him long ago. Here's to hoping he can put it together this year.
All I see is Ohio State showed off at the combine. This draft should be a great one for the Buckeye's. And please tell me how we didn't win it all?????
There's a lot of new that's gotta mesh together. I hope for one that the player's mesh quickly. That's where Day may shine is getting these kids to mesh and believe. I like Day, I just hope he has some of Meyer's intensity.
Well I'm going to have a FieldDay watching how coach puts all this together.
Great news for Kenny. Much respect and very happy he's doing well.
ESPN is such bone heads its unwatchable. All season long all they could say was how Alabama was head and shoulders above every other team. The minute they got beat all they could say was Clemson was head and shoulders above every other team. I feel we could have hung with either team. Plus after the treatment they gave Haskin's I won't be watching them again. Idiot's.
It's it's ooooon. Let the competition begin. Go Bucks.