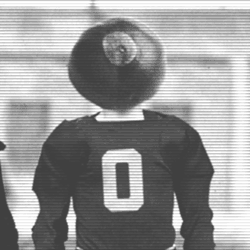 Buckbuster
---
MEMBER SINCE January 12, 2017
Recent Activity
He should have been playing sooner. That one is on the coaching.
I like this addition. I think the Buckeye coaches can bring out the best this kid has and combine this with him being a homegrown Buckeye, he can fit real nice here. Like Andretolstoy said earlier, he could surprise us. Definitely a plus. GO BUCKS!!
Well they both looked like rookies. To be honest I'm missing Dewayne. The whole offense didn't look right. The game left me with more doubt and questions then anything else. Good thing we got a lot of time, because after that performance I'm a little worried.
I think this kid will be playing come fall. Looks like he comes from a good family life and will be ready mentally come August. No doubt he has the skills and ability. And man does he look good in Buckeye attire! I'm so impressed by the kids Ohio State recruits. From speaking to the media to how they perform in class room is really unbelievable. If you don't think so go watch some other teams interview some players. Time for another Natty. Day's first year and his first Natty ! You can feel it coming, it's in the air. GO BUCKS !!!!
50/50 Victor is what I nicknamed him long ago. Here's to hoping he can put it together this year.
All I see is Ohio State showed off at the combine. This draft should be a great one for the Buckeye's. And please tell me how we didn't win it all?????
There's a lot of new that's gotta mesh together. I hope for one that the player's mesh quickly. That's where Day may shine is getting these kids to mesh and believe. I like Day, I just hope he has some of Meyer's intensity.
Well I'm going to have a FieldDay watching how coach puts all this together.
Great news for Kenny. Much respect and very happy he's doing well.
ESPN is such bone heads its unwatchable. All season long all they could say was how Alabama was head and shoulders above every other team. The minute they got beat all they could say was Clemson was head and shoulders above every other team. I feel we could have hung with either team. Plus after the treatment they gave Haskin's I won't be watching them again. Idiot's.
It's it's ooooon. Let the competition begin. Go Bucks.
I love this kid. I hope we see him on the field this fall.
We gonna be fine either way. Hearing great things about Baldwin, so it's definitely going to be a competition. Go Bucks !!!
Sounds like he's hoping to be a big fish in a little pond. This kid is having trouble weaning himself offf of mommy. I see no real loss here.
What ever it was means it was a stupid decision on his part. No sympathy here.
Yes TigerSweat it does suck we only got one year out of him. Meyer's was in love with JT and we had to endure him one final year that should have been Dewayne's first year.
Throwing a pass to Victor has always been a fifty fifty Ball. He's been around fifty percent his whole career and I don't expect it to change.
No one could jump start a crowd any better then Smith. One of my all time favorite Buckeye's
This is the definition of being a total dumb bass. When you get this kind of opportunity and you blow it by doing something to be kicked off the team it's really hard to understand.
I liked this kid Baldwins interview where he stated if you don't like competition don't come to Ohio State. Players have spoken highly of this kids talent and I think he carries himself very mature like. He has the potential to be one great QB.
Hopefully in his fifth and final year he will learn to turn and look for the ball. He always has his back to the ball because he's usually beat. I would like to know just how many pass interference calls he has had. Hope a newbie betas him out. He has been hard to watch.
Well I and everyone one else saw this coming a mile away. If I were in Tate's shoes I would be pissed too. I for one love Martell and was excited to see him get his opportunity this year. Tate if your reading this please stay and win the job. You have a lot of fans pulling for you. Your as good as anyone in the country so please stay and fight for the job.. Tate has been a great Buckeye and I wish him the best but I hope it's with Ohio State Buckeyes.
Olave one side and Wilson on the other