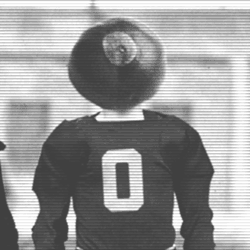 BuckBlue
---
MEMBER SINCE October 08, 2015
Recent Activity
You mad? Just here to have fun so stop being a tool.
Just giving you a hard time. But good response with coy lol. Anyway I don't think many predicted a team with a new qb (backed up turnover king ruddock) and down to its 4th string rb before season to do much damage.
You picked Iowa to win early in the year? You just lost ALL footbal credibility. What was it you saw?
Haven't heard that joke since 1987
Nice face paint and pouty lips bro!
So glad to see this brand of football. And even though we were killing the clock at the end, watching cardale run the offense was still every bit as painful.
Will always support port all buckeyes, but thank you lord JT is back.
Wonder why 11 players suddenly showed improvement last night? Wide receiver problems are gone, play calling issues as gone, etc etc
jt! Jt! Jt!
Right on brother. Preach!
I was jk. We were killing the clock...
Because Jt scored in mop up and cardale....
No disappointment tonight.
Those concepts would be ideal for any team in the country so no duh.
Quit being a tool. FuckBlue was less appropriate.
You probably weren't looking for a debate but that's an interesting point. Personally I would say QB and H first, but then TE. A running QB and a shifty H really open up the offense. Of course they go nowhere without a blocking/catching TE. I'm not underestimating the O-line, but there are more of those bodies available to recruit.
Seems both rhetoric and maturity escape you. Good day.
Calling it like it is while showing no disrespect to the player is now unsupportive? Because it varies from what you think. Well done. You're the one calling names and making false accusations. Do you logic?
It was just a joke. Like "Go home, Nancy, you're drunk!"
Nah time for Jt just touchdowns.
How do you explain the wide open receivers he missed by 10 feet?
He's a D1 QB. He's expected to handle pressure. That's an excuse. An excuse.