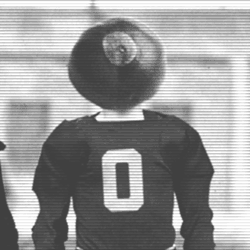 Buckataltitude
---
Normal, IL (via Byhalia, Ohio)
MEMBER SINCE October 06, 2013
Graduated in '08. Moved to Kentucky. Now living in Colorado. I really miss the midwest and Ohio.
Favorites
SPORTS MOMENT: Anytime in The 'Shoe
COLLEGE FOOTBALL PLAYER: Troy Smith
COLLEGE BASKETBALL PLAYER: Aaron Craft
NFL TEAM: Bengals
MLB TEAM: Reds
Recent Activity
"He looks like the poor man's Kliff Kingsbury" - my wife
Just playing devil's advocate. What happens if Wisconsin had some better passes and not dropped a few catchable balls?
FYI......Smooth Jazz is the wr coach of Houston.
McDonough is Beth Mowens twin..........just saying.
I have the same thought. I believe Meyer is much more involved in the offense. I feel like he is overriding play calls. You would think a new oc would bring in different plays.
Is Speight Harbaugh's long last son?
I went to the tulsa game and never left my seat during the storm. The stadim was much louder after the delay. Maybe there needs to be a weather delay each game to filter out the non-cheering types.
283
Don't ask me about my business and I won't tell you goodbye.
212
You went in for cover during the storm? That was the best part of the game.
Just pointing out Larry Johnson doesn't cuss and is still a good coach.
I agree
I completely agree! Seeing it from block O was awesome.
No Richard Cheese yet???!!!!!
I don't know why, buy I always have a guilty pleasure of metal bands covering pop songs.
He answered some questions, they were short answers, but he was up there for a few minutes. They were asking basically the same question over and over again. He does need to suck it up.
There is a Bud plant in Colorado.......but seriously so many good beers in Colorado he could have mentioned.
Found this the other day.....very fitting for this party.
Just had to mention this is spot on. A recently hired guy where I used to work always managed to say something about his masters degree from UM. Literally, it seemed like every conversation.
My wife starting teaching at ISU, so we went to all the home games. They called him Boom Perkins on senior day. He was a force this year. There are 2 others in ISU that I believe could have a chance at the next level. Senior RB Marshawn Coprich, he is a stud. Kid ruins hard. Sophomore WR, Anthony Warrum. He was basically there only WR. Oh and the kicker isn't bad. OSU should come grab him.
People in Lexington, KY freak out at the thought of snow. It is quite pathetic. Everything shuts down. Also, people in Fort Collins, CO would have a panic at first snow. It really aggregated me living at these places. I kept thinking its just snow, not the end of the world.
Hey now....I knew it was going to happen. I was actually house hunting - which really is just celebrating the big recruiting day!