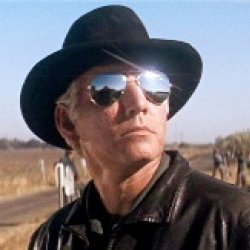 Buckaroo Banzai
---
Columbus, OH (via Columbus, OH)
MEMBER SINCE December 08, 2016
OSU grad x 2. Retired shyster.
Favorites
SPORTS MOMENT: All OSU football victories; 85 Yards Through the Heart of the South.
COLLEGE FOOTBALL PLAYER: Archie Griffin. Is there any other?
COLLEGE BASKETBALL PLAYER: Dennis Hopson
NFL TEAM: BROWNZ.
NHL TEAM: Hockey is a Canadian plot to conquer the world.
NBA TEAM: CAVs Rock.
MLB TEAM: The Birds on Bats
SOCCER TEAM: None. It is hockey played on grass.
Recent Activity
I get all my news from 11W.
I couldn't have said it better myself (or shorter)
Condensed version: Criticism of the coffin corner strategy is wrong because . . . MATH!
Were Ambrose Bierce still alive, I would like to think that he would have already added a definition for "Twitter" to his masterpiece, The Devil's Dictionary:
Twitter, n. - An ingenious communication platform permitting ignorant and illiterate cretins to publish astonishingly stupid stuff.
They were worse at converting points inside their opponent's twenty yard line than when Joe Bauserman had the reigns of the passing offense for part of the season.
I must apologize up front here. I mean no disrespect, but we must fix this issue. There has been a previous post on treacherous sound-alikes, aka homophones, including specifically the unholy trinity of rain, rein and reign. I realize I am not the king of spelling and thus I do not reign supreme over all others. So, rather than rain down derision upon our author, I will seize the reins here to note simply that "reigns" is not the optimum word choice for the sentence quoted above. You may downvote me at will. I certainly deserve it.
What is this? A post with content? A post with content! And not just any content, but meaningful and well written content. Where is the beloved link and bolt?
I don't know what to do. I think I want my money back.
Poison ivy free at last, poison ivy free at last. Thank God almighty, poison ivy free at last..
MYTHigan will lose 4 games and all the Wolverqueen fans living in their putrid state will finally realize they suck ass.
Dude! Upon what planet do you dwell?
Ttun has sucked sphincter since the disappearance of the leather helmet and those fans still think they walk on water. If that is not enough objective, incontrovertible evidence to disabuse them of their conceit and hubris, a four loss season will not even cause a tick on the needle of the self-doubt-o-meter.
If you find "Michiganian" awkward, as do I, you may disregard the U.S. Government Publishing Office Style Manual and utilize the Buckaroo Banzai Style Manual, which provides as follows:
Comment removed for violating the site's commenting policy.
Ahh, cut him some slack. By his own admission he "sometimes live(s) under a rock."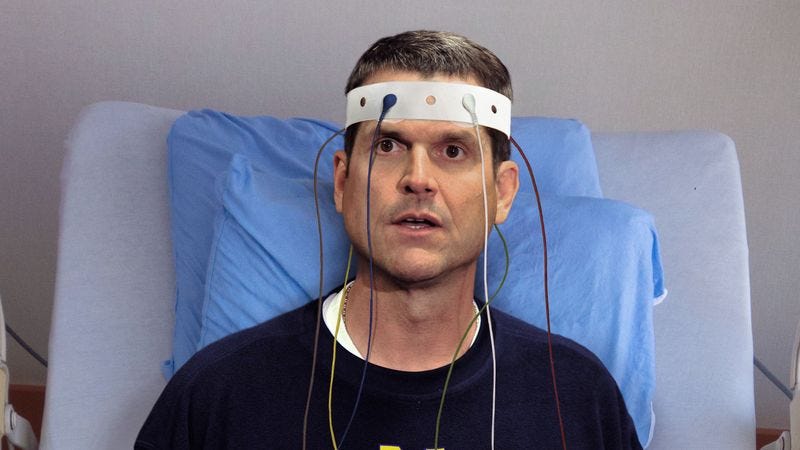 The chap doing the voice-over explained it one sentence, shortly after pronouncing "aesthetic" as "assthetic." He said "cars like the newest gen Camaro and the Ferrari SF90 are great examples of cars that were fashioned by too many engineers and not enough artists." Interestingly, Ferrari and most of the other Italian supercar manufacturers have moved away from the past practice of utilizing the great Italian design houses or "carrozzeria" (Pininfarina, Zagato, Bertone, Italdesign Giugiaro and Ghia) to design the bodywork for their vehicles, electing to keep that phase of vehicle development in-house, or in some cases acquiring a design house outright and integrating it into the manufacturer's corporate structure. From 1951 until 2013, Pininfarina designed all of Ferrari's production models except the Bertone-created Dino 308GT4.
I read up on this a few years back after a trip to Wendy's. After I placed the order, I turned around and leaned against the counter. I started looking around and noticed this very cool looking Coke machine. As I appreciated its "assthetics" I noticed a familiar looking chrome emblem on it, right in the middle of the machine. I pondered that a moment and walked up to the machine to get a closer look, thinking all the while that it could not be what I thought it was. But sure enough, when I got close enough, there it was:
So it seems that the surviving independent legendary coach builders of Italy have more aggressively expanded their reach within the industrial design world to help fill the void left as the supercar manufacturers are migrating toward in-house design. Let's face facts. In the modern corporate world, artists are always gonna lose out to engineers, and engineers are always gonna lose out to bean counters.
I have no skin in this game.
Great story Shark and thank you for your service and God Bless you. And better late than never, welcome home. We are so glad you made it.
I don't remember where I was or what I was doing when Apollo 11 took off, but I vividly recall where I was when Neil hopped off the Eagle. My Uncle John had, the day before, dropped right in his tracks of a massive widow making MI and we were in Lancaster, Ohio with my Aunt Ginny and my cousins. It was at the tender age of 12 that I experienced "bittersweet" for the first time. Uncle John was 36 years old at the time, 6'4" tall, 225 lbs. and the picture of hale and hearty health.
That assumes the fourth and fifth receiver on the field are going to draw attention from - how do we put this delicately - special teams guys, smallish linebackers or mediocre corners. Here's a good example. Start watching at...really, any point in that video.
Cold, man. Cold as hell. Loving it.
Facts are facts.
The Learfield Directors' Cup honors overall athletic success over 20 major sports - 10 men's, 10 women's - at Division I institutions. This twenty-five school list, which is a five-year average of the Learfield Cup standings for Power Five conferences, has been updated through the just-concluded season. Accordingly, 2012-13 data is out, and 2017-18 data is included in its stead.
No. 8 on the list: TTUN
No. 6 on the list: Ohio State
As a user on MGoBlog pointed out:

Of the 7 universities that have made at least 3 national-championship game/series appearances during this time, they're 1 of only 2 that have done it in multiple sports and they're the only team not to win at least 2 of them, let alone 1 (Alabama: 5-2, all in football; Minnesota Deluth: 3-1, all in hockey; Vanderbilt: 2-1, all in baseball; Virginia: 2-1, 1-1 in baseball and 1-0 in basketball; Clemson: 2-1, all in football; South Carolina: 2-1, all in baseball; and Michigan: 0-4, 0-2 in basketball, 0-1 in baseball, and 0-1 in hockey).
The Michigan Man solution to the problem: Redefine the category of the four majors in college athletics.
If you include softball in with the big 4 sports, then over the past 9 years, Michigan has played in a national-championship game/series in 5 of them. . . - Ham - June 27th, 2019 at 12:46 AM
Yeah, that's right, it's the five majors now.
Viewed from another angle, this does indeed prove how intellectually gifted your average UM fan must be. The mental gymnastics required of a Michigan Man to battle the tidal wave of cognitive dissonance crashing down upon him in order to hold fast to the belief, to a moral certainty, that it is his birthright to be elite, would surely exhaust a lesser man unto death.
Those who stay will be champions . . . of sophistry.
The Vest said he did not reveal to the NCAA that former OSU quarterback Terrelle Pryor and the other players involved were trading memorabilia, including Big Ten championship rings, gold pants pendants, autographed items and parts of football uniforms, for tattoos and cash because the tattoo-shop owner, Edward Rife, was under an ongoing federal investigation for drug dealing. He additionally stated that he didn't want to jeopardize the federal investigation and feared for the safety of his players. [Factual note: The investigation of the drug distribution ring which eventually secured the convictions of Rife and his supplier, Rigoberto Gomez-Gomez, was conducted by a multi-jurisdictional task force comprised of personnel from the IRS, the FBI, the Columbus Police Department and the Franklin County Sheriff's Office].
Former OSU player (walk on linebacker in 1983 when the Vest was an assistant coach under Earle Bruce at OSU) and frequently sanctioned Columbus attorney Chris Cicero had emailed the Vest about the matter, beginning with an email on April 2, 2010. Rife had previously met with Cicero to discuss his case, but never hired him to represent him in the matter (which raised the specter of Cicero having violated the Ohio's Rules of Professional Conduct by disclosing privileged information). According to his own statements during the investigation, Cicero named at least two players who had traded memorabilia for tattoos, Terelle Pryor and DeVier Posey. While the nearly one dozen emails exchanged between Tress and Cicero showed that Tressel learned about what was going on as early as April, he did not disclose it to the university until January of the following year, when university employees discovered it while searching for information and documents pertaining to an unrelated public records request. Ohio State self-reported it to the NCAA on Feb. 3.
The final report by the NCAA Committee on Infractions found Tressel's reasoning for withholding what he knew not to be credible. "The former head coach's inaction on four different occasions was in the committee's view, a deliberate effort to conceal the situation from the institution and the NCAA in order to preserve the eligibility of the aforementioned student-athletes, several of whom were key contributors to the team's highly successful 12-1 season in 2010."
To me it seems somewhat credible that Tress may have had some concerns about his obligations to the University and the NCAA given the existence of a criminal investigation. Such a fact pattern raises questions regarding the hierarchy of laws, such as whether federal and state laws relating to criminal prosecution and the administration of justice might well trump the bylaws of a private organization like the NCAA and contractual obligations incurred with the university, inasmuch as reporting what he learned to the university and the NCAA could have become public quickly enough to tip the drug ring to the investigation, thus jeopardizing it. Be that as it may, he could, and probably should have, sought legal clarification, either via the counsel for the university, or if concerned about the preservation of confidentiality pending that clarification of his obligations, via private counsel retained by him at his own expense.
Do that. But they will still go on and on about Michigan football back around the time the cotton gin was invented.
Michigan's color television present neatly overlapped with its yellowed newspaper past.
What a tight and pithy metaphor. This is but one of many reasons that Ramzy is must-read internet. I can chew on that sentence for the rest of the week, savoring its succulence, marveling at its perfection.
If we're talking about Day's accomplishments like that 7 years from now, Ohio State will have bored the rest of the B1G out of competing for a conference title.
They can become "baseball schools."