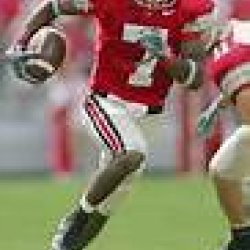 Buckabroad
---
Member since 15 March 2013 | Blog
Favorites
SPORTS MOMENT: Holy Buckeye
COLLEGE FOOTBALL PLAYER: Ted Ginn, Jr.; Vonn Bell
COLLEGE BASKETBALL PLAYER: Jim Jackson
NFL TEAM: Tennessee Titans
NHL TEAM: Nashville Predators
SOCCER TEAM: Hannover 96
Recent Activity
See, TTUN has more losses than Ohio State.
I still think Pryor in Meyer's spread (and no scandal) would have been legendary. If that had transpired, Pryor likely would be top 3 at least.
Was going to write that as well. Watching Ginn and Holmes destroy that Notre Dame backfield in the Fiesta Bowl always brings a smile to my face.
I truly believe this TTUN game will be especially important. We have to do whatever we must to try and curbstomp them in their house this year. If JH should suffer a 2015-type loss at home to Ohio State in his third year, the TTUN brass likely will get nervous. That may get the downward spiral started in AA. How glorious would that be to behold?
If you include Spence in the 2014 version, I would be highly inclined to take that DL. Still salty that I never had a chance to see fully what destruction a Bosa / Spence rush would have yielded. Especially toward the end of that season, Bosa routinely faced double, sometimes even triple teams. How do you do that when Spence is on the other edge?
To me it seems to imply a massive degree of desperation on the part of TTUN nation. Almost as is they have dispensed with any hope of beating us and now seek conslation in close losses and delusions of referee malice. Go figure.
She married Bert because she loves his wit and sophistication. I am appauled that you could imply otherwise.
Did these guys actually watch the Opening? What's with the Ohio State hate?
Wow, what a great write-up. I didn't even know about Iowa Pre-Flight, much less that they once were ranked no. 8. Interesting stuff.
Agreed. I too have a post-game botle of single malt at the ready, just in case the pre-season expectations for the offense (again) are not met.
My God, is Braxton a chingón!
Amazing DL prospects Ohio State is pursuing. I really like Smith and Oweh. Both seem a bit underrated at the moment but probably will receive a ratings bump soon. Like many here, I wonder if there is any chance Smith joins the Buckeyes and moves inside while Parsons and Oweh join as DEs.
Let me guess, next two on deck are Arkansas and LSU?
"So who's showing you the most love."
"I would have to say it's Ohio State."
I like the sound of that.
No doubt Braxton would have taken the 2014 team very far indeed as well. Probably the greatest athlete I have seen in some time. Still, with Devin Smith and Michael Thomas, it would have been hard for any of our QBs to look bad that year.
Based on what I heard and saw on videos, L'Christian Smith really showed what he can do in Oregon. He seems a bit underrated on the 247 Composite but may well get a rating boost soon. Either way I would be very happy to see him as a Buckeye.
Top 5 would probably be 1) "Macho Man" Randy Savage, 2) Ultimate Warrior, 3) Roman Reigns, 4) Charlotte Flair and 5) Cesaro. Absolutely hated / hate Hulk Hogan, Kevin Owens and Finn Balor.
Great point. I think it was Mark Twain who once said "Never argue with an idiot, he will drag you down to his level and beat you with experience."
Keep doing it, BG.
Also, I wonder if TTUN fans accurately can argue they were 8-2 against Tressel. It is my understanding that the win against TTUN was vacated, not forfeited. If a win is vacated, I believe that only means that the win does not count for the victorious team. It does not mean that the losing team is credited with a victory it did not in fact earn.
It's simple really. They talk the talk, Ohio State walks the walk.
"We're talking about a line that could feature him, Carmen, Wyatt, Jones, Myers, and Munford/Wray on it and we're not even done yet."
That just made my day.
This is a great overview of the current recruiting situation. Thank you for all your work. I know recruiting is fluid and things will change, but still ... it looks very impressive for us right now.
So you think another boom is imminent?
Awesome job by the staff. With Vincent and Jones, I believe Ohio State now has the no. 1 and no. 3 DT in the 2018 class.