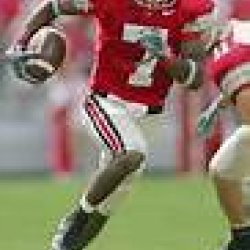 Buckabroad
---
Member since 15 March 2013 | Blog
Favorites
SPORTS MOMENT: Holy Buckeye
COLLEGE FOOTBALL PLAYER: Ted Ginn, Jr.; Vonn Bell; JK Dobbins
COLLEGE BASKETBALL PLAYER: Jim Jackson
NFL TEAM: Tennessee Titans
NHL TEAM: Nashville Predators
SOCCER TEAM: Hannover 96
Recent Activity
Nick Bosa, the best defensive line player regardless of position. Fixed that.
Love that Harbaugh player development. No sarcasm.
Tend to agree with this. The millions that the coaching staff is raking in - including a head coach raise after a msierable 8-5 season - likely will not cushion that descent into madness any either ...
"Let's just first make sure it has a top-10-caliber coaching staff." Great comment regarding the TTUN coaching staff.
A number of TTUN fans seem convinced that Jimmy's raise is justified and that championships will be rolling in anytime now. I wonder sometimes: When does confidence slip to hope, hope to desperation, and finally desperation to madness? Where would the TTUN fanbase find itself on this scale?
That quote from Conan the Barbarian will always receive an UV from me. And yes, very appripriate in this setting.
"We are paying for a Nick Saban-Level program." He's not wrong. After that season, that would put me in a contemplative mood if I were the TTUN brass.
Sam Webb, from TheMichiganInsider.com, now also has a CB for Friday in favor of OSU. I wonder what happened. Whatever it is, I am really happy to see it!
Thank you TBG, I appreciate it.
Fully agree with you on that point. JT had some great games as well.
Can someone at ESPN tell me who Tate Martellis is? Sorry, couldn't help myself.
I am very grateful for JT's performance in the PSU game. That was exceptional. Still, hard to disagree with LB U: Those pick-6s against Iowa to start the game and against Wisky in the B1G championship were devastating.
Sorry to see Baker go. Great player, great Buckeye. Will be a valuable, athletic addition to an NFL team.
Take this tweet for what it is: an expression of insecurity. Oh, and LOL to Georgia who had not sniffed a title game since the early 80's.
Agree. That was a great performance. I have not seen that much grit and self-confidence against an elite team in a long time. Very proud of our guys.
I don't think that they are. They duped a number of recruits the first few years with antics and the myth that JB is a good coach. Nothing can obfuscate the fact of TTUN's slide and lack of player development. The current TTUN class seems to imply that many recruits now clearly see through the TTUN ruse. Just my take.
Fantastic Job! Our dudes are on a role!
Togiai is the man. I am really glad he is on board. He and Vincent are going to be punishers for us on the interior D-line.
Sorry about that. Won't happen again!
They are delusional when it comes to Jimmy. But you would have to think the facts would catch up with them eventually. Or will they make these excuses for him for 25 years?
Please tell your employee that the two are mutually exclusive, i.e. if a coach requires 5-6 years to build a team, then he cannot be elite.
Don't quite understand the Oweh decision. He says development is most important, then turns down LJ's tutelage to go to PSU? Oh well, I am very happy Tyreke committed. That man will be a boss on the D-line.
Actually, back then, I was hoping Juju would wear an OSU jersey during college. Props to the man, both for standing by his school and for honoring his bet.
I nearly dispensed my second DV ever (and the first was a fat finger error), because the thought of a 1996-type event arising again makes me physically ill.
Instead I gave you an UV, due to the utter veracity of your sentiment. Each and every victory over those charlatans must be cherished. Our Golden Era might end at some point ...