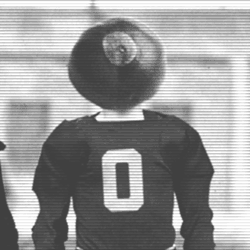 Buck95
---
MEMBER SINCE December 05, 2014
Recent Activity
I stand corrected - but a pretty minor infraction. 2 games for $200.
When was Galloway ever suspended? I don't recall that ever happening. I know Cris Carter was suspended for signing with an agent. Galloway played 12 games in 1991 and 1993, 11 in 1994 and 2 (due to injury) in 1992. He graduated winter quarter 1995 with me (same major, common classes), and seemed to be a good guy.
The best thing about TTUN being 5-2 is that they have a chance to get to 5-3.
I always got a line or two into his posts and thought to myself "what am I reading?" It got to where I would see his "name" and skip reading his posts. It took too much effort to try to digest what he was saying, although if I made it through, he typically made solid points. I never DV'd him though.
The fullback is gone in name, but the concept is still there, at least when they go 12 personnel. In some cases, with the QB under center, one of the TE's motions into the backfield and is used as a lead blocker on pseudo I formation plays.
Assuming Day runs the table this year, games 20, 24 and 25 are at Oregon, at Sparty and at Penn State. Game 23 is in the shoe against Iowa.
I think we're living in an age of recency bias, and I don't think we can strictly go by numbers either. We ARE talking about all of OSU history after all.
Archie, Eddie, Hop Cassidy and Vic Janowicz all won Heismans, and Hop was on the 54 national champs. Byars was screwed out of a Heisman. And how about Chic Harley, who played numerous positions but was primarily a halfback? Dobbins is at least behind all six of those guys. And I don't think there's any way OSU wins the 2002 title without Clarett, so even with his lack of longevity at OSU, there's at least a discussion there. I don't necessarily think winning a natty this year actually elevates Dobbins as much as it did for Clarett, given what else is around Dobbins (particularly Fields vs. Krenzel). In my mind, Dobbins at best could reach 7 or 8
That brings us to another discussion, where we compare Dobbins to Zeke, Hyde, Beanie and maybe even Pete Johnson and Jim Otis. I think there are at least questions as to where JK stands among these guys
Sorry, BB, but Illinois in no way dominated Nebraska. In fact, it's the other way around. Final yardage totals for the game were 673-299 in favor of Nebraska. but the Corn People lost 4 fumbles, leaving Illinois with TD drives of 37, 2 and 14 yards. If the Huskers get the corn oil off of their hands, they win that game going away.
I think the title of this thread is appropriate. It's "way too early" to be talking about this.
Ask again in a month or so. This is a discussion for between Halloween and Thanksgiving.
There's two problems with the UPS thing. First is that on school nights (Sunday-Thursday), and at least in OH, teens can only work until 11:00 PM. IIRC, the UPS gig is normally an overnight deal - I think like 11:00 PM to 4:00 AM or something like that. Second, I think you have to be 18 to work at UPS. I think they hire a lot of college age kids.
This isn't too out there, but if we have leftover taco meat from the night before, I'll throw down the occasional taco omelette.
Actually, it's guaranteed to work 46.37% of the time - that's the real number. I think you forgot about the "green" numbers.
Yeah, I got my lifetime membership 20+ years ago too (95 grad).
There's nothing wrong with building a bong. Maybe they want to see how industrious he is and how he works with others. However, if he and the coaches actually use the bong (for its normally intended purposes) together or he uses it on his own, then we could be looking at some real problems.
Besides, wouldn't the coaches be better off building a bong with Puff Johnson? That makes more sense.
Why put it all on just former athletes? If every living member of The OSU alumni (not the Alumni Association but alumni in general) donated $2 a week to the university, that would rake in over $50 million a year. That's roughly like skipping one Starbucks every other week.

DMac waves his arm at about the 3 to signal for the fair catch, so he wasn't 100% sure it's reaching the end zone. All he has to do is catch the ball and there's no problem. And if he's not sure it's going to get to the end zone, he has to catch it because it's live. But he actually needs to CATCH it! I realize that by watching a replay, we see where the ball ends up, but DMac settled under it, then had to backpedal to try to catch it. Suppose he lets it go, it hits inches in front of the line and bounces back towards the field of play. Then what?
Not a great idea. He was at the 3, and a kickoff (unlike a punt) is a live ball. If he lets it drop within the field of play and it kicks away from the end zone, TTUN could have still recovered it. Unless you're 100% sure the ball is either going out of bounds or unto the end zone, you have to CATCH (not muff) it. It was the right call to signal for a fair catch - the boneheaded part of that play is not actually catching it.
But... but... but... fair catching a kickoff (not a punt, a kickoff, which is what DMac was doing) inside the 5 actually places the ball at the 25, so he should have CAUGHT it instead of muffing it.
Except that fair catching a kickoff (and it was the kickoff right after TTUN scored) inside the 25 actually places the ball at the 25, so yeah, McCall should have just caught the ball.
There's no such thing as a "typical" Saturday during football season for me, with the exception being that I virtually "always" watch the Bucks. I could be doing anything - from working in the yard or around the house, shopping, visiting friends, hitting the gym, whatever - but work all that around the game. As time and circumstances allow, I'll watch other games. As for food, I will sometimes make something "special" if my sons are coming over, but it's not necessarily always the same thing. Oh, and I don't go to weddings unless absolutely forced to by the wife.
Greg Oden did not play against North Carolina in Chapel Hill that season. He didn't see action the first time until the next game (12/2/06) against Valparaiso.
https://www.espn.com/mens-college-basketball/boxscore?gameId=263330153
https://www.espn.com/mens-college-basketball/recap?gameId=263360194
I meant the 42 title, not 43.