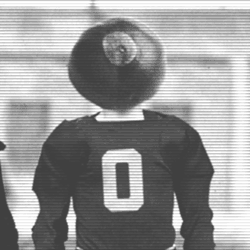 Buck95
---
MEMBER SINCE December 05, 2014
Recent Activity
If there's anyone on the team I want to see have a breakout season, it's Babb.
Why is a round pizza put into a square box and cut into triangles?
I don't think Herbie's news was actually fake. I think Miles was fully intending to leave LSU for TTUN. However, Missouri and West Virginia both crapped the bed, letting both OSU and LSU back into the title game. If only one of those teams loses, OSU plays the other one for the title and likely wins the natty. However, Miles is not leaving LSU when they're playing for a title, and TTUN jumped on RichRod when Miles had to keep things quiet.
In 1939, they were they were complaining about the proliferation of bowl games when they went from just the Rose to 5 games, although that is a 400% increase.
In 1975, when Marv Homan was talking about playoffs or bowls - he mentioned the bowls' "seniority" in the system - he talked about bowls being here to stay. However, back then , bowls were actually a reward for a good season. In 75, there were 11 bowls, so 22 teams. 18 of the 22 teams that played in bowls were ranked (they only ranked the top 20 in those days), and the "worst" team in bowls entered the game at 7-4.
If there were "too many" bowls back in 1939, what would those people say today? There are WAY too many bowls now. I think they need to drastically cut the number of bowls, to probably 20 games. Take the top 4 or 8 teams by whatever rules are in place into the playoffs. Semi's and title game stay as is, rotating through the major bowls (with an 8 team playoff, first round at higher seed campus site a week after conference title games, and first round losers are placed into the four NY6 bowl games not part of the playoffs). Any conference champ not in the playoffs is in a bowl. After that, start filling the remaining bowl slots based on the final regular season AP poll, so any ranked team is in a bowl. That gives you between 25-30 bowl teams. The remaining 10-15 slots are filled by wins. No 7-5 team can be invited to a bowl until all 8-4 teams have a slot, and so on, regardless of conference. Reward teams for good seasons, not conference affiliation.
Rocky
Breaking Away
Hoosiers
Field of Dreams
Honorable mention - Caddyshack, Remember the Titans, The Sandlot, Rocky III, Tin Cup, The Greatest Game Ever Played
I had at least three upper level classes with Joey, had the same major as him (business/marketing) and walked in the same graduation ceremony (Winter 95) as him. At the time, he would have known me by sight, but probably not by name.
The one highlight I seem to remember of his without thinking about it was a play he made against Washington (1993) in a close game. IIRC, he caught a short pass from Hoying, turned, split two defenders and raced for a 35 yard TD.
I don't buy that July is when final decisions have to be made. Having a schedule is important, but I think back to the fall of 2001. OSU and San Jose (or Diego???) State canceled a game on a moment's notice (after 9/11) and were able to reschedule that game for a month later when both schools had an open date. I realize those were extraordinary circumstances, but aren't they now too? And these types of things seem to happen almost yearly anymore with hurricanes and such as well. Geez, sometimes the starting times of games are set the weekend before a game because of TV, and that requires some last minute planning.
Leave the schedules as is and make a final call on each game a week before kickoff.

My brother-in-law who has since moved to Georgia swore by Terita's on Cleveland Avenue.
Honestly, so is Houndie's.

You know, the fam went on a vacation to Cali once when the kids were young - early 2000's IIRC. We flew into San Jose, went to Monterey, then down to Los Osos to see my sister-in law, then went to their cabin at Huntington Lake up in the mountains east of Fresno. The day we flew in, we happened upon a place in Palo Alto near Stanford called Pizza My Heart. We thought it was really good, We again stayed in San Jose the night before flying back and went back to Pizza My Heart again. It's a regional chain mostly in the area just south of San Fran - goes as far north as Concord and as far south as Monterey.
"Walt's Albuquerque Roof Bake" would be a fantastic name for a pizza place. Maybe I'll retire there and open a business.
FWIW, I used to work extremely close to Enrico's, and a group of us would go there for lunch often. If not once a week, it was at least 3 times a month - so often that the waitress (yeah, there's usually just the one) would not (at least for a couple of us) have to ask what we were going to order. For me, it was always a bambino (7 inch) with pepperoni and sausage. Sometimes, we would go there for lunch on Fridays and I would still pick up a large pep/sausage and a large cheese to take home for the family.
I always fought (mostly fake fighting) my co-workers when they wanted to go to the Dublin Tommy's instead of Enrico's.
Northwest side? Hit up Enrico's on Frantz Road, in the same little strip mall where Bonefish Grill is, just a bit south of Tuttle Crossing.
I just don't get the love for Donato's. I mean, it's good for a big chain, but there are so many better choices. Although, I guess if you're not local any more, it's a "regional" thing and reminds you of home, since probably 85% of its locations are in Ohio.
Iacono's is a knock-off of Tommy's, and in my mind a notch below in quality, though still pretty good. And in case you didn't know, there was a real "Tommy" - Tommy Iacono, who founded Tommy's in 1952. His son Steve (whose son Trent now runs Iacono's) started his own pizza chain with three other investors in 1972 when the family had a (per Trent) "difference of opinion" on the business.
We all know that Alfredo's Pizza Cafe is the best pizza in Scranton - but definitely not Pizza by Alfredo, because their pies are essentially circles of hot garbage.
I cry for people on here who choose Donato's over some of the fantastic local joints. As a large chain pizza place, Donato's isn't bad, but there are far, far better places to get a pie from than them - Houndie's, Enrico's, Tommy's, Benny's, Iacono's, Rotolo's, Romeo's, Flyers, Ange's, Pizza House, Bexley Pizza Plus, Jan and Tony's (Plain City), etc, etc. Hell, I'd even take a Jet's 8 corner pep/bacon turbo crust over anything Donato's sells - although I'd probably be dead (or weigh 500 pounds) by the end of the year if i'd choose Jet's as my option.
16" Smokin' Joes pepperoni and bacon from Hounddogs.
A backup would be a large pepperoni and sausage from Enrico's in Dublin.
I'd like to be at an Ohio High School state basketball title game where my son was coaching and his team won.
I'd prefer to not rewrite history. If Coop wins a natty in 96 or 98, be builds up enough goodwill to hang around for at least another 5 years, meaning no Tressel, no Urban and no Day. That may mean no natty in 02 or 14. I'd rather stick with what we have. The program in its current form is better for it.
The only thing wrong with my scenario above is that maybe Coop makes it through the 2004 season before he gets canned (or retires), and then an up and coming coach from Utah decides to move from there to OSU instead of Florida maybe?
Tried to post an image of the Flint Tropics.
I remember the Columbus Owls, and before them the Columbus Checkers, both IHL teams. For some reason, I don't remember the Golden Seals, who played for Columbus in the IHL between the Checkers and Owls.
Maybe Lawrence Funderburke's baked potato diet would work for him?
Downvoting a Caddyshack reference? That's blasphemy!