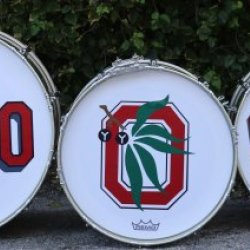 Buck61
---
MEMBER SINCE April 25, 2015
Recent Activity
a write up on the opening in miami
https://wqam.radio.com/blogs/larry-blustein/monday-take-opening-brings-out-stars
hey andy, are we going to see the 141 matchup this week or will one or both coaches take their top guys out of the lineup that could effect ncaa seeding
tough call between Owens and this guy, not technically an alum, but an adjunct professor and has a college named after him, John Glenn.
pletcher gets a major, finally some action out of him
micic wins 3-2, suriano had a a couple of good single legs he couldn't finish, micic had one good shot in the third he turned into points
suriano vs micic in a few minutes on btn, should be a good one
hopefully they start at 197 so Miles gets the final match of the day to end his home career
what is going on with Pletcher? He seems to be regressing as the season moves along. Is he having weight issues or fighting through an injury? He never was an offensive wrestler but winning by a hands to the face call looks weak.
final 34-3
smith took the only loss 5-3, vs, #12 ranked wrestler
after 4 matches 1 pin, 2 majors and one decision 17-0
the ncaa basketball tourney is in town that weekend, get your hotel rooms locked up well in advance. there will plenty of out of towners in coumbus that weekend. looking at the sites columbus could easily get uk, ut, big 10 teams.
expect much higher rates for the downtown hotels. the teams will be staying downtown.
rooms around campus may be priced higher than normal in march, the high school championships are in columbus starting the second weekends in march. hockey is at nationwide the second weekend, the second through the four at the vca. Wrestling then girls bball then boys bball.
i can't think of one multipurpose arena that is great for basketball. The size of the court and ice surface are not compatible. This pushes the seats too far from the ends of the court. The corner views are compromised as well.
Washington seems to be shooing with more confidence the last few games as well.
they will be happy to see him gone
thanks for the insight, even after getting beaten badly I did see a few encouraging signs, Smith is rising fast, he is competing in every match, this might sound odd but I liked the fact that Hayes tried to compete last night, he was clearly outclassed but put in a good effort and was not as passive as we have seen from him too many times.
Many think this is a team built for tournaments, my issue is that they aren't piling up wins against tournament level competition enough and more telling not getting enough bonus points against lower ranked guys. I see some guys with conditioning issues as well, wrestling multiple times a day takes its toll.
happened last year at the ncaa as well
saw the matside scoreboard, looks like a start at 133lbs

as a former football and bb official i rarely make criticisms about judgement my biggest complaint is not getting in the proper position to see a play or anticipating a play and not really seeing the play in its entirety, especially in football.
Didn't see the match but Pletcher not getting away from the bottom position in the third period should be a concern
i just checked, the VCA calendar, it is available on both Friday and Saturday

would like to see campbell back on the mat with a new attitude
I see that some of the guys are competing in Edinboro today including Malik . A question for Andy, how does the coaching staff handle these type of events? Does the university send a coach or two, what about an athletic training type staffer?