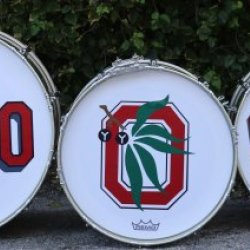 Buck61
---
MEMBER SINCE April 25, 2015
Recent Activity
kenyon swimming won 31 national division 3 titles in a row starting with the 1979-80 season

Just finished two, Deep Blue by Randy Wayne White and No Sunscreen for the Dead by Tim Dorsey. More adventures of Doc Ford and Serge Storms.
after the debacle in Minnesota and how it was handled I doubt Bob wanted to work for the administration that was in charge at the time
The MSU game is considered a premium game, the base ticket price is $147 before any fees.
https://www.nbc4i.com/news/local-news/osu-board-of-trustees-approve-2019-football-ticket-price-increase/1594100080
KNSFHP 1137
Sport for the Spectator
The study of various popular spectator sports including football, basketball, baseball, golf, tennis, ice hockey and others. Prereq: Not open to students with credit for EduPAES 137.
Lecture Section 20 (11915)

Autumn 2019 Regular Academic Term
Instruction Mode: In Person
Check Availability
Phys Activ & Educ Srvs Bldg - Room: A145
8/20/19 - 12/4/19

This class meets Friday
10:00 am - 11:50 am
Instructors
Seamus Anthony Reilly
KNSFHP 1137: Lecture Section 30 (11916)

Autumn 2019 Regular Academic Term
Instruction Mode: In Person
Check Availability
Campbell Hall - Room: 335
8/20/19 - 12/4/19
This class meets Wednesday
4:10 pm - 6:00 pm
Instructors
Seamus Anthony Reilly
The entire Brunk situation is very interesting to me, he has two years of eligibility available but how many coaches want to offer him and tie up a scholarship for two years ( I am aware that is technically a one year with renewals). I doubt Holtmann wants a cycle with only one scholarship available, and Holtmann would not have a good look by pushing Brunk out after just one year. Brunk is in a great situation by getting two years of grad school paid while playing basketball.
If the Bucks sign Diallo, hopefully Oden sticks around helps mentor him. Diallo would benefit from having another seven footer to work with
College basketball will be going through a transition period very soon, I can name five high profile schools with guys close to retirement in the next five years or so, Duke, UNC, Syracuse, UM and MSU. It will be interesting to see who gets those jobs and how well the replacements do, OSU is well positioned with Holtmann as is Purdue with Painter.

He couldn't beat out Kyle Young for playing time, Young's range is about three feet. Nor could he beat out Jallow for playing time as a back up forward.
one way to score more, get to the foul line more often, OSU had 50 fewer foul shots in league play than the opponent.
One issue that rarely gets talked about here, the free throw percentage was better, the problem was the number of attempts. The Bucks shot 50 fewer free throws in the league than their opponents. Part of this is due to the Bucks shooting nearly 50 more threes than the opponent in league play.
Missouri is the powerhouse of the MAC because there is no wrestling in the SEC. While at a lower level Kenyon's Swimming and Diving team won 31 titles in a row.
If you haven't noticed anything over the first two years Holtmann values this first and foremost, defense, defense, defense. As the season wore down, Jallow is starting, even with minimal offense and turnover issues, he is on the court because he plays defense and rebounds. Washington's minutes went down and Woods minutes went up because of defense, Jackson stayed on the court even after turning the ball over because of defense. Luther couldn't make a shot but he was getting minutes because of defense.
I am always cautious about annoiting incoming freshman and making them stars before their first college game, we have seen some highly rated guys come in and do well on day one, Russell is a good example, but we have seen many who need at least a year in the program, some make it year two, some never make and move on. We don't know how they will adapt to a new environment, coaching, teammates a new role where they aren't the star of the team and the competition level. Saying that, I would expect Walker to be a bigger impact than many people predict. Two years of ACC competition and one year already in the program.gives him an advantage. The three new guys could surprise me and be solid players as the season advances, but I would also not be surprised if they weren't as impactful as many have billed them.
The Big 10 is not usually freshman dominated, there were no freshman on the All Big 10 first team last two seasons , two made second team, Langford of Indiana and Brazdeikis in 2018-2019, none in 2017-2018.
We never really knew how badly Young's injury limited his play, he needs to rediscover his shot, many have speculated Luther's shoulder is still not right and may need surgery, if so do it sooner rather than wait. Ledee has to accept the fact that he is going to be a center at OSU and not a forward and learn that position. By now each player should understand what parts of their game needs improvement and put in the needed time and effort to address those issues, if not they will be left behind.
Final Four weekend is where most of the assistant coach networking takes place, I 'd wait for it to pass and wait a few weeks on any movement.
You make some good points and let me add a few. Most of the high level football players were also wrestlers as well, now days more and more of those guys are now just focusing on football, pretty much depleting the wrestling rosters over 175 lbs. Many athletes are training for just football and playing the 7 on 7 circuit.
There are many high profile states, growing in population with few if any wrestling programs, Texas, Georgia and Florida are prime examples. I live in Florida and there are few high quality high school programs in South Florida. Many of the kids who want physical contact are playing lacrosse as that sport is in a growth spurt.
The Big Ten Network has done a nice job in promoting the sport, the PAC 12 network had the ASU / OSU meet as well as other meets. Hopefully the new ACC network will feature wrestling as well.
I watched his last three matches, he looks like the real deal, excellent mix of power and quickness
what is the status of Oden?
is he a catch and release type of guy like synder or a mauler?
please find a fix at 157 and 165, over the three years noted, PSU has 76 points at 157, OSU 14. At 165, PSU has 72, OSU has 5.5. Of course this includes Nolf, but minimal points in those two weights has been brutal.
It is going to take more than five guys scoring team points to challenge PSU if winning it all is the goal is the big trophy. Next year we should get Iowa and Minnesota back on the dual meet schedule.
may get some down votes here, it was always going to take more than five excellent wrestlers to dethrone PSU. For the well earned praise the top five earned the other five couldn't raise their game on the biggest stage. Second was the best we could get and we achieved that..
Replacing nearly half the lineup will be quite a task, hopefully the guys in waiting are ready for the task. PSU returns three guys who will be competing for titles, Lee, Joseph and Hall. PSU might add the kid from Kent St. who beat up Moore two years ago. Moore might be our only guy in title consideration next year.
fencing without protective gear, win or die
pistol at six paces
all 10 guys get to wrestle on friday
saw him live a few times, even in his late 70's and multiple severe health issues he put on a great show each time, a unique talent with a unique style.
another guitar legend, Dick Dale, joined the band a few days ago.
you are correct in that assessment, there is a reason TV Ted is not working in the Big 10 anymore. One of the issues I have with conference officiating is that the pool of officials is too small. The same small group of people is working the games, the coaches know who calls what and what type of play will be tolerated. The constant complaining by the coaches is out of control, coaches are now even allowed to stand inside the court during play with no consequences as long as they don't get in the way.