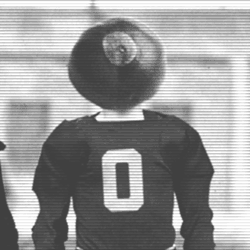 Buck-n-A
---
Des Moines, IA (via Defiance, OH )
MEMBER SINCE December 13, 2013
Recent Activity
name checks out
The krypotonite to a Wisconsinite!
I think they are manufacturing this huge difference between the 1 ansmd 2 seed. There is no big discussion about who gets in. Gotta make a big deal about something.
No.Run.Fields.
That was huge, big stop plus cost Wisconsin a TO
Win or lose, anyone on this board who said we should put in Chug should lose all their helmet stickers...
I for one hate jubees
If you would have said that 2 minutes into the half we are down 4...lets do this!
gamebreak to the sec title from 3 hours ago??
Best comment so far +100
1 demerit but we will leave it there.
Dear lord, please make halftime stop.
This kid should lose for a facial hair violation.
So Oklahoma, who lost K-St., should get in, C'mon?!?
Dumbest comment of the game so far.
Hot take much?!?!
Gotta get some points here. While the D could be better, the O has to have points by this point in the game.
Our D is better than Georgia's. We hold LSU to around 4-5 TDs. No way LSUs D keeps us under 6 TDs.
Indy indoors is an amazing location and neutralizes any bad December weather. I think BIG 10 got it right.
As long as we are in the top 4, no complaints. You gotta beat the best teams to win the NC. If we have to play Clemson in the semifinal, so be it.
I'm sure he is sore...but the thing about being 20 is that the body can heal at a crazy rate in 3-4 days. At his speed, does it really matter if he is slightly slower with that brace? He is still going to outrun and D-Lineman and most LBs on a QB scramble and either slide early or get out of bounds
Ha! Are they saying they would like Nick Saban to not be their coach? That's a slippery slope...
I think they rely on the blitz for pressure too much and their corners/safeties are not fast enough.
That works against most of the Big 10 but when they go up against the upper echelon of the BIG 10 or against an SEC, they get housed because they have good O-lines that can hold up to the blitz and fast receivers to punish their slow DBs.
Exactly, under Cooper it was never "we are being cheated or slighted in some way". It was, we can't win a big game, so lets fix it. I don't recall an outcry from Buckeye nation about institutional biases, tin foil hat conspiracies, or unsubstantiated accusations of better teams cheating. It all is just sour grapes and the reason why they won't figure it out.