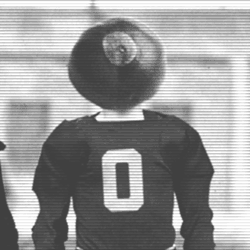 Buck-n-A
---
Des Moines, IA (via Defiance, OH )
MEMBER SINCE December 13, 2013
Recent Activity
Would this qualify as the "bargaining" stage in the 7 stages of grief?
He can have Massachusetts. We can stick with Ohio, Florida, and Texas.
To those in the know, how does Henderson compare to Robinson? honest question.
I think they are jumping a few too many steps in this blueprint. They are so far away from Ohio State at this point. They should just try to not let Army take them to overtime and work up from there.
Why do they insist on running their mouth, when they haven't won a legit game against us in two decades.
Could be but I remember saying Zach Harrison and Dawand Jones were development guys. They looked to be more than that, so you never know who could suprise.
Zach Smith was the worst hire....by a lot.
Not good enough to be a career backup...XFL backup...maybe.
Doesn't Steve Deace write for The Right Stuff white supremacist/neo-fascist blog? I thought I thought I read that at one point. F that guy.
In the late 90s/early 2000s I recall a Wendys, Mark Pi, and maybe a chick fil a. Woody's was not a very popular spot as the south dorms are all freshman. Ohio Union was really starting to show it's age by that point. I do not recall any special activities happening there except when Al Gore spoke in 2000. I was there during quite a transition period. Karen Holbrook with the help of canpus partners shut down all the rowdy bars on South campus and put up all the new stuff. Unfortunately, it created quite a south campus void for bars for a while. That is also when Short North was a bit of no man's land. Not much for college kids until you got to the arena district.
Clemson has to get some bad luck eventually. They have been playing with house money for about 5 years. Time for them to revert back to the mean.
Welcome to Buckeye NutPunch Weekend 2019
karma for what? The jail sexing we give Michigan annually?
On the surface when we lose to them, you can say it doesn't matter but it does. Clemson had to play only 1 half of football in almost every game this year...meanwhile, we are in slugfests the last 4 games with multiple guys getting hurt...which influences todays game.
I would never root for the Big 10. I root for the Big 10 minus Michigan. They can go 0 and whatever. Also, who cares what they think on Mgo. You play the best teams in the CFP and sometimes you lose. No shame in that. You know what is shameful? Michigan's record against OSU the last 20 years.
It all changed on that bs targeting. The route was on until that happened. Wade is a hug part of our D. Lots of questions for next year but the offense should be nearly unstoppable. We will need some secondary guys to step up and a legit rb to emerge.
Goonies never say die!!
Something has to not go Clemson's way eventually, right? Right?!?!
Imagine if we had gotten to play Clemson's schedule how healthy we would be!
I really dislike hot takes. The problem is that I feel like all sports media does now is project hot takes from all sides.
They probably count that season as one of their national titles...
Any rumblings of flips our way?
This. If they want the QB to read him repeatedly, they need to lay the lumber to Lawrence. Start getting him second guessing those keepers.
either way, 1 year of Haskins + 2 years of Fields > 2 years of Burrow
Yeesh, never thought I'd hear the BIG 10 is weak from an ACC team but here we are. Wisconsin get beat by VA c'mon, that is a two score spread by Vegas. Whatever, we got stomped in 2016 and need to prove it.