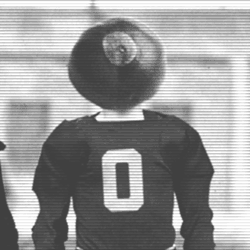 Buck It
---
Dayton, OH (via Fairborn, OH)
MEMBER SINCE November 27, 2016
Favorites
NFL TEAM: Cleveland Browns
Recent Activity
You need to find better friends.
I'm not going to lie...when Day hired Hafley I kind of had the "Who in the hell is this guy" thought. I knew literally NOTHING about him and was highly skeptical that he'd have a significant impact. But I have been beyond pleased with where he's taken this defense. It is just light years ahead of where it was last season, with most of the same players. While this year has been a blast to watch, last year pisses me off, even more, knowing the talent that the Bucks had.
I'm gonna have to start taking nitroglycerine pills before watching these hype videos.
This DL is just straight nasty!!
I would highly recommend giving Angel's Envy a try.
He just needs to make it until next September when they will once again be favorites to win it all.
On a much more serious note...did anyone see that Taco Bell is removing the Double Decker Taco from their menu? That's the real fucking Taco travesty right now.
Removing the double decker taco and XXL Burrito...is there nothing sacred in this world anymore??
I am really glad to see that Coach Day is making this an initiative and publicizing it. On April19th of this year, my brother in law committed suicide. One day before his 35th birthday. And it came out of nowhere. None of us saw it coming. I'm sure the stigma of mental health with a strong, young male made it extremely difficult for him to get the necessary help. He left behind a 5 year old daughter and a wife whose worlds are upside down right now.
(Editor's Note: Let it be known that Justin Fields' completion percentage was actually a shade above 69 percent, not a full 70 percent as PFF suggests)
Nice!!! If I was a QB that's where I'd want my completion percentage as well.
I'd highly recommend watching the movie Funny Farm with Chevy Chase.
My one take away from the Tate Martell news is that based on the pic posted above, Miami needs to clean the damn carpet in their locker room.
My sister in law, who just lost her husband in April, was at Neds Friday night. Too close for comfort so I'm thankful she's safe.
My buddy and I were actually at BW3's by the Fairfield Mall Saturday night and were talking about hitting the Oregon District that night. Fortunately, he had a contractor coming to his house Sunday morning and we decided to stay closer to home. I saw the news Sunday morning and my heart sank.
Cox is too talented to just leave out in the weeds without even having a conversation.
I'm literally watching it right now. They are interviewing Fields and Dobbins.
I said in another thread that Harbaugh needs to choke on a dick. I'd like for Tom Herman to choke on an uncircumcised sea-cucumber looking dick.
Probably taking testosterone to get his baby testicles to finally drop.
Wypler is the #69 over player?? if I was a top high school football player in the country, I too would want to be the #69 rated player. No shame in that at all.
Like others have said...their offense will be better, but we are comparing that to the shit-show that it has been for several years now. I still like our chances come November.
Harbaugh just needs to choke on a dick.
Ehhh...give him a break. His vagina is still sore from the beating it took last year.
Cam Akers. I still wander what could've been. I love JK, but I felt that Akers would've just been nasty at tOSU.
California. No explanation needed IMO.
Something else I'd like to recommend is if you are making this purchase with the understanding you will be having kids soon, get something that the kids can grown into. I tend to keep cars for a while. My wife's 2013 Escape was great when my daughter was 5. But now that she is 10 and we've added another one that is 5, it's getting a little snug in the backseat. So definitely factor backseat cargo space and legroom into the equation. I never used to bother myself with those dimensions, but I actually look at that now when comparing vehicles. There's nothing worse than having your kid kicking the holy shit out of your seat.
If you are not in a huge hurry, try and wait until the very end of the year. I bought my wife a Ford Escape Titanium (2013 model year) brand new on December 31, 2013. The 2014 models had been out for months and they were practically giving 2013 models away. The sticker on this car was around $35,000. I offered $27,000 and they didn't even bat an eye. I probably could have gotten it for $25,500-$26,000 had I pushed. But I never ask for anyone's last penny. They have to eat as well. But it was a previous year model and not only were they trying to meet/beat month-end quota...but also year-end quota. This was Castrucci Ford in Milford. I live in Beavercreek, but it was worth the drive for the deal.
Point being is that if you wait until the end of the year, you can often find a previous years model brand new for a deep enough discount that it essentially pays for 100%+ of the depreciation. Then you also get the full manufacturer's warranty, which you often times will just get the balance of the warranty on a used vehicle.
But if you find a hell of a deal on a used vehicle, then I'd jump on it. But don't think you can't afford a brand new vehicle...you just have to be smart about it.