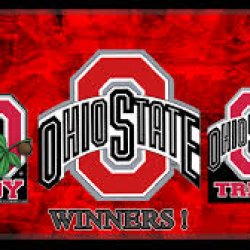 BUCK-I-FAN
---
Member since 01 December 2012 | Blog
Favorites
SPORTS MOMENT: Watching the Buckeyes win the National Championship in 2003
COLLEGE FOOTBALL PLAYER: Archie Griffin
COLLEGE BASKETBALL PLAYER: Jimmy Jackson
NFL TEAM: Cleveland Browns
NHL TEAM: Chicago Blackhawks
NBA TEAM: Cleveland Cavaliers
MLB TEAM: Cleveland Indians
SOCCER TEAM: USA
Recent Activity
Does he have a degree in Bachelors? lol
I actually had friends who are Meatchicken fans email me about it and they really believed that it was happening. I laughed and told them ...sorry guys but that's a joke just like your new Head coach.
We should have done a go fund me to get Wade to CBus. lol
man does that show bring back memories. loved the Arte Johnson and Ruth Buzzi skits.
Whoa Nellie, are you familiar with the story behind the recording of Gimme Shelter? The stones were recording late one night and they had the idea of hiring a female singer to come in and do the " Rape Murder, it's just a shot away part ". after many decline they called Merry Clayton at midnight that evening and asked her. after her husband grab the phone and talked to the stones manager, he talked Merry into going down there that night and do it. Merry, whom was pregnant at the time, miscarried shortly after the recording, and it took her some years to listen or even sing that song again. .
hard to believe under my thumb, gimme shelter and wild horses aren't on that number 1 list. good tunes.
is that Okudah in that Video?
How in the heck does Trevon Grimes drop a spot? He's top 5 talent IMO
I'm glad hairball messed that up.
Thoughts and prayers sent to his family.
I agree. I have watched 5 episodes so far and I don't see how Steve could have done it. I see how the cops could have framed him though.
If that were to happen, Brady would complain that there was to much air in the football's.
I once knew a guy from champaign.
whose team loved to play in the rain.
when the buck's came to town.
they knew they'd be let down.
when zeke ran them over like a train.
I have been there a few times in my life. Most recently in 2012. It's a nice town has it's good and bad parts. Both Cheap Trick and Porn Star Ginger Lynn are from there lol
I thought every school offered the " Petroleum Transfer Engineer " program?
Sorry for your loss, my prayers go out to you and yours.
So Corny Greene would be The Man next to THE MAN then. GO Bucks
I see a little bit of Mike Conley in this video of AJ Harris.
I wonder, is this Wichita State's mascot pic?
it's all good. thanks for letting us know who is was.
Well to be honest if you are going to write a new blog mentioning that you met a UM player and you go on and on about how the evening went and then you don't want to say who it was, to me that's like telling a joke in front of millions of people and then walk away when you get to the punch line.
yeah really it's not like we are going to call him up and verify this BS story.
Someones knocking on the door...ummm don't answer it. lol