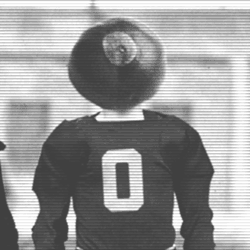 Buck 1961
---
MEMBER SINCE December 01, 2013
Favorites
SPORTS MOMENT: buckeyes take down alabama 2015 sugar bowl
COLLEGE FOOTBALL PLAYER: chris spielman
Recent Activity
Also about other teams bulletin board material! Lol.
Totally agree, should have at least dropped to 5 or 6. Even with eye test, their defense is not invincible
If you don't have 100% proof, then do it just in case! We still need to give our backups lots of game time experience.
Applaud Chase Young whom I believe is a stand up young man. Next man up and make him proud. Go Bucks and stay focused!!!
Such horrible conditions to have to deal with!!!
Joel Klatt does it the way it should be done. Along with Gus Johnson they are the best combo in the business.
Love Gus and Joel announcing.
I remember them too along with those damn black flies. At that time back in the sixties cutters was the magic potion lol!!! +1 Navy.
Iowa's defense is not that bad And I still predict we will be playing them in the Conference Championship game. Call your score Stantmann. +1
I like your analysis Buckeye 1964 but we are talking fairly late in November, usually cold and rainy. Any rate Go Bucks!!! +1
I'm calling it now Buckeyes 38 Penn St. 17!!! Buckeyes are gonna destroy them at home.
Boundary waters up around ely was the family vacation spot when I was a kid. I remember the walleye fishing was fantastic not to mention monster northerns.
Agree with Coach Day you win your Conference you should have a spot in the playoffs. I and others for the umteenth time have said this along with 8 teams for playoffs.
I think he is going to run into the same fate Jonothan Taylor ran into.
You were probably irritable from cussing out everything just trying to get logged on Buckeyedownunder lol! Good change of pace topic.
What a great Friday this was.......... Now I'm on the ledge!!! +1 Cajun
Justin Fields is like a younger Urban Meyer laser focused and intense!
Let's enjoy the ride as it happens High Street. +1
Don't wanna think about that LOL! +1