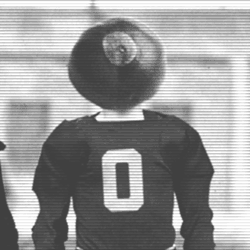 BSTP DeCon
---
Southwest Asia (via Gahanna, OH)
Member since 17 May 2012 | Blog
What's the cheapest kind of meat?

Deer nuts, it's under a buck!
Favorites
SPORTS MOMENT: Holy Buckeye!
COLLEGE FOOTBALL PLAYER: A.J. Hawk
COLLEGE BASKETBALL PLAYER: Evan Turner
NFL TEAM: Cincinnati Bengals
MLB TEAM: Cincinnati Reds
SOCCER TEAM: Columbus Crew
Recent Activity
Over/under on Bosa tossing up a "Bosa Shrug"?
Give Michigan a break. They're not thinking clearly. They've been infected with NOBOWLA.
Congrats to Barrett for claiming his stake at yet another record.
Defense - You guys have some serious work to do of closing in gaps and tackling in space better otherwise it will be a looooong game against Gordon and the Badgers.
Pretty psyched for this kid as he's the first commit from my C-Bus suburb since finding out about this site. I expect great things and congrats, Cooper!!
Aaaaaand of course it's not airing where I live ;(
No one is predicting an OSU win. It's kind of unsettling for me! :/
They had to even the playing field.. Penn State's players were too scared to sleep!
What really impresses me about JT is I've seen it 3 times thus far in the season where we gets blindside sacked while in his throwing motion and hasn't fumbled a single one of them. This manchild must have an iron grip.
its about time we can get excited about our offense AND defense! It's hard to believe how much JT and eZe have developed in the past 5 weeks... We may just have a bright future this season!
Prayers go out to the Byus family for the death of the father/husband, Stephen. If anyone from that family is reading this comment, Stephen's efforts will NEVER go unnoticed and I pray you and your family resiliency, strength, and bravery to get through such a tragic time in your lives'...
Agreed completely. As great of a player as he is, I don't want him suiting up for the S&G. Sorry, but obviously he doesn't deserve the honor from such a university/program. Best wishes to him though..
Makes zero sense that these athletes continue using drugs. YOU KNOW YOU WILL BE TESTED SO STOP DOING IT! What a waste of talent. Best of luck, Spence.
He will be after the first half of the 2015 season. He will have shattered almost EVERY school record..
Is the Youngstown State head coach available? We've had luck with their coaches before.
#BringBackTresselAndHeacock
I second that! That'd be a pretty shitty way to send out our best QB in school history out had he played this season.
Getting better starts tomorrow, Urban? Ummmm, shouldn't it have started Day 1? I mean, these players don't have a scholarship and you're not getting paid millions for nothing...
What I don't get is yes, we have the cupboard FULL of talent but yet we lose to a team like VT with HALF the talent. I apologize, but I'm done believing in anything these coaches tell us. Until we get coaches like Tressel and Heacock again, we're screwed. This is our 3rd season and it's nothing but the same shit. Tressel won it all in his 2nd year and Urban can't come close. Where's the fault at? We have more talent now than we ever have had at a single point in time. Produce coaches, Heaven knows you get paid enough to ensure we should!
Never again will I buy into a single word this coaching staff says to the media. Have all the talent in the world and we STILL can't produce on defense in the slightest.
Too bad the team doesn't look as great..
Just one more persons opinion I give literally no f***s about.
Why are people not feeling confident? He plans on announcing Oct 20th and wants to make an OV a month after... That sounds great, IMHO.