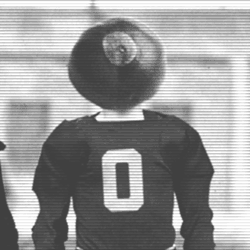 bstadnik
North Bergen, NJ (via Medina, Oh)
Member since 05 February 2011 | Blog
Grew up in NE Ohio and cut my teeth during the fabled 10 year war! Now live in NJ, but still love my Buckeyes!
Favorites
SPORTS MOMENT: 2002 & 2014 NC Wins! Need I say more?
COLLEGE FOOTBALL PLAYER: Archie Griffin
COLLEGE BASKETBALL PLAYER: Michael Jordan
NFL TEAM: Cleveland Browns
NHL TEAM: Chicago Blackhawks
NBA TEAM: Cleveland Cavs
MLB TEAM: Cleveland Indians
SOCCER TEAM: What is soccer?
Recent Activity
thanks for the update Jason
Sweet,
But why have a notice that these run a little snug, refer you to the sizing chart which shows a 3XL, but then not have any 3XLs listed for sale?
Well said as always Ramzy. Sorry for your, and many others, loss
Our friends up North are in typical denial mode...
http://mgoblog.com/mgoboard/jeremy-ruckert-osu. Enjoy!
I have been on the Thad bandwagon for many years, but it's time to face reality folks. They need to make a change. Thad just isn't getting it done. His players rarely ever get better, they play incredibly stupid basketball and his substitution patterns have been baffling for years. There is a reason all those freshman left last year. Thad starts the season by playing the frosh and then his bench gets really short during the BT season. Guys rot on the bench and there seems to be no rhyme nor reason as to why guys get buried on the bench. I think Thad is a very good coach, but my gut tells me his physical issues have caught up with him. Maybe that has impacted his ability to recruit.
I completely understand that no one wants to go back to the Randy Ayer days, but I really think it's time for a change. Name me the last player that played for Thad that seemed to improve his game. Evan Turner is the last one I can remember. Whether it's the kids or the coaching, it doesn't matter. Thad brings these guys here to play and they never seem to improve. Craft, Thompson, Amir, Loving, etc, etc, etc. None of them made any significant strides in their games. Another thing that really makes no sense to me is the physical development of these guys. Marc Loving looks the same as he did as a freshman, same with others in the program. Not sure if they lift weights or what, but OSU has been littered with very weak players for the last several years. Marc Loving is to me the epitome of the last 2-3 years of Thad's OSU regime. A really good guy (by all accounts and demeanor on the court), but he has shown little improvement, has not developed physically and continues to make the same mistakes year after year.
The real issue is that the program is completely stagnant. They need a new voice, some new energy. Thad Matta has been the best OSU coach in my lifetime by far, but it's time for a change.
I played in that building my senior year in high school during the 1983 Boy's HS basketball tourney. I will NEVER forget how loud that place got during the game and how special it was to know I was playing in the same building as some of the all-time greats: Lucas, Hondo, Magic, Kellogg, Williams, and on and on...When we arrived for our game the place was completely empty as myself and my teammates walked to the locker room. I had goosebumps. It was so quiet and majestic' like being in church. And it scared the shit out of me as well! LOL
So sad to know that they are going to tear this landmark down. Every time I'm on campus, I smile knowing that I played in that beautiful arena. Long live SJA!
That's what I'm thinking, but Birm isn't so sure the Bucks will take Bruce
Can't wait to hear all the details
Navy,
Couldn't agree more. I wouldn't want my review posted on the internet for all to see regardless of where my paycheck ultimately comes from. Interesting reading for sure, but feel dirty as hell for doing it.
same here..thought something had happened cause the site wasn't available
I don't believe that Tim Beck is the primary play caller. I believe that task will fall on Warriner. Beck with have input from the booth upstairs, but Ed is the playcaller.
Bucks have won their first National Championship!! Go Bucks!!
Jerry Lucas should be the starting center. He was one of the greatest college bball players ever.
I am probably a little older than most on this site (50), so I have many memories of seasons past. I really became a Buckeye fan during the mid 70's and although I didn't fully understand what a "National Championship" meant back then, I do now and Jeff is correct. This season should be cherised. I have plenty of bad memories growing up and watching my team lose big games. Hell, the Browns made it an almost annual event, and please don't get me started on the 1997 Indians...
I was born 3 days AFTER the Cleveland Browns won their last championship, my father was only 7 years old the last time the Tribe won the WS..and now I've gotten to celebrate 2 NCs in my lifetime (68 don't count as I was only 4) with the Buckeyes.
So folks, cherish and honor this season. It was truly one for the ages. I don't think I've ever enjoyed a ride quite like this in my lifetime.
Go Bucks!
The last 3 games had scoring runs of 59, 28 and 21 twice....that's damn impressive...
Damnit all! I just lost my job after viewing this video. I ran thru the nearest brick wall and my boss was not happy about that!
Why can't it be Monday?
Boom from Pantoni has been verified....at work so can't link
If you wanna go back then add Cornelius Greene to the list as well. Hell the entire OSU backfield that year was African-American (Greene, Archie & Pete Johnson).
He changed his name in his Senior year of HS to honor his step father who raised him...
Will be at the game! Hopefully the weather holds out...