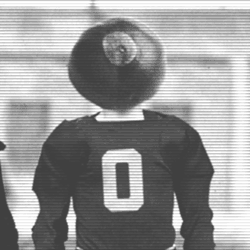 bsodders
---
Member since 12 August 2012 | Blog
Recent Activity
Weird that I never even noticed that rule until now. Thank u sir!
Heard rumors that Urban doesn't have much of a relationship with Strong anymore.
Fortunately we're in on a bazillion top db prospects next year. Still sucks.
Richard Lecountes highlights are ridiculous
Just read the police report. Pretty erratic behavior. Sad to see.
I'm going with James Clark. Just a hunch that he slowly develops as a solid 4th/5th receiver down the stretch.
Man I couldn't agree more! I did some really dumb stuff growing up...got arrested more than once, but once I hit the age of about 19 I cleaned it up and turned the corner. He's got to get it together....really really quickly.
There is nothing I hate more than the random stranger "O-H". It's arrogant and annoying and other fanbases hate it even more than I do. I know this because I grew up in Detroit. Most common complaints are that stupid chant, the "I don't give a damn about the Whole State of MI" song and how we use "The" before saying our university (which I actually enjoy).
Birm - Is there anything to this quote by Kareem Walker on ESPN.com?
"The coaches told me that Coach Alford said they would use DeMario McCall like Jalin Marshall, as an H-back, but when I was talking to [George Hill], he said he wanted to play running back," Walker said. "Everybody is saying they'll be the slot guys and I'll be the running back. You have the No. 1 running back and you take three backs in my class."
I'm a "crotch rocket" rider and have lived in SoCal. I live in Detroit now, but in regards to your questions. Like in all things there are people who do it the right way and people that ruin it for everybody else. I loved lane splitting in Cali and did it at every light and most traffic jams. I always did it at a safe speed though and was very aware of my surroundings. The problem arises when bikers think it's ok to lane split going 80mph through traffic that is still steadily traveling at 50mph and changing lanes back and forth with regularity. The wave is not for me, but to each their own. If somebody waves at me I wave back so as not to be a dick. Loud pipes are stupid too imo. I've hit triple digits many times on open roads with nobody else in sight. If you want to judge me on that feel free.
This kid is gonna be so special in this offense.
Welp, now that that's settled. I regretted the post and couldn't figure out how to delete it. Relax everyone I knew it was a bye week.
It originally had an extension to the tweet that SEEMED unfavorable to OSU/Columbus. Hopefully the redshirt situation is not affecting his attitude/mindset.
Not sure the reasoning Awlin, but that's what I was told by a reliable source.
Elflein will be the starting center this week.
Yeah it's very difficult to get more than one seat during the presales. I tried for 20 minutes straight starting at 10am on the dot.
Those worried about using a scholarship in this 2014 class on a long snapper....all I have to say is this: