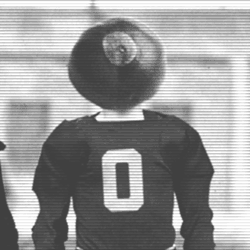 bsk33
---
Columbus (via Columbus)
MEMBER SINCE December 17, 2014
Favorites
SPORTS MOMENT: 2014 National Championship/Matt Sylvester shot to beat undefeated Illinois
COLLEGE FOOTBALL PLAYER: Antoine Winfield/Parris Campbell
COLLEGE BASKETBALL PLAYER: Jon Diebler/Keita Bates-Diop
NFL TEAM: Cleveland Browns
NBA TEAM: Boston Celtics
MLB TEAM: Atlanta Braves
Recent Activity
Do you have info on the Carton injury?
'the team is better with more folks able to take teams off the dribble.' Agree 100%. Just would prefer more layups or even pull up jumpers from 10-15 feet as opposed to a high volume of 16-18 footers that Luther seemed to fall in love with last year.
I could not disagree more about the mid range focus. Unless you are incredibly efficient at the mid range game (example: Grant Williams last year for Tennessee), it is not a smart shot to shoot at a high volume. And Luther seems to have a great first step that would get his defender on his heels, but he would bail out that defender by pulling up for a 15-19 foot jumper. It looked great when he made it, but it did not happen that often. I agree that he needs to get better finishing around the hoop, as does Duane. But I think he needs to give himself way more opportunities around the hoop. And added bonus is he will certainly get more free throw opportunities if he takes it all the way to hoop more and pulls up for jumpers less.
Got ya. For #'s 2, 3, and 5, I have high confidence it will be major improvement. #1 and #4 , I am not confident in major improvement, but I think there will be some. As far as the Big 10 record, again the 8-12 record from last year should be taking with a grain of salt giving the untimely injury to Young and suspension to Wesson. Secondly, I think we are looking at a 5-6 bid league as opposed to 8 from last year. I don't think it will be quite. And finally, I think the Bucks got a pretty favorable Big 10 schedule: MSU, Purdue, and Illinois only once while having Nebraska, Minnesota, and Penn State twice.
I'll try to answer these with a positive spin: 1. Kaleb has lost weight every offseason since senior year of high school. But he is probably 20 lbs lighter than he has ever been. Hard to believe it won't help at least a little bit as far as his pick and roll defense and foul trouble issues. May not be a major improvement, but even if it's a small improvement, I'll gladly take it. 2. Freshmen to Sophomore year is usually the biggest leap in improvement/development. And though a summer league offers very little defensive resistance, Muhammad's outside shooting stroke looked pretty strong. Also, a possibilty that Jake Diebler's addition could help in this area. I remember seeing an offseason video years ago of working out his brother through shooting drills. I know he is assigned specifically to the guards for next season. 3. Even if Liddell and Gaffney only help marginally at the 4 spot, it's something, right? I tend to think Liddell will have a major impact this year and Gaffney probably won't make a major impact until year 2 in the program. But regardless, they lost 3 players from last season and all were guards (Jackson, Woods, Lane). Considering Young (injury) and Kaleb (suspension) both missed multiple games in the Big 10 and Kyle was limited when he did return, it's kind of amazing they made the tourney given their depth. If Young was healthy and Kaleb did not get suspended, I think that 8-12 league record you reference is more like 10-10 or 11-9. The fact they add two top 50 recruits and a near 7 footer (even if Diallo is redshirted, his presence has to help in practice), I think the PF/C production has to improve. 4. This one I have the least confidence in, but keeping with positive theme, Kyle seemingly has been working hard on his outside shot. He was only able to work on shooting when he was slowly coming back from his stress fracture injury in the late Spring/early Summer. Not high in confidence in this one since we have seen no evidence of perimeter scoring from Kyle in 2 years, but certainly not impossible. It seemed like he had a much more diverse offensive game in high school. Maybe he can find it again. 5. I will ask and answer a final question: Will this be the best PG situation Holtmann has had at OSU? Gotta go with a resounding yes. Dakich ended up way better than I expected and made a lot of clutch plays. Despite a very uneven one season, Keyshawn saved his best for last with his postseason performance. And the much maligned CJ Jackson, played his butt off for 2 years despite mainly playing out of position and scored a lot of pts and made a lot of clutch shots. But both Walker and Carton should be major upgrades in the areas of ball handling and quickness. CJ Walker seems like a decent bet to be the best defender Holtmann has had at that spot. And I think there is no doubt that Carton adds penetrating ability and an explosiveness that we have severely lacked these last two years. Hard to believe the upgrade at pg won't make a major positive impact for this team.
The Illini question is very interesting. I think they put it all together this year and end up in the Top 5 of the conference along with msu, purdue, maryland, and the Buckeyes. But if they are not and the Illini fail to make the tourney, I gotta think that Underwood is on the hot seat. I don't know much about the guys Hoiberg got, but literally everyone that contributed on that team last year either graduated or transferred. That team is nearly 100% grad transfers and Freshmen. If he can get better than a 10th place for Nebrasketball, I think he should be up for Big 10 COY.
Agreed. Also gonna be interesting to see how many meaningful mins he gets. Justin Ahrens lingering back issue, and the overall health of SF-PF positions, will likely make a big difference.
Jallow played zero mins at SG last year and I am not sure that changes next year. I know he played plenty of mins at SG his freshmen year, but there were also only 3 guards total: CJ Jackson, Andrew Dakich, and Kam Williams. I think if Musa plays any mins at the SG, it will be due to an injury or suspension to Muhammad or Washington.
You make some good points and I have to plead ignorance on Painter losing a top assistant. But he did just come off a season in which he was national coach of the year. And I don't want to get into a back and forth about Purdue. I am way more concerned about the Buckeyes. But the Boilermakers have the top shot blocker in the Big 10 (Haarms), arguably the best perimeter defender in the league (Nojel Eastern), two potential breakout sophomores (Wheeler and Hunter), and one of the better interior scorers in the league in Trevion Willaims. Losing Carsen Edwards is a huge blow. But I am still pretty happy the Buckeyes only face this squad in Columbus.
Ha, ha. My bad, IP. I had every intention of starting this thread over the weekend and never got around to it. I don't think there has been a new topic on here for a month or two, and of course I go to do it last night and two new threads were up. As long as the Bucks stay healthy, I think they end up in the 3rd-5th range of the Big 10. Sparty is the obvious favorite and it is hard to bet against another top notch Purdue season the way Painter has things rolling. Maryland probably has the 2nd most talent in the league, but I am not a huge believer in Turgeon. Still think they end up in the Top 5. Illinois is my dark horse squad to end up in the top 5 as well. Glad the Bucks only play them once and it is at home. As previously mentioned, I am not a big believer in predicting how far teams will go in tourneys w/o knowing match-ups. But I think the Buckeyes will be in that 3-6 seed range for the NCAA tourney. Should be a fun season.
Right. And if that is all they are doing, why don't they just let the readers do the math? Like, 'I wonder who they picked to make the Final 4? Oh yeah, their 1-4 teams in their Top 25.'
That's why predicting NCAA tourney finishes is pretty dumb, IMHO. All those things could end up being true and we could end up losing in the 2nd round, but who the hell knows? We had the #1 team in the country, an All American Center, the best 3pt shooter in the country, etc and had a an off night (especially Buford), a bad match-up (Kentucky), and some questionable officiating, and lost in the Sweet 16. Too many unknown factors to predict how well a team will do in a tourney in which we don't even know what teams are in it yet.
Fair enough. But I still think his thick body and 7 foot plus wingspan should allow him to play plenty of mins at the 5.
Love this pick-up. Not really concerned about the 6'7" or 6'8" size being that he has a 7 foot plus wingspan. You don't block shots and rebound with your head. The wingspan and the thick body should allow Key to play either the 4 or the 5. The 2020-21 team has great potential to be a Final 4 contender. But it also has great potential to not have Kaleb Wesson on it if he decides to leave after hopefully a stellar Junior season. Key adds some nice interior depth.
Eugene Brown (6'6" SF) out of Decatur, Georgia (#112 overall recruit, offers from Georgia, Georgia Tech, Louisville, Texas A&M, among others) announcing his college choice at noon today. He just came off an official visit with the Buckeyes this past weekend.
Not Thad's style to do that in an induction speech. I would love for him to write a book though. Maybe that will happen in the next couple of years.
I think he meant that Louisville should be included with Duke, Kentucky, etc. as a team that can go to hell.
That's probably the best home slate of games in a long, long time. Non-conference games against Cincy, Villanova, and another SJA game (versus Kent State), plus weekend home games against Wisky, Indiana, Michigan, and Purdue, among others. Pretty awesome. I always get a 4 game ticket package. Gonna be some tough choices this year.
Minor details. Suck it Coach K and Coach Cal!
I agree for the most part, but keep in mind they had no control over the UNC and Nova games. Holtmann was told at the Big 10 meetings they would most likely get an away game with Va Tech, NC State, or UNC for the ACC challenge. They got UNC. He was told they would most likely get a home game versus Creighton, Butler, or Nova for the Gavitt Games. They got Nova. Based on Holtmann's comments, I don't think he was thrilled to land the two toughest match-ups possible in those games. He joked shortly after that they might as well set up their scrimmage with the Golden State Warriors. I still think he would prefer to error on the side of being too difficult than the other way around. And I think most all of us fans would agree. As much as I loved Matta, I don't think he had the same mentality as Holtmann. So I am very thankful of Holtmann for that.
Yeah, I don't think ET is getting any money. Also, just saw an audio clip where Diebler was praising Turner for all he has done behind the scenes the last 3 years. He books the hotel rooms, makes the dinner reservations, gets massages for the guys after games, etc.
Diebler, Turner, and Lighty won an NIT. Buford, Craft, Sully, Ravenal, and Q. Ross were in high school at the time.
Agree. As a fan, it also takes away a little bit of the pain and frustration of that Kentucky. That's the worst I have ever felt as a fan in any sport. (And I grew up as a huge Houston Oilers fan and witnessed their historic loss to the Bills). It just felt like that 2010-11 Buckeye team should have won a national tourney title. They got one tonight, just had to wait 8 years.
Under 4 minute timeout or dead ball. Usually the team with the lead calls a timeout at the 1st opportunity under 4 mins.