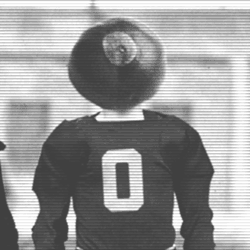 bsk33
---
Columbus (via Columbus)
MEMBER SINCE December 17, 2014
Favorites
SPORTS MOMENT: 2014 National Championship/Matt Sylvester shot to beat undefeated Illinois
COLLEGE FOOTBALL PLAYER: Antoine Winfield/Parris Campbell
COLLEGE BASKETBALL PLAYER: Jon Diebler/Keita Bates-Diop
NFL TEAM: Cleveland Browns
NBA TEAM: Boston Celtics
MLB TEAM: Atlanta Braves
Recent Activity
Minor details. Suck it Coach K and Coach Cal!
I agree for the most part, but keep in mind they had no control over the UNC and Nova games. Holtmann was told at the Big 10 meetings they would most likely get an away game with Va Tech, NC State, or UNC for the ACC challenge. They got UNC. He was told they would most likely get a home game versus Creighton, Butler, or Nova for the Gavitt Games. They got Nova. Based on Holtmann's comments, I don't think he was thrilled to land the two toughest match-ups possible in those games. He joked shortly after that they might as well set up their scrimmage with the Golden State Warriors. I still think he would prefer to error on the side of being too difficult than the other way around. And I think most all of us fans would agree. As much as I loved Matta, I don't think he had the same mentality as Holtmann. So I am very thankful of Holtmann for that.
Yeah, I don't think ET is getting any money. Also, just saw an audio clip where Diebler was praising Turner for all he has done behind the scenes the last 3 years. He books the hotel rooms, makes the dinner reservations, gets massages for the guys after games, etc.
Diebler, Turner, and Lighty won an NIT. Buford, Craft, Sully, Ravenal, and Q. Ross were in high school at the time.
Agree. As a fan, it also takes away a little bit of the pain and frustration of that Kentucky. That's the worst I have ever felt as a fan in any sport. (And I grew up as a huge Houston Oilers fan and witnessed their historic loss to the Bills). It just felt like that 2010-11 Buckeye team should have won a national tourney title. They got one tonight, just had to wait 8 years.
Under 4 minute timeout or dead ball. Usually the team with the lead calls a timeout at the 1st opportunity under 4 mins.
It will be interesting to see if there is some mutual interest between Holtmann and some other former Buckeyes to replace Scoonie. 3 guys come to mind: 1. Andrew Dakich: played one year under Holtmann and was a grad assistant last year. 2. Greg Oden: spent the last couple of years as a student manager. 3. Jon Diebler: sounds like his overseas playing days may be over or at least on hold (his wife is due with twins this month). His brother is obviously on the staff and much like Dakich, has coaching in his blood.
Agreed. I am ashamed to say I did not think they could make it out of Columbus (3 wins in 3 days) with this roster. Glad I was wrong. I actually think they are playing at a consistently higher level than they did when Sully helped lead them to the Final 4 two years ago. Sully was nearly unstoppable, but there were long stretches when the rest of the squad hardly touched the ball on offense which I think kind of prevented guys like Buford and Lighty from consistently playing at a high level. But as good as Craft, Lighty, and Buford have been, to me the MVP is Jeff Gibbs. Despite being 6'2", he has been a beast on the boards, held his own defensively in the post, and has scored a lot of garbage points. He has been a fantastic addition. Love to see the former Buckeyes win it all obviously, but how can you not root for a local football and basketball legend (Otterbein) who is 39 years old and doing work in the paint?
He's not. It will be the same players that played in Columbus with the lone addition of former Illini guard Demetri McCamey.
Apparently Demetri McCamey is joining up with Carmen's Crew in Chicago. It will be interesting to see if he steals the mins from back-up PG Courtney Pigram. I have no idea what kind of professional career McCamey has had or what shape he is in, but he was a heck of a player at Illinois. He could back up Craft and potentially play off the ball with Aaron. They'll need all the help they can get. Eberlin Drive is a tough squad and will be adding former Pitt star and NBA player Dejuan Blair.
He's the head coach, Dallas Lauderdale is an assistant coach.
Jerome Randle is likely their best player. He is a former guard from Cal who has averaged over 20 pts a game so far in the tourney with two game winners. FWIW, ESPN posted a Top 25 players remaining in the TBT. Eberlin Drive had 2 players listed: Randle at #4 and Donald Sloan (former Texas A&M and 5 year NBA vet) at #13. They also have Dejuan Blair (former Pitt star and San Antonio Spur) joining the team tonight. He was a major player on the Overseas Elite team last year that won the tourney. I think Carmen's Crew could definitely win, but this Eberlin Drive team is really good. They were runner up last year for a reason. They don't have a lot of household names, but neither does Overseas Elite who has won all 4 titles and is 28-0 in this tourney's history. BTW, Buford was #10, Craft #17, and Lighty#23 on that Top 25 list. Also, former Illini standout Demetri McCamey joins the squad tonight.
I loved the 2011-12 squad with Craft, Lighty, Diebler, Buford, Sully, Dallas, DT, etc. They were easily my favorite Buckeye team ever and I still to this day think they were the best team in the country despite the painful Sweet 16 loss to Kentucky. That being said, disparaging CJ Jackson's turnovers while praising David Lighty in the next sentence does not make a lot of sense to me. No doubt Lighty was the better career player, though CJ was no slouch considering he was lightly recruited JC transfer. As for Lighty, one of my favorite Buckeyes evers, but did any former Buckeye have more travelling violations than DL? Also, David Lighty's career assist to turnover ratio: 2.4 to 1.8. CJ Jackson's: 3.4 to 1.9.
Do you (or anyone else on here) know why Deshaun is not playing? I know that DT and Lenzelle were on the original roster. And I agree, he would probably be their #1 scoring option, especially since Sully is not playing.
Yeah, I know what a mercenary is. I have never seen the word abbreviated nor used in reference to a grad transfer. I just think that with the transfer rate so high (over 700 d1 players the last 3 years) and kids leaving early to play professionally at a high rate, I have no problem with Holtmann using the grad transfer market here and there even with the program in full swing. Obviously they are utilized in 'the cupboard is bare' situations like with Woods and especially with Dakich. But they are also landing at strong established programs as well. I am not saying I want Holtmann to go that route every year, but come on. There is no way I am complaining about Holtmann potentially using one on a point guard 3 years from now.
I agree that getting a center recruit this fall has to be a #1 priority, but I don't agree that Kaleb is 99% gone after this season. I would put it at 60% myself. If the Bucks don't make a deep run ncaa tourney run and/or Kaleb gets similar feedback from the NBA, I just don't know if he jumps to play overseas or in the G League, especially with a potential national title contender team to play with in 2020-21. But even if he stays, having another true center to go along with Kaleb and Diallo, would be a good thing, especially considering how raw Diallo is. As for PG, I don't see the position in such a negative light even assuming Carton is 2 and done. I mean the situation that is set up for the next two years looks damn near perfect: an experienced upperclassmen with leadership skills who apparently is a bulldog on defense (Walker) paired with a dynamic high 4 star freshmen (Carton). It is probably going to be a letdown at that spot no matter what they do. As far as going after a PG in the 2020 class, how highly ranked of a recruit do you think they would land? Assuming Carton stays for a 2nd season, that recruit is almost certainly looking at 3rd string pg with nothing but mop up mins unless Walker or Carton get hurt. By going with a 2021 recruit, you can pretty much guarantee major minutes, which hopefully would help them land a Top 50ish national recruit. Getting a sit out transfer would be more ideal than a grad transfer (what does a merc mean?), but I don't think it would be such a bad thing regardless. Heck, that Mooney kid nearly helped Texas Tech win a natty. Also, as I mentioned earlier, we could potentially have Washington and Muhammad as seniors. Obviously neither are true pgs, but one or both could be a decent playmaking/ball handling option after 3 years in the program. So if the 2021-22 season is a 4-5 star Freshmen and a Junior or Senior transfer at PG with potentially srs Washington and /or Muhammad to help out, I think that sounds pretty good. They would have to go pretty guard heavy in the 2022 class, but they would probably have to do that anyways with Carton being the only 2019 guard and likely only being here for 2-3 years.
Great post and agree with all of it except for your opinion that Kaleb leaving to play professionally is a foregone conclusion. He definitely seems dead set on playing professionally, as nearly all Division 1 college basketball players are. But, according to Bill Landis, who covers osu for The Athletic, Kaleb is all about playing in the NBA. I know many fans are skeptical of this or ridicule that desire, but that does not really matter. If Kaleb thinks he has a chance, playing and developing at the collegiate level may give a better chance than playing overseas or playing in the G League. Even if you are an upperclassmen, a deep run in the ncaa tourney is a great platform to improve your NBA stock (See Carsen Edwards and Ty Jerome from this past year).
I am not a big fan of setting goals based on solely the ncaa tournament. There is a lot of luck involved no matter what your seed is. Match-ups, location, officiating/foul trouble, etc can all have a big impact on how far you advance. I am hoping for a Top 5 finish in what should be another strong Big 10. Hopefully they are playing their best ball in March giving themselves a chance to go on a deep run in the tourney. Also hoping our freshmen that play big mins don't hit the wall as hard as Luther did in early February.
Agree on offense, completely disagree on defense. Tough to judge with 4 freshmen and a transfer involved, but Jallow and Muhammad plus the defensive versatility of Young and Liddell gives that squad a huge edge defensively in my humble opinion.
They do stuff like this all the time for free and the turnout is typically poor. They had an open practice/scrimmage before they left to Spain last year. They have similar events on the day of home football games to try and get the tailgate crowd. A few years ago they had a meet the team/dunk contest/3 point contest on the outdoor courts next to The Shoe. I attend all of these events. They are all poorly attended despite being free. If you charged $5, my fear is that literally no one would show up.
Yeah, I would be shocked if Holtmann went with two Freshmen pgs. If that scenario played out (Carton leaves after 2 seasons, no sit out transfer PG in place), Holtmann would most certainly go the grad transfer route. Always a crapshoot going in that direction, but Holtmann fared pretty well with Dakich and Keyshawn Woods.
Fair enough. And I hope people don't think I want those players to leave. I was just trying to make a point that odds are we will lose a couple of players besides Andre and it would still leave a roster pretty loaded with talent and a lot of experience. They could have up to 8 Juniors and Seniors on the 2020-21 team, with all having started multiple games on the college level. Even if you take away potentially 1 or 2 of those players, that is an extremely veteran team, which is exciting. That's my bad for using specific players as an example. I won't do that again.
I think the pg position will be alright. They definitely will need a top PG for the 2021 class, whether that is Meechie or someone else. But say Carton leaves for the NBA after two years. If Holtmann does not have a sit one year transfer waiting in the wings to pair with whatever 2021 pg the Buckeyes land, he will most certainly go after a grad transfer at that spot. Also keep in mind, he could potentially have both Muhammad and Washington sas eniors, with those two potentially being stronger ball handlers and play makers than they are right now. I agree that a guy like Keon Johnson would probably have the confidence and potentially the ability to steal mins from the veterans right off the bat at his position. But overall, the 2020-21 basketball season does look very inviting for minutes as a Buckeye recruit, and that's not a bad thing. Of course, college basketball is very unpredictable. They could have 3 or more players (besides Andre) leave for various reasons before, during, and/or after this season. You never know.
I don't find it at all surprising, nor disappointing as a fan, that there is very little buzz for the 2020 recruiting class. As of right now, there is one scholarship available. Given the nature of college basketball and the make-up of the current roster, there will likely be a transfer or two and/or and a player leaving early to play professionally. Let's just say that 2 others leave (besides Andre Wesson). I'll go with Kaleb Wesson and Alonzo Gaffney. I have no inside info that either will leave after the season, but let's just go with it. This is what the 2020-21 roster would look like: PG: DJ Carton (soph), CJ Walker (senior) SG: Luther Muhammad (Jr.), Duane Washington (Jr.) SF: Justice Sueing (Jr.), Musa Jallow (Sr.), Justin Ahrens (Jr.) PF: EJ Liddell (Soph.), Kyle Young (Senior) C: Ibrahim Diallo (Soph) Other than the center position, that's not a very inviting roster for playing time. And that is under the hypothetical that Kaleb Wesson does not return. Kids want to play right away nowadays, hence the transfer rate being crazy high in college basketball. Things should be much more exciting for the 2021 class.
This is true about his high school career. He was definitely a late bloomer: averaged 1 pt and 1 reb per game his Junior, led his team to a state title as a senior.