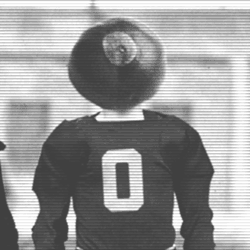 bsanders2519
---
MEMBER SINCE May 31, 2013
Favorites
SPORTS MOMENT: David Boston's Rose Bowl winning catch, The Two OTs in the 2003 National Championship, Every win against tun. The entire 2014 season.
COLLEGE FOOTBALL PLAYER: Eddie George, Big Kat, David Boston, Troy Smith, Ted Ginn, Braxton Miller, El Guapo, 2014 roster
COLLEGE BASKETBALL PLAYER: Scoonie Penn, Michael Redd, Greg Oden, Aaron Craft
NFL TEAM: Chicago Bears
NHL TEAM: Chicago Blackhawks
NBA TEAM: Chicago Bulls
MLB TEAM: Chicago Cubs
Recent Activity
Had to sign in just to UV you.
4-Hard to tell 1v1 results w/all the subs ...
Due to the fact that the booth could care less about actually talking about the action on the field. I love Little Animal, but man, its the spring game, please help the fans out and tell us who in the world is making plays!! I don't need to hear about Fields transferring for the 50th time and seeing his UGA highlights over and over...other than that, I agree, fun game.
This whole operation didn't have anything to do with the guys going in for their "services" no matter how rich, poor, color, race, creed. Law enforcement is going to use all the guys they can for information they can get on the owners and operators of the establishment for the way more serious and egregious crimes. Getting upset someone isn't getting the book thrown at them for some hand jobs is certainly one way to live your life though.
This - clearly didn't get the memo he's Assistant AD. He's not sitting around doing nothing guys...he's chilling at bball games with top talent and helping Day poach coaches.
+1 for owning up.
but I draw the line at crapping on players (coaches, on the other hand, are fair game)
I wish a lot more people had that rule, its a good rule.
Dynamite post and example. You can certainly see the speed difference from 2nd to 4th quarter, and as you point out the effort is probably the same, he is just out of gas.
And it certainly doesn't hurt to have multiple speed guys in the skill positions to make them all run for 4 quarters either.
Seeing as how Franklin teams seem to present a bigger challenge against us than Harbaugh teams...I'll take whatever team Franklin is coaching.
Im a fairly optimistic person. I was thinking the same thing Saturday night. After keeping the faith all game, I came on here to see what other people's reactions during the game may have been, and good Lord. It's worse here than it is on That Team's site after a loss. I had to take some screen shots just to make sure I wasn't reading wrong.
Some of my favs without calling anyone out:
Done with Urban.
Urban simply doesn't have it anymore. Hasn't had it since 2014. ....
Rude awakening for Haskins nowhere near being nfl ready mcsorley just better and runs the offense better
After the infamous Victor play:
Nice play, but it's just delaying the inevitable
Schiano can pack his shit also
I really hope this dude woke up with a lot of regret, and learned his lesson:
That's it. I'm out. Can't watch this crap show anymore. Have a good night everyone. It's been real. Real sucky. But the sun should come up tomorrow. Probably. Maybe.
On the game winning drive, nothing like keeping the faith:
Haskins pick cometh
One person I will call out - great take - Johnny Amerikos:
When they pull this game out, there's a lot of people that should just check in their fan cards
After reading all that, I took a shower, went to bed and promptly reminded myself never to wade into those message boards ever again.
That's actually a pretty hilarious tradition. I may have to go back for more next week. That's creative.
My only issue here, is where do I start? I only have 26 hours to prepare my body...
I watched it last week as well to get something football related in my life. I definitely recommend it. I'm super excited to watch Tate play in our offense, but I also developed a bit of a man crush on Fromm.
Exactly. Its absolutely not about making up something to see if it sticks, and saying something like "DJ Durkin killed a kid" even to make a point, is extremely insensitive to the situation going on at Maryland right now.
DJ Durkin killed a player.
Wow. Judge and jury here. Maybe wait til the investigation is completed to even know if he knew what was going on with the player?
Wow, DVs on this one. Crazy. UV to offset.
Ill have to find you in another thread somewhere to UV you.
If I find out this day has mostly been spent on speech writing and practice on responses to media questions, I will be ticked because I do not have the self control to just wait and listen to the final verdict when it comes.
Wait a second...are you trying to be rational?
I just want the next update to be: Press Conference starting in 15min. Please for the love of everything finish this thing today and DO NOT drag it into tomorrow. I need to sleep tonight.
Conspiracy Theory: They are dragging the decision out to make alcoholics out of us all so that alcohol sales will skyrocket in the Shoe this season.
Right? Like he wanted to open this can of worms.
I think this cluster is exactly why Urban "misled" at media days. What a defecation show. All this back and forth he said she said her mom said garbage is exhausting. Please just tell me Urban did what he was supposed to, and the courts can work out all this garbage and we never have to think of it again.