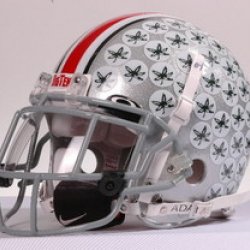 Brutus_Bully
---
Knoxville, TN (via Columbus, Ohio)
MEMBER SINCE August 19, 2014
Recent Activity
I think we're just fine at RB.
Harbaugh will bolt for the NFL tail between legs,after we shut down the big house again, I'm saying it now.
I think the black stripes are Ryan Day's work and not so much Washington's.
Those walk on's bust their asses and rest assured it's been hard what they do and paying for school to boot.
I can't believe we're talking about black stripes already! Getting pumped for 2019.
I'd give up summer to wake up day of first game 2019, tomorrow.
Urban always said running plays under center would do nothing for us, I disagree and and very happy to hear that Day gets the qb sneak.
We will beat Nebraska soundly, we simply have better players across the board and I'm betting the defense is significantly better.
I history lessons.
Gene bless his heart, I don't think he thinks the football program could swim without his divine guidance and it's kinda funny. Gene is all good, just not quite as important as he thinks he is and I'm ok with it .
Urban is a great recruiter and developed an amazing culture and is the best underdog coach out there, but as far as his job as a coach, I think his best days were behind him and I think he really underachieved in many ways since the national championship. I think this because of some major whiffs in coaching hires/coach designations, and the inability to keep the team focused all season with losses to MSU, with a backup qb at home, with the best team in the country, to getting embarrassed by Clemson, and loses to Iowa and Purdue.I think this is a reasonable way to look at his legacy. We should have been in every playoff just like Alabama and won at least 1 more title. Don't get me wrong, I love Urban and think he is underrated as a human being but he hired too many close friends and failed to keep the team interested too frequently IMO.
Does Vegas have a line on his hardship waiver?
If you see the wristbands he designed you realize it's complex what he likes to run.
No B1G west opponents to fall asleep on next year, I think Nebraska, Northwestern and Wisconsin will have our attention.
I don't buy this notion that come January 2nd, Day can just start canning people, I think the pieces are in place for now and that's been agreed upon. I could be wrong.
Yes, I'm trolling Mlive!
He needs to lose to Ohio State at home before he can truly appreciate his ichigan experience.
We had the best roster in the nation in 2015 and lost at home to MSU with a backup qb and lost to Iowa last year and Purdue this year. That is struggling to keep the team focused because those are games that should have been won and the last two we got blown out which is a major lack of focus or lack of control.
If Day can keep the team focused for the whole season we can get back to the playoff, Urban, God love him, really struggled with that.
Wow.. this came sooner than I thought. Best wishes to Coach Meyer and his family. Ryan Day, say goodbye to your black hair. Is a guy with no head coaching experience ready for this job?
Delaney kicked something over when the final four was announced and he shouted obscenities rest assured. There are some major politics going on and there must be some hefty penalties for saying anything negative about the playoff committee because no one outside of the media is saying shit negative.
Everyone knows Murray is gonna win it, sad thing is no one will take into consideration the 6,000 yards passing Haskins would have had if he played in the back yard football conference.
Doesn't matter who you beat, how many conference or FCS games you play, if you win a conference championship..or if you even play in a conference. Just don't lose a stupid game to an unranked team and we are regulars!
Might as well go back to the BCS, the playoff is a sham and now we get to go play a crap team that can't put up more than 10 points on Utah. The B1G has no pull whatsoever. Bet the farm on Clemson's line whatever it is.
Our boys will be interested 2 weeks in a row and the refs won't be ale to keep Northwestern in this game either, 14.5 is easy money!