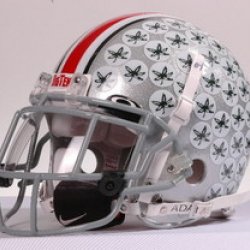 Brutus_Bully
---
Knoxville, TN (via Columbus, Ohio)
MEMBER SINCE August 19, 2014
Recent Activity
This is getting out of hand. Fucking media..
Regarding our secondary in this video https://youtu.be/h1vRYZruzHo What Coombs says at 7:39 makes me feel warm and fuzzy.
I don't have alot of hope for McCall, we always seem to have a Bam Childress who wows in practice but never really materializes. That's nothing against the kid, it takes a freak to play RB for OSU.
14 early enrolled, that's awesome!
I knew a while ago that their ship was taking on more water than the bilge was extracting, but it really hit home after the Army win. OSU players wouldn't be brave or stupid enough to jump up in the stands to celebrate with fans after escaping with an OT win over a service academy.
Toss up between Proctor crushing Wisky QB and hairball talking about homecoming.
Alabama has the #2 class and their defense is gonna be alot better, the QB is no slouch. They are gonna be tough next year.
Something tells me Iowa is going to feel like an used two bit fluzy when they leave the Shoe next year.
I'm not too worried about the schedule, we will grind Oregon in the dirt, PSU will of course fly in martians and install subwoofers under the turf for our game but they aren't gonna beat us. I pity Iowa. We aren't going to have the best receivers in the country, but they will be good and honestly, by next season, Teague, Crowley and Chambers are a problem 99% of teams would like to have. Did you guys miss Teague this season? He was running against a very good defense and they knew he was running, Day forgot what he was doing there in the middle of the game. We may not have a Malik Hooker or Lattimore, or we may, but I'll take good coaching and a group that should be pretty good by mid season over talent being squandered by clowns like Schiano and Davis. I think we go 13-0, beat Wisky again in Indy and play Alabama in the first round, Clemson being a #1 seed and some other Oklahoma type scrub as the #4.
As much as Herman tries to emulate the Ohio State model..well you what happens if you show a trailer park manager how to run a major city..
It's amazing how running tempo was completely disrupting their defensive scheme and we stopped, why?
I wonder if they specified what color of bow they wanted on that gift wrapped game we jointly handed them along with the refs.
Do we need it? Probably no, however; it's gonna be a receiver room that could use some senior leadership for all the young pups we're gonna have.
Day gets it
Welcome to the Buckeye family!
What I call Joe Burrow is an inexcusable Urban screw up, if him and Haskins were neck and neck it's pretty obvious who the player best suited for our offense was.
He's been one of the most overlooked players in the country his whole career I'm glad to see him get this at least.
Once you realize that they are aliens, it all starts to make sense.
He's one of the best red zone receivers in the country.
When you do something so piss poorly that the validity of it is completely compromised before it's even finished.
I was shocked at how bad our pass defense was without Okuda, I mean Wisconsin had one receiver. The long run Taylor had early really allowed them to throw the ball effectively. Okuda and Wade need to be playing for our defense to be right. With Clemson's O Coordinator thinking about South Florida I think we have an advantage in game planning, especially with Day
Chryst is the Kroger Brand Tressel.
Day vehemently denies having taken part in any sausage scenarios...
I'm still in shock over the COY, Ferentz won 9 games, he must be devastated.