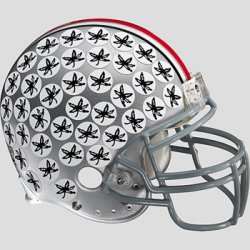 brutusbuckeye95
Lima, Ohio (via Lima, Ohio)
MEMBER SINCE February 24, 2014
Buckeye fan since birth... Champions bleed Scarlet and Gray
Favorites
SPORTS MOMENT: 2002 National Championship
COLLEGE FOOTBALL PLAYER: Archie Griffin & Ezekiel Elliott
COLLEGE BASKETBALL PLAYER: Aaron Craft
NFL TEAM: Dallas Cowboys
NHL TEAM: Columbus Blue Jackets
MLB TEAM: Cincinnati Reds
SOCCER TEAM: Columbus Crew
Recent Activity
This dude is living the dream....
Maybe we should get Xavier first on a graduate transfer... he belonged at Ohio State but Matta didn't want him.

Xavier Simpson needs to transfer back to Ohio where he belongs and lead the young Buckeyes to a Final Four.
Buckeye Basketball is back... the best Ohio has to offer every year would easily fuel one of the best teams in college basketball every year.
Anyone seen QB1 on Netflix, Season 1 had Tate, Season 2 has Justin... Time will tell, but I think we chose wisely. Justin seems to be a lot more like Haskins in personality and leadership style. Then again, who knows how realistic the "reality show" was on either of them.
All these kids should be able to transfer wherever they want as long as people aren't writing checks and have luxury vehicles awaiting them when they arrive on campus. The graduate transfer rule has been good for college football and basketball why not expand it?
Did this kid really think he was going to jump ahead of Jake Fromm after he led Georgia to the brink of the National Championship as a Freshman? He would have his hands full trying to get playing time ahead of Tate next year.
This is exactly what I expected to happen, from a HR/business perspective this was a nightmare with no arrests and charges. However The Ohio State University was been tried in the court of public opinion and they had to do something to appease the lynch mob circling around the football program. Urban is guilty of bringing on a bum from Florida that he should have cut ties with, but he is human and had loyalties to Bruce that ended up costing him 3 games and a lot of heartache.
No one truly knows what went on in the Smith's home despite what the media claims, and Courtney needed to press charges. Unfortunately for battered women everywhere that isn't always enough. Courtney also seems to have some issues herself when her own mother is questioning her motives. Two screwed up people, a screwed up marriage and leadership who at the least should have fired this guy no matter who he was related to. None of that seems to be something you fire the head coach for but hopefully it makes his judgement on these kind of issues better in the future.
He looked pretty good against the team up north, why change anything... other than throwing the ball more and less QB runs up the middle.
It sure sounds like Herman had some old axes to grind with Smith and possibly Urban. Urban will be back coaching in a few weeks if this story has any truth to it. Smith needs to get his life straightened out and get a good manufacturing job considering there are so many companies out there that are looking for people to work.
Cue the heated debate by a bunch of people with limited knowledge of who knew what and the entire background of the story. A lot more information has to come out before I make a judgement one way or the other. Considering what goes on in a lot of divorces, there is often 2 to 5 sides to every story. Zach Smith sure looks to be a wife beating bum, anything more than that at this point is pure speculation.
It is a little early for the "bust" label, if he starts at linebacker for The Ohio State University that is exactly what we expect from a 5 star. However I don't agree that guys get a pass because of injuries, fair or not... it is a part of football and basketball.
What a beast... I am interested to see if he takes his talents to the UFC once he is finished ruling the world wrestling scene.
Aaron Craft was what exactly what Ohio State fans expect from Ohio basketball players. Loved watching him for 4 years.
I hope Burrow rips up the SEC next year, especially Bama.
Looking forward to see us stretch the field more this year. This in turn should open lanes for our stable of running backs.
Who is better at this point, only Nick Saban would have an argument.
Looks like the next Orlando Pace, yet he may even be bigger if that is possible.
I will give Urban a pass on that one, considering every one and their brother had an opinion on who should start at QB after Cardale led us to the National Championship. Cardale then played awful. He should have went pro and he would have been a high 1st round pick after his performance against bama and a weak QB draft class.
considering it is the SEC we are talking about, they probably will create a Masters degree to get him and not even make him attend class.
If Burrow makes LSU a title contender, he would be on the national stage and probably on the cover of SI.
Doesn't Ohio U pass the ball about 10 times a game?
Haskins proved himself on the biggest stage against the team up north. I loved Burrow's skill set, but Haskins performance leading the Buckeyes to a win in a tough situation showed he is the real deal. Urban Meyer's record speaks for itself though I always wondered why he didn't give these young guys more of a chance when JT was struggling at times throwing the ball down field.
I would much prefer to see him go to the SEC and stick it to bama and Georgia than anywhere close to the midwest or B1G. He has 1st round NFL potential, but the guy who beat him out has top 5 pick in the draft potential. He gave Ohio State more than a good shot, now he has to move on for what is best for his career. Selfishly, I would have loved for him to stay and give us 2 potential All-American QB's but realistically it wouldn't have been a smart move for him. He is a graduate of The Ohio State University and I wish him well except if and when he plays against the Buckeyes.
RIP, he had a great legacy as one of the few who got the honor to be the head football coach at The Ohio State University. Probably the best thing about him was that he continued to love the Buckeyes and not be bitter after he was fired.