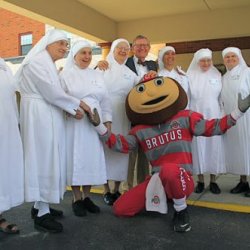 BrutusBuckeye00
---
from Gahanna, Ohio
MEMBER SINCE March 10, 2016
Favorites
SPORTS MOMENT: OSU vs. Wisconsin 2011 Football Season
COLLEGE FOOTBALL PLAYER: Braxton Miller; Ryan Shazier
COLLEGE BASKETBALL PLAYER: William Buford, PJ Hill
NFL TEAM: Browns
NHL TEAM: Jackets
NBA TEAM: Cavs
MLB TEAM: Reds
SOCCER TEAM: USA
Recent Activity
It wasn't cheating. One student added the class to the group messaging app. Im sure some of the students took advantage but many students were failed who did nothing and did not solicit the group text either.
I'm not a student but I know someone who was failed for this. It is very unfortunate.
Re: Cheating at Fisher @DJ; et al,
The cheating take is way too spicy. I am not a student anymore but I know someone who was implicated in the cheating and failed the class to take again. What really happened is one student started a groupme (like a group text app) with the entire class roster asking for answers to a take-home final. Students didn't have the ability to "not-accept" the groupme even if they didnt participate in the cheating. When the university found out about it, they had no choice but to assume that all of the students were complicit.
They students went to judicial review to appeal and they were denied. I think it's really unfortunate and the Dispatch story does not make the effort to find out the entire story.
Im not saying cheating is okay or whatever, but some students will easily recover from this, while others may not. Im glad this technology didnt exist when I was in Fisher because it could have easily happened to me. Go Bucks!
I dont want to drink regular mouthwash, let alone God's.
Ill stick with the Boulevardier.
I agree. I dont think Worley is a bad player, but I dont think the MLB suits him. But It is glaring and very concerning for the last few games of the season
I agree. OSU fans behind me kept shouting "BORLAND" and now i know why
But still, I'm pouring one out for Adriatico's and how they got heisted by the Ohio Union when they built their pizza kitchen and totally ripped off their style and taste
Biffs
Adriaticos
Sicilia's
Houndog
Give the ball to J.K. and Mike Weber + Drink bourbon + Rinse and repeat = Profit
Who are the players going to Auburn that are requiring this level of bribery? Im assuming Marcus Smart could be implicated from Ok St.
While Hugh Freeze is calling up hookers, Urban Meyer is signing them
Brutus was created in 1965, not 1967 sounds like the athletic dept made one of their many typos.
the Height of Brutus should be between 6ft and 6'9, not the individual inside. There have been many shorties over the years that just crest the 6ft mark because of the hightop cleats and Brutus head.
11w should call up the mascot coach (on the athletics website), and do a piece the mascot machine and the upcoming season and what Brutus does to prepare.
1. Like @Almurray10 said, as a senior (and mascot) during the 2011 football season, I witnessed epic collapses and offensive ineptitude the likes of which would make the last two seasons look record setting by comparison. I watched up close and personal the meltdowns at Nebraska, at Miami, home vs. Penn State, home vs. Michigan State, etc. That made me appreciate the Wisconsin victory as if we had won the National championship, and transcended to my ability to handle losses like last year @PSU in a hostile environment that much better. In that sense, I appreciate how bad we were in 2011.
2. I like going to away games more than home games at this point. It probably has something to do with the opposing fans getting more excited with OSU coming to town, but I would rather guarantee tickets and travel to the away slate for the next 5 years than at home.
3. As an Ohio State alum, fan, and Columbus resident, the Schott is something that embarrasses me. It's been written that it is a terrible place to watch basketball, but it is also a just as bad place to watch a concert. Like Walt's comment about the clothing design, we have enough money to make cool shit, so why do we instead produce crap?
4. Hype videos are so overproduced that they are now annoying and usually do nothing for me. I used to like them when they were more rare and for special occasions
5. Despite the perspective it gave me, I still don't forgive Ohio State for pretending we weren't going to be freaking awful on 2011. "Shock the world" and all of that was really unfair to the players and the fans and they should have tempered their hype a little more or looked at it from a different angle. I feel the same way about the coaches for not utilizing Kenny Guiton and his legs in the 2011 Nebraska game, and on the team itself for giving up on the season after the Wisconsin victory.
This isn't a statement about concealed carry or whatever, but my thought is always, why do these guys need to be personally carrying weapons? Where else has his life taken him that he feels the need to personally carry? At least being dumb enough to openly display in front of law enforcement shows such a lack of poor judgement that it makes me wonder if the gun is even "needed" at all.
For my money, 2011 vs. Wisconsin deserves a play by play, not honourable mention. That was a victory in a game we had no business even playing in. I suppose if we went on to win our final 3 games of the season and went to the Rose Bowl like we were capable of, then it would have been more memorable.
Otherwise a great read!
When hyping the Clemson game this year everyone forgets how bad-by-comparison we were in 2013/14 compared to now. Additionally, day of the game we lost Noah Spence to drugs and Bradley Roby to ... wanting to just go to the NFL.
Two of our best players on defense and we still only lost by 5. Im excited to see a hopefully full strength team take on Clemson.
Former Brutus here -
Brutus is NOT on scholarship but we're trying to get there. Ya'll should donate :) www.give.osu.edu fund#: 640910
Even though it was the middle of a Tuesday, he is probably on his way to any one of the 3-5 events he has that day elsewhere on campus or around central Ohio. We should count our blessings to have such a diligent mascot
@Ramzy; The Brutus in the background of the cover photo was me in 2011. The hands on the hips is mascot for "we are going to lose this game despite dominating 75% of it". Keeping the photo for my records, thanks!
Rutgers won the first-ever football game 6-4. A week later there was a rematch which Rutgers lost 0-8. That was how the first football season went down; just two precious Saturdays to avoid getting married. There was no controversy when the only two teams in America then shared the national championship. This is Rutgers.
Fall Weddings: Zero Tolerance is and always will be my favorite Eleven Warriors masterpiece.
It's William Tell. Robin Hood is when you strike your arrow with another arrow in the same spot, splitting it.