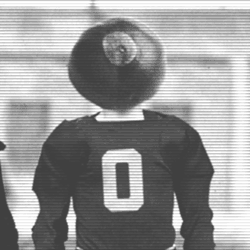 brutusbro
---
MEMBER SINCE March 17, 2016
Recent Activity
As long as fields stays healthy I'll agree
Lmao. Meant to say licked, I guess burn is on me now, lol
They prolly don't want to be picked, lol
Nope, let her get a new artificial(from balsam hill), she been dieing to put it up. I made a deal with her when we first got married, if it goes up before Thanksgiving, it's got to be buckeye themed. Needless to say it's been buckeye themed every year, lol. buckeye santa hat is the tree topper
Christmas tree, ugh!!! Wife's idea
Heather dinnich
Why they keep talking about our non conference schedule, and Clemson gets a pass for their whole season schedule
Do recruiting trips count towards his personal flight hours, or is that work related flight time?
It's just crazy the game young had. I rewatched the game on BTN in 60, and chase young was about .5 secs away from having 7 sacks Saturday. Just amazing the level he is playing at
Typical ichigan fan, get a decent win and now if they played them all, all over again would be undefeated. It's easy to say now you guys would beat Wisconsin after the beating we just put on them. Same will be said about psu after we get done with them. But as we all know, the last Saturday in Nov will be here soon enough, and after watching this osu team for 8 games so far, I'm guessing it will get a lot more quiet up there
Don't need him to run it in, just follow the mountain into the endzone
My brother got tickets to a couple games that I went with him(Cincy this year). Great site!!! Thank you veterans for your service
The mountain of a man named Jones looked pretty good as well
Beat me to it
Actually they would have something left to play for. If ichigan beats psu, barring an upset from msu or some other bad big10 team, they would have 1 conference loss playing us. The winner would go to the big10 championship game, having won the head to head game. Buuuut, I see no way they beat us this year
Have you seen Minnesota's schedule? They should be undefeated. Wisconsin is going to take them to the woodshed.
I want psu to play somebody decent (Pitt don't count as that)
A whole conversation on upvotes and downvotes in a recruiting thread is a perfect example on why people's comments get Gray'd out
Exactly, plus let's not forget that coach Mick is just starting his magic on him
I thought I heard vrabel hated recruiting as well
Browning's stock continues to soar. Borland is a good, tough linebacker, but Browning gas that 1 thing Borland doesn't and you can't teach, and that is his athleticism. I believe he gives us the best chance to succeed moving forward. I might have also added Zack Harrison to the stock up. Dude was living in the backfield Saturday night when he was in
Love this teams mentality. Young said it best, on to the bye weak, on to northwestern. Stay humble boys, and greatness awaits
Harrison already living in the backfire, imagine another year under coach Mick, WOW. Wilson is a star in the making, and I'm really excited about Williams future. I think he's gonna be great to. You can't teach that speed he has
Glad you brought that up. Win the TO battle 4-1, and still struggle to hang on. Both teams slow as hell!!! Iowa undefeated because of schedule, and ichigan only has 1 loss so far because of schedule. After watching that performance today, neither worry me. Beat state(the big brother up there)
Don't matter, saints will find a way to take young and okudah, lol