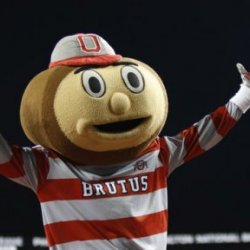 BrutusB
---
MEMBER SINCE August 26, 2014
Recent Activity
Maybe sending a message to our scholarship linebackers...?
I don't care what they call it. Just give me a linebacker that can actually tackle the ballcarrier.
His 2019 money became guaranteed in February. And $27m+ is a TON of dead money to put on the cap.
Your Haskins-to-Oakland prediction would be great as long as you ignore the tiny little detail that they've signed Carr though 2022. In contrast, this is Eli's last year of his deal. NYG will be bad this year, but they won't be able to just bench a multiple super bowl winner four games jnto the year in what everyone knows will be his last season (they'll do that in like week 12 though). That's still his best landing spot to learn and develope long term.
Maybe, but I tend to think the best-non-NBA high schoolers will still gravitate to Duke and Kentucky anyway. The playing field might be a little more level but the rich are going to stay rich.
I sort of agree. I'd probably root for a non-Michigan B1G team if they made it to the title game. But will I lose any sleep if they all lose in the first weekend? Nah.
Deep down I think it's going to be anticlimactic and Duke is just going to win, but would love if any of the above managed to pull it off. (Except Michigan.)
B1G getting tougher isn't exactly what we needed, but good for him.
Oh, THAT tournament. They couldn't pick literally any other day to start this?
This sounds like what you're intersted in: http://www.nfl.com/draft/history/fulldraft?type=position
Theres basically always a QB in the top 2 (which could by the case again if the Cards take Murray). That 2013 draft is kinda crazy though.
Kinda sounds exhausting. I mean I'd do it for the signing bonuses these guys are about to get, but still.
I think its clear they want him, but they need a TON of pieces. They might just go 'best player available' for a while.
Not if they use that extra first to move up a few spots...
Yea I get what they're going for there but maybe they should just outsource that work to Barf from now on
Yea but after Urban left, Bosa was no longer the team's biggest quitter.
Warm your toes on that one.
His passer rating would have set the all time record last year if not for Tua bearing him by .2. It's not like running is his only skill.
Dan - do teams also do interviews at these? Or is it only workouts? Just wondering because Kyler met with the Cardinals last night, so was curious if they set aside conference rooms or something for that purpose.
Mookie Betts is only 26, so I'd guess he has a giant payday coming. Other than that you'd have to pick one of the rookies and project them to go nuts.
Most schools don't oppose the transfer request. Oklahoma tried and got buried alive with bad PR. UGA had to have a mild response to say they weren't racist and unsafe (but quickly dropped it and didn't delay anything).
No there's a monkey too. I've seen Aladdin.
Or so the DA can have his scalps rather than just saying they're all free to go
Yea but the alternative is to punish 80+ innocent college kids so some fans can be happier when watching on TV. If anything it should just incentive ADs and coaches to make sure they don't have a shady culture in place.
Under the old rules, I thought that none of Tate, Fields or Patterson had a great case. I thought hardship was reserved for things like Grimes going home to be with a sick family member.
But under the new rules all of them are good to go. And I actually support the new rules a lot more.
That's an added bonus. If some coach or one player commits some major penalty, why should the other 84 guys be punished?
If someone really wanted to leave their team to get Bama or OSU they already would have been able to (they just would have had to sit first). But I think that fear is overblown anyway. We want 3-4 years of blue chip recruits, not one year rentals of fifth year guys who were late bloomers. Fields being an exception, we basically take on one guy each year that cane from somewhere else.