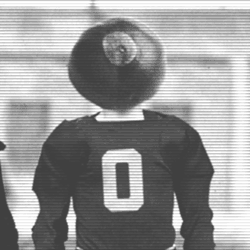 Brutus1972
---
MEMBER SINCE January 08, 2013
Favorites
SPORTS MOMENT: 2003 National Championship vs Cryami. I was stationed in Germany and was up all night to watch it.
COLLEGE FOOTBALL PLAYER: Antoine Winfield
COLLEGE BASKETBALL PLAYER: Big O
NFL TEAM: Bungles
NHL TEAM: Married to a Canadian, I have no choice but to lik
NBA TEAM: Sixers
MLB TEAM: Reds
SOCCER TEAM: As soon as they get rid of that silly "off side" p
Recent Activity
Blue, I already have $300 from Scarlet colored glasses individuals who thought JT would get drafted. Let me know, I will email you with my paypal!
I have bad news for you. Every QB on the team is better than JT at QB. The coaches said, is like a tattle tail. I cant count more than once, the best player wasnt on the field. Unproven QB, tell that to Nick Saban who had JT 2.0 and switched to a true freshman to win the Natty!
First, i would like to say that i am no the one who downvoted you.
Are you actually JT, related to him, one of his friends, or delusional? IDGAF who transfers or starts this season at QB, it will be an insane upgrade in throwing the ball. I dont need the coaches to tell me that, I watched them all throw the ball the last 2 years. All of the WRs didnt come back because they sucked, or zach is a terrible coach. That shit wasnt an accident!!!! Ill say it until i am blue in the face. The staff owes Joe B an answer and I do not know Joe or any of his family. Its the right thing to do. The passing game gets an upgrade either way.
Bluestar, what do you have that you are willing to lose $?
Cle was my sons coach at football camp last summer. Young man is bigger in person. The hype is real.
No kidding, Clemsons D Line is insane. Talk about the SEC having bagmen to get recruits. I want to know how they kept all of those guys from declaring this year.
Good luck thinking you can strong arm a kid who has been loyal to you and sat behind lesser talent when he graduates in Spring. I'm fairly positive he is transferring but where to may depend on the staffs choice of making a decision. Sure would suck for the staff to pass up an opportunity to make a classy move and cause Joe B to transfer to UM and give Urban his 1st loss in the rivalry. That would suck. Would have to name that one "when my way or the highway goes wrong and bites you in the ass". You are wrong about recruiting. UM has never been worth a crap without Ohio kids and here you are trying to start the pipeline.
I dont see Ward making it all the way down to #10 which sounds crazy but I just think too many other teams above them are in need of a CB. Think Tampa goes with Fitzpatrick at Safety if he is available and I pray Ward does not go to the Bears. 49ers would be an awesome landing spot for him to learn the tricks of the trade from Sherman and be on a team that has a chance to win. Hope Gareon recovers from injury and gets back on the field.
I'm not sold on Webb or Worley getting drafted although I certainly think they could make a team.
Hope they all at least get to a camp and get a shot, thats all you can ask.
Thats easy for you to say, you didnt sit behind JT last year. Joe B played good Soldier and showed his loyalty by sitting quietly behind a player he was better than. They absolutely OWE him an answer. If they do not make a decision in time for Joe B to make his decision, it will have a negative impact on recruiting the home state without a doubt. Be a professional, make a decision. Joe B is leaving if you dont name him the starter. You can look like the good guy, or look like a d*ck to the entire state of Ohio HS football. Its a no brainer from a recruiting perspective. Be classy, parents like that and parents dictate where their kids go to school an awful lot.
Cardale does not get drafted and we dont win the Natty if JT doesnt get hurt vs UM.
The current QB-geddon has nothing to do with who is a better QB right now. The coaches have everyone believing that they are doing analytics on every practice and passing charts from the spring game but thats not what they are studying right now for this decision. No matter who is named the starter, the other QB is almost certainly going to transfer. Joe B has 2 years left, DW has 3 years left. 1 year doesnt sound like much but having stability at the QB position for 3 years is a rarity in college football. It also means that DW has another year to develop where I am almost certain the staff believes Joe B is about maxed out. So that leaves 2 real questions for the staff. One from an on-the-field production standpoint and one from a PR/recruiting standpoint.
1. Will DW reach his preceived ceiling and surpass Joe B's on field production while becoming one of college football's greatest passers? Or... does the staff believe that Joe B's current production is enough to win a Natty now and overcome the extra year of stability at QB and molding DW's maturation? Do we go with what is best now hoping it is enough to win a title over having more stability and time to develop DW who has the physical tools to be even better? This is a heads-up gamble in my opinion but no the only.
2, Which one of the tranfers will cause the greatest blow to recruiting. If Joe B. transfers with degree in hand to another institution and gets on the field for 2 years and earns his graduate degree, do you think he is going to bash OSU and tell Ohio kids not to go to OSU especially if the staff does the right thing and makes a decision now when it is optimum to Joe B's timeline for him to make his decision? Probably not. Ohio kid gets OSU degree (which majes Joe B. a Buckeye for life no matter where he goes), gets on the field at another school while earning his graduate degree as well as improving his draft stock. Pretty good scenario for both in my opinion although there will always be those people mad because he was an Ohio guy. IF DW transfers on the other hand, it doesnt look nearly as nice and will certainly have a more negative effect on recruiting in my opinion. DW with no degree and being made to sit out a year at the next institution will have a much more negative backlash in the Maryland/DC area than we would wish. Remember, we flipped him from Maryland. Joe B is just in an entirely different situation if he transfers in comparison to DW.
#1 is a toss up dependig on your gamble. #2 has quite a spread and I am afraid that it is the deal breaking reason that Joe B goes and DW stays. I have no doubt in my mind that at least for the next year that Joe B would be the better option at QB for OSU. However, the more I think about it, the less I truly believe it has anything to do with how good they both are right now.
Thats just my conspiracy theory, who knows what happens. lol
There's no way Sheffield and Arnette keep Okudah off the field unless he doesnt recover from injury. Ill bet what you want that he is starting by the TCU game on SEP 15 in Jerry World! Im going to that one!
I dont think it has anything to do with the staff allowing Joe B to make the decision for them. I think they should be obligated to him to make the decision as soon as possible. I think he has shown more than his fair share of loyalty sitting behind JT like a good little Soldier. Time to give him the reigns or let him go. As far as I am concerned, the staff OWES Joe B an answer!
Think he is going to want to get somewhere to learn the playbook as soon as possible.
Agreed on Guard position, think Davis pushes or surpasses Knox.
Wouldnt let me edit, past 10 minutes.
My only question is whether the coaching staff will actually name the starting qb before fall or will they make Joe B. look like the bad guy for transferring? Character is on the line as far as i am concerned with this decision. I'm fairly positive UFM will make the right decision. I know he doesnt want to have to make one at all and would love to keep both with the QB battle going all summer and fall. But.... thats not the right thing to do in this situation.
Actually it isnt slefish of us, it is unintelligent of us to want someone who isnt going to play to lockdown a roster spot that could be filled in recruiting. Since we are all making business decisions.
Haskins gets the nod and Joe B transfers although I dont agree.
Myers takes over at Center for Taylor.
Tackles stay the same.
Berry gets his job back at TE.
DE's stay the same.
LBs will be Browning, Harrison, and Jones. Think Hilliard and Werner get some reps but dont start.
Okudah starts over Arnette regardless of game experience. There's a reason he played Denzel's spot in the Cotton Bowl. Wade may push Arnette to 4th in the rotation if he doesnt go to work.
Pryor starts at the other Safety and Proctor starts to push for reps at the end of the year.
Agreed, he is a very good receiving TE, but he was also a very unwilling, terrible blocker. He didnt even pretend to try to block until this past year and teams who watch tape are going to know that was will and not skill.
It has to be the final grade if the coaches have already stated that no one has separated themselves through spring practices. It's show time under the lights in front of 70,000 fans. The decision has to be made before fall which means the only other data points have already been declared a draw. The Spring game might not be the be-all end-all in most years but this year it will have to be if they are naming a starter before fall which they have said they are going to do.
I love Denzel but he is not as physically opposing to big Wrs as Lattimore. Lattimore has the height, weight, strength, and wing span over Denzel. Denzel has a half a step and has been injured less. Both 1st round talents but not the same guy.
Ok, lets say they were even last year too. Nobody separated during spring practice but I just watched the final grade in the spring game and Joe moved the offense more consistently than DW. Joe B is not worried about not being named the starter even though I am sure he wants it. He can transfer with degree in hand and play right away somewhere else. If Joe B is named the starter, DW has to make a decision on whether to sit behind Joe B for a year hoping he will go pro next year or transferring and sitting out a year somewhere else. Although it probably isnt a big deal to most athletes, transferring would also change from where DW receives his degree. I'm sure it makes Joe B's decision a lot easier already having his degree from OSU. Joe B has the best of both worlds here which is why i think the staff will name DW the starter and let Joe B go.
Under for the 1st round at 2 and over for the first 2 rounds at 4.
Burrow was ahead of Haskins before his injury last year, no separation to name a starter during the spring, and Joe B. out performs the other Qbs in the Spring game. If you take all of this into consideration and Joe B isnt named the starter, how could you honestly believe that the Qb position was truly open and the decision wasn't already made? I think Joe B is the better option but I still think Haskins gets the nod because he has more time left and Joe B is leaving in a really good situation with a degree, to team where he wont have to wait to play, and also get his grad degree paid for. If I'm Joe B, I might settle the battle for the coaches myself. Joe B is in the drivers seat of this situation as far as I can see. Whole lot of D1 teams are going to be trying to give Joe B a free grad degree and put him on the television on Saturday.
UFA's, all of them get a chance but dont think any of the 4 gets drafted unless someone really needs a TE. Baugh has the best chance from a talent perspective but he is not the most willing blocker so that cuts his number of teams down considerably. Just my opinion, we will see what happens. Good luck to them all.
No reason to play in a bowl game that isnt a National Title and chance getting hurt. Okudah got game experience, Ward stayed healthy, and we won. Best outcome possible!
He's the #1 CB, Fitzpatrick will be a Safety. Ward is physical for his size and certaily not afraid to hit. My only knock is he misses or doesnt even try to jam in press. He certainly has the speed to recover but I'd like to see him get his hands on WRs better than he has shown. Got his hands all over Jacobs in that gif, though.lol