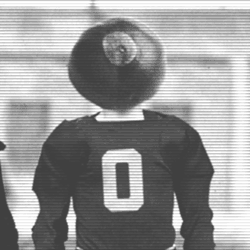 Brutus
---
MEMBER SINCE October 12, 2010
Recent Activity
That the refs cost them the game.
Parent of 15 year and 10 year old girls and a 13 year old boy. The girls play volleyball and soccer/gymnastics respectively. The boy's first organized activity was taekwondo at an early age before he moved into team sports. Started with soccer and baseball, but soccer lasted only two years before he wanted to give tackle football a try. I was bummed at first because I absolutely love soccer and didn't particularly care for the football culture, but we let him decide. He stuck with baseball through little league, but has since given that up and does AAU basketball in addition to football (flag football has also been a mainstay for the last six years but that is a rec activity and easily the most fun he has). He's in his fifth year of tackle football and I'd be lying if I said I wasn't afraid of him getting a concussion everyday. While I think they do a decent job of coaching proper technique, it's the refs really enforcing "safe" hitting in games which I think will ultimately make the difference in the long term if the game is really going to change. That said, concussions still happen. Not like the ones I used to get playing (multiple between football and wrestling), but still concussions. Once on the concussion protocol, there's no rushing back from that these days. I remember when I got concussions they were either undiagnosed or I went to the doctor once and was told to take it easy until I felt better. Now there are several visits to the doctor and no activity whatsoever until you make it through the various phases of the protocol. Is it enough? I have no idea. But concussions are dealt with very seriously and carefully by the doctors, the coaches, and even the school administrators. Even school activities get limited if your kid has a concussion.
Ironically, despite all the years of football, it's been volleyball and basketball that have caused the head injuries in our family. My oldest got a concussion from a weighted volleyball off the head and it knocked her out of competition/practice for three weeks. My son bumped heads pretty hard in basketball and while it wasn't diagnosed as a concussion, he had headaches and was sensitive to light and manifested some of the other symptoms so that too led to a self-imposed sideline for about two weeks. I suspect that my attitude towards football might change once my kid gets his first concussion (I feel like it's an inevitability), but right now I'm good with just letting him play. Not just football, but any sport. That would be my greatest recommendation to the OP. Just let the kids play. Doesn't have to be football, but it should be anything they really take an interest in. And whatever you do, don't "specialize" them at an early age. Kids should be doing a bunch of different things throughout the year, not a single sport because that's what they are really good at. That doesn't mean moving from one sport to another all year long. I think they should definitely have off seasons where they can sit and do nothing but ride bikes and play with friends. But the point is that I think it's important for kids to try all sorts of different sports/physical activities and not develop a specialty until 12 or 13.
Good luck and enjoy the ride.
No video of Shazier doing anything will ever get old. He must be changing the way doctors are thinking about and treating spinal injuries. Such an amazing thing to see.
Welp, at least this guy isn't claiming he made payments to players at Ohio State. I think the likes of Pittsburgh, Penn State, Michigan, Notre Dame, Northwestern, Alabama and North Carolina (those specifically named by this guy) have a lot more to worry about right now. Also, this is not remotely shocking to me even if a beloved figure like Larry Johnson is involved. College football and basketball are dirty everywhere. Some places it's systemic and involves the coaches. Other places the incidents are isolated and only involve the players. No program is immune. I prefer to remain blissfully unaware of what goes on at Ohio State in this regard.
I guess this is social media sort of and I just proved why you should stay away from it.
Um, I was under the impression that once you post something on the internet, it disappears for good and no one will ever find it again. Someone lied to me. Wow, has that comment aged poorly. No, I do not stand by it. I was reluctant to come around to Meyer at first but then saw all the good he was doing (not just the wins) and realized just how much I misjudged him. That said, I'd be lying if the off-season issues didnt take some of the shine off him for me. I'm proud of his tenure at Ohio State but regret the way it ended. His legacy will not be defined by the ZS debacle, but it will be tarnished. At least for me.
If you are active on social media, don't be active on social media. Signed - a guy who really doesn't get social media and is better off for it.
I just watched the replay a few times and to me that was a takedown. Credit Joey for knowing the situation and scrambling to get the escape in time to force OT. Had he won in sudden death, this story would be about how the Cornell wrestler couldn't hang on in the end, not Joey. I think it was a takedown the moment Joey broke his grip on the single, no matter how long the Cornell wrestler held it. There was a long enough pause in that position that the ref had time to ring up the two. Had Joey rolled right through as soon as his grip broke, maybe the ref can't justify awarding a takedown. I'm bummed for Joey.
The bottom left pic of Joey must be airbrushed because I weigh five pounds more than him and I can assure you that type of physique not possible at this weight. Trust me. I've tried.
It moved.
I actually logged in to make a similar comment....but mine actually happened. I went to college in Chicago and we had a day that hit -70 with the windchill (or so they said, who can really tell at that point). It was '94 or '95. But they didn't cancel classes. It was insanity. And this is in no small part why I live in California now, where at the time of writing it's sunny and 59.
Don't worry. Exactly a few people will go out to see him play in Miami.
Head! Pants! Now!
Unpopular take coming here. I have no doubt that Meyer's health issue is very real and played a big part in his retirement. But I think the offseason drama and his poor treatment from the OSU administration (perceived or real) had a lot to do with it. Many on this site predicted that this was going to be Meyer's last year simply by watching his body language during the press conference this summer. No one said anything about any headaches then. And now here we are. I believe Meyer's health was the perfect pretext for him to leave OSU gracefully and graciously. That doesn't mean he wasn't really suffering from headaches and needed to get away from football. But I'm not at all convinced that Meyer will never coach again. In fact, if the Zach Smith fiasco never happens, Meyer is still our coach today. So, i will not be remotely surprised if Meyer is coaching again in 2020 or whenever. And I won't hold it against him. He's entitled to do whatever the hell he wants with whatever team he wants (with the exception of TTUN).
Where did you buy tix? I'm looking at stubhub and see that I can get into the stadium for less than $140 right now. I'm betting I can scalp a ticket for less than $100 at the stadium. We're it not for the rain in the forecast, I probably already would have bought a ticket just to say that I was there. These ticket prices have to have the CFP committee worried. It's not a good look when the top two undefeated teams in the country are generating this little interest. And I couldn't be happier about it.
Jack Nicklaus is a horrible human being now.
-All the talking heads probably.
Look, I get it. John Holmes was not a perfect man. But he had a very rare...um...talent. And this kid has a very rare talent. Both may have used their talents in unfortunate ways but they should still be proud of what they can do. That's all I'm saying.
If I had the athletic ability to smash my face into a backboard whilst leaping through the air, I would gladly do so. There is absolutely nothing to be ashamed of here. I suppose next you're going to tell me that John Holmes should be embarrassed as well?
I've been to the Rose Bowl three times, including yesterday. All three times I've parked in neighborhoods on the street (where it was allowed) and walked to the stadium. I've never had to walk more than a mile and it's usually uphill for at least some of it. But based on what you described, I think that's probably the right call. Sorry it was such a sucky experience but is sounds like everything else went well for you. And for anyone who missed it, go to the Rose Bowl if and when you can. It really is a great atmosphere.
To echo Tajikey's point, the stadium was much closer to 50-50 than the OP suggests. My seats were on the Washington side and from my vantage everything from the Ohio State end zone to the beginning of the Washington end zone was overwhelmingly scarlet. The rest was overwhelmingly purple. I've been to a number of bowl games and this was the first time the numbers were not vastly in our favor. As for the noise, I sat in near silence for three quarters. It wasn't until the 4th quarter that things changed and that's because they had something to cheer about. We did not. Tajikey, how was the parade? Did you guys freeze your tails off?
We were on the wrong side of the game but the right side of history. Rest in peace young man.
Did Grateful drown some kittens and so now people are DVing him whenever they get the chance? Or does everyone just really hate the Grateful Dead and/or Bo Diddley?
That's Tajikey's problem now.
Actually I think the seats are number oddly beause of the aisles. Tajikey will find out soon enough I suppose and can report back if I ended up putting some creepy dude in the middle of his family.