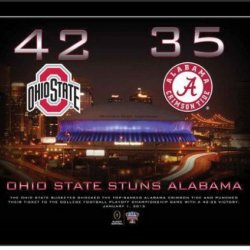 Browns88
---
from Plain City, Ohio
MEMBER SINCE November 10, 2015
Ohio born. Longtime Buckeye Fan. Lived in Alabama for 8 years and have insight to the Southern culture. GREAT to be back home!
Favorites
SPORTS MOMENT: Ohio State beating Alabama in the Sugar Bowl.
COLLEGE FOOTBALL PLAYER: Keith Byars
COLLEGE BASKETBALL PLAYER: Kelvin Ransey
NFL TEAM: Browns
NHL TEAM: Detroit Redwings
NBA TEAM: Cleveland Cavaliers
MLB TEAM: Reds
SOCCER TEAM: is this a sport?
Recent Activity
What.? I tried to follow the comment, ok. What?
David, I think you coined that deceptive speed perfectly. Watching that 70+yard run, MTIII was pulling away
Fucking long grass. They did play in the Big 10 championship game last year. Then fall off a cliff less than a year later. How things change. Good to be a buckeye
Took a look at Miyan Williams profile at 247sports. That dude is stout and looks like he is 40 years old
Seems like Gee Scott is ranked low in the ESPN 300
Want to thank the good person above I'm not looking at a Bauserman chart
Was keying in the interior Davis, Meyer and Jackson....what a nasty group of linemen....they are out to put you down and always see a surge backwards on the defense
Nice work there Crumb. Liked the way you coined all the Award and Moment names
1985 must've been a bad year. Rank 5 on Sept 28 and 4th place finish in Big 10. Those Earle Bruce 9-3 seasons were brutal
That's a strange combination of flavors. Jalapeños to cinnamon. Hard Pass
He's kind of similar to 2019 recruit Cade Stover
Buckeyes got whiffed on a Wandale but we picked up a Mookie instead
Hold your horses...funny quip though
Nice gesture for an all time great
At least Miami is getting paid for the beatdown. Unlike Georgia Southern getting paid to beat the Vols or Appy State and Michigan
After this game I hope Chuck Martin can be part of the Cradle of Coaches legacy
Been 2 Buckeye bars while on travel. On the Rocks Redondo Beach CA (heard it recently closed) and at the Embassy Suits in Brentwood TN just south of Nashville. There is the normal local crowd with visitors sprinkled in.
Lagow is IU elite legacy. Penix has no chance ....
Wanted to welcome you aboard until you mentioned big Steeler fan. Lets get started. What is your opinion of Antonio Brown.
Ryan uses the word 'funky' a lot. Is that North East slang. The only funky I know is from the Wild Cherry song.
Nice block by Master Teague. Took out 2 defenders
LSU 58, Alabama 57, USC 47, OSU 46 based on some article I just read for 2019