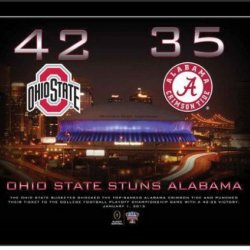 Browns88
---
from Plain City, Ohio
MEMBER SINCE November 10, 2015
Ohio born. Longtime Buckeye Fan. Lived in Alabama for 8 years and have insight to the Southern culture. GREAT to be back home!
Favorites
SPORTS MOMENT: Ohio State beating Alabama in the Sugar Bowl.
COLLEGE FOOTBALL PLAYER: Keith Byars
COLLEGE BASKETBALL PLAYER: Kelvin Ransey
NFL TEAM: Browns
NHL TEAM: Detroit Redwings
NBA TEAM: Cleveland Cavaliers
MLB TEAM: Reds
SOCCER TEAM: is this a sport?
Recent Activity
I didn't realize how much I missed the HU
Taylor, when it comes to xichigan, it's hate week every week. It cleanses the soul
And it's not even March madness yet
Fields 5000 yards 55 TDs It's a pipe dream, but Haskins was close. Should have put up 70 on xichigan. Yes we are spoiled
Watched the Birmingham Iron crush Memphis today. It was okay
Expect the Corn people on the rise, don't under estimate. Feels like Hornibrook been at Wisky for 10 years.
You've been beaten behind the woodshed if your BB team loses 82-22.
Agree. David putting in the work. Appreciate the updates
Skyline Chili > Gold Star Chili
Cincinnati Skyline Chili is the best
Haskins speed > Brady speed
14 times in 40yrs. It's cold and a little windy? Canadians are calling u pussies
This forum post does make feel better, but them damn Copper losses with all that talent is quite memorable. Even the Earle Bruce 9-3 seasons were brutal, but he got the rivalry.
The size of the referees head to body ratio really looks off kilter in that pic for some reason
We need that move along gif
He's going to find it hard paying the real estate taxes in Dublin, Ohio now.
That other x nfl coach. Classic comment. He gets the rivalry
My, my, my,,,,,, Chugunova,,,woooo
Didn't Lane Kiffen offer an 8th grader while at USC.? Must be Harbaughs new role model