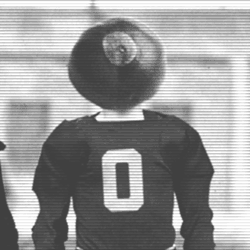 brownie3553
---
Near Wooster (via Creston)
Member since 09 January 2014 | Blog
Favorites
SPORTS MOMENT: 02 National Championship game and 04 through 06 against SCUM.
COLLEGE FOOTBALL PLAYER: Troy Smith
COLLEGE BASKETBALL PLAYER: Oden
NFL TEAM: Cleveland Browns
NHL TEAM: none
NBA TEAM: Cavs
MLB TEAM: Indians
SOCCER TEAM: none
Recent Activity
If I could give Helmet stickers I would give you +5 for the Bennett/Schutt comment.
One word to drescribe Noah Spence..... STUD!!!! Glad he's back!
Yeah thats right... had to go back and replay it in my head. makes the substitution even worse
McMillan made a great TFL and they take him out the next play.... Really Fickell?
I was about to throw my beer through the tv when Grant came back in the game from his injury and replaced McMillan... could not believe it
Tail of 2 halfs for the defense. Hopefully they can really build on what they did in the second half against Va Tech and keep getting better!!!
Would love to see a fast start from the offense! We are due for a good 50 or 60 point game!!! Go Bucks!!
I would love to see Rod Smith to break an 80 yard BEAST MODE run breaking 6 takles and then leaping in the endzone!
I could not agree with you more... JT has played 2 games so lets not go comparing him to anyone at this point... And to say he is not mobile just shows you have no clue what your talking about... just because hes not as quick and speedy as braxton does not mean he cant run
Ross, stellar job as always. Lets hope and pray that this team comes together as the year goes on. If they do it should be an exciting rest of the season!!!
Could not agree with you more
Don't know how I would be able to watch the game without my phone being charged!! Thank goodness!!
Im sorry but I am tired of UFM always saying things like "oh i thought we would be more developed by now." The coaching staff has had plenty of time to develope guys... when will they take some responsibility for player development. Maybe they have and I have just not heard or seen them say it but three years is plenty of time for development.
I said it when J.T. committed to theBuckeyes way back when. I think this kid is gonna be a star! Troy Smith kinda status.... I know it will be a rough process the first 3 - 5 games but I expect this kid to be lights out later in the year!!!
I coached 8th grade basketball for 1 year and it was awful just because of the parents. They would always complian about there sons playing time when there kid was just not an athlete. Its unbelievable how many parents think their kid is the best when in reality they are probably the worst on the team.