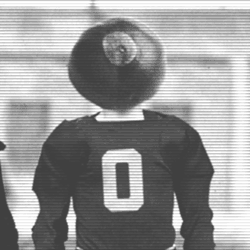 brothadudeguy
---
MEMBER SINCE December 30, 2017
Recent Activity
As the interim head coach.
Are you all forgetting that Day hasn't even coached a game as the actual head coach yet. The fact that osu is still within the top 10 in recruiting for 2020 is great at this point. If Day proves he can get the best out of his talent and make playoff appearances then Ohio state will be fine. It's all about what he puts on the field. So give it some time. Let's enjoy the ride.
Fields deep ball to victor was under thrown? That's ridiculous. Yeah victor had to slow down a little but when the receiver is that wide open you do whatever you can to get the ball there without the risk of overthrowing him. That was a pretty darn good pass by fields. However the lack of ball security by Baldwin was alarming. If you want to talk about deep balls then what about Baldwin's deep ball to kj hill that was severely under thrown and should have been picked off but was bailed out by a great play by hill and a DPI.
I agree with everything you said. I think deep down we really know the answer as to why there are some people like this. Not gonna say it though because the shoe might fit some people and open up a can of worms.
Lol you would get downvoted for that comment. Why are there so many people that just insist Matthew Baldwin is better than Fields?
Why is everyone making a big deal over Clemson's recruiting. They have a good class right now sure. But they just have a bunch of 4 stars. How is that any different than what we get every year?
Does anyone notice how all the SEC schools chant S-E-C except for Alabama? Bama fans know they carry the whole conference.
I think our offensive philosophy with Fields will vary from game to game depending on the defense we play that weekend and their strengths and weaknesses. Day, Yurcich and Wilson are great offensive minds and will be able to expose the D. So I think we will see a wide range of playcalling throughout the season. Not like with Meyer when were strictly known for the read option. I think with Fields arm talent and legs, we could throw the ball 40 times in a game or run it down their throats. This should allow many types of young players to excel at what they are good at.
Please stop using the "Fields couldn't beat out Fromm" excuse. Haskins couldn't beat out Barrett in 2017. Means absolutely nothing. We all know what really should have happened there. Also, keep in mind that Fromm was also a highly rated 5 star and had a great freshman season.
Remind where in the first round of the draft that Barrett was drafted?
Has it ever occured to anyone that maybe, just maybe, Justin Fields is running away with the competition so far in the practices that are not open to the media and that's why he's getting more first team reps? There seems to be a large group of people that preach about how stars and recruiting rankings mean little (I understand that). But when you have a 3 star player ( I acknowledge that Baldwin is probably better than a 3 star but at the same time has done nothing) going up against a 5 star that's been talked about as the best prospect in a long time and how he has elite arm talent as well as athletic ability. Why is there so many people that want to believe that Baldwin is every bit as good as Fields?
Exactly, These guys are just trying to play fan bases and get more twitter followers.
Just because he was good before the injury doesn't mean that the criticism isn't justified. Based on how he played last year he was way too slow to be an OSU linebacker. I understand it could be the injury but if it's still a problem then he needs to take a seat.
Sadly I think you are 100% accurate.
I disagree. This defense works fine against any opponent. It just seems that way with TTUN because they can't seem to get pressure on the QB with their D line. That won't happen with a Larry Johnson coached D line.
Yurcich was also brought in to be a QB coach. Wilson is developing TEs and the Oline. They do have roles outside of playcalling. This is a different situation than Urban calling plays because Urban wasn't very good at it. With Urban in the play calling mix every other play was bound to be a QB run. We have seen great play calling with Day so this is great news to me.
I'm curious as to what you mean by "using too much back".He certainly is using too much legs by pushing his butt off the bench. If you mean the arch then this is actually the correct way to bench press. Squeezing your shoulder blades together and creating an arch in your lower back is encouraged in order to cause more chest activation rather than using your front delts when laying flat.
Also, let me put it this way. When we lose to a team that's not TTUN do you sit there with a smile on your face and say "oh well it doesn't matter because it wasn't TTUN"
If that is in fact your response to a loss then I believe you that TTUN game is the only game that matters to you. If you think the sky is falling and get upset with a loss like most fans then you have to be lying or at least a little dramatic about The Game being the only game that determines a successful season.
I agree completely. I can't stand those comments. Everyone has a right to their own opinion but they are lying when they say that. I bet if we had a season where we went 1-11 or similar and just beat TTUN, those same people would be acting like the sky is falling. Then I will say "we beat TTUN so that's a successful season right??"
EDIT: Someone below me will comment "unless you witnessed the 90's you wouldn't understand." I say that doesn't matter. This is THE Ohio State and we expect to be in national title contention every single year.
I understand that but a lot of times athletes are never the same after major knee injuries. I hope he is ready and can compete at the highest level possible but count me in the group that is in wait and see mode on Baldwin.
I think our offensive line will take a few weeks to settle in on their pass protection which is why I think Fields will be a 100 percent lock to start with his mobility. I think he will bail out our offense with his legs early. I think the line will be a force in the run game throughout the whole season though and will improve in pass protection. I think we see a great improvement in defense from the start and will clean up mistakes as the season goes on but we will be very improved and I think we win games early in the season due to defense and fields running the ball. Overall I expect a 12-1 or 13-0 season with some close games in the beginning of the season. Thank goodness the schedule is light in the beginning of the season but I think we will he ready for the back end of the schedule which is loaded.
I disagree. I realize Fields has eligibility questions (although very likely to get his waiver) but are you confident in Baldwin to lead a national championship caliber roster when he's coming off of an ACL tear?
The reason the run game had decent stats by the end of the season is because we went away from RPOs and started calling traditional run plays because Stud got his way. I was speaking on the first half of the season. You are right about Haskins not getting rid of the ball early enough on some of these plays. Sometimes Haskins just made the wrong read and should have given to Dobbins/Weber instead of throwing. This still has nothing to do with struggling to run though. When Haskins did hand off to Dobbins/Weber, the line was so confused as a result of Stud crying like a baby about RPOs and they were extremely hesitant which caused our line not to fire off the ball as hard and they also didn't get up to the second level to make blocks.
No No No. Everything about your comment is wrong. I say this respectfully of course. The first part of your comment about should they pass block or run block is basically the whole idea of an RPO. The QB chooses to pass or throw based on what the linebackers do during the play. It's not the line's job to be able to determine this. The line just has to block as if it's a run play every single time pass or run. The ball is supposed to be out of the QBs hands fast enough to avoid ineligible man downfield penalties. Sometimes these penalties just happen and you live with those. But when you cry about it like Stud did all season it gets into the heads of your linemen and makes them hesitant when they should be all out destroying the D line.