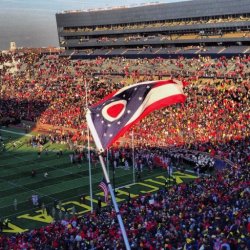 Bronimal
---
Fort Mill, SC (via Columbus, OH)
MEMBER SINCE August 14, 2014
My Dad was 1 of 12 and all 12 went to The Ohio State University. I grew up selling programs with my Father, Aunts & Uncles, and cousins. Being a Buckeye is in my blood and I will never be more passionate about any other program or organization in sports. After living in Columbus for the first 31 years of my life, I had to move away for a job in December of 2017. Being away from home in the fall makes me more homesick than I have ever been in my life. I still come home for at least 1 or 2 games each year to sell Gameday Programs with my Uncle who is the only family member I have left that still sells programs every home football game. He is always outside of the North West corner of St John Arena every home game selling Gameday Programs. I am very blessed and thankful that I grew up in the family I have and for bringing me up with the same traditions they had when they were kids. I couldn't have asked for a better family or University to be part of my life. Go Bucks!
Favorites
SPORTS MOMENT: Being 5-0 in the big house
COLLEGE FOOTBALL PLAYER: Braxton Miller/Ted Ginn JR
COLLEGE BASKETBALL PLAYER: Michael Redd
NFL TEAM: Cleveland Browns
NHL TEAM: Columbus Bluejackets
NBA TEAM: Boston Celtics
MLB TEAM: Atlanta Braves
SOCCER TEAM: Juventus
Recent Activity
"IT'S TIME TO TAKE WHAT WE CAME HERE TO GET"
LFG!!!!!!!!!!!!!!!!!!!!!!!!!!!!!!!
I love these game trailers so much..but has anyone gone back and watched the trailers from 2014? Minnesota, Indiana, Big 10 Championship, Sugar Bowl, Natty...no disrespect at all, but the hype in those trailers from 2014 is on another level. 5 years later and they still get me so hyped I get goosebumps and tears in my eyes.
WOWOWOWOWOWOWOWOW LET'S GOOO!!!!
I've met this guy so many times and he is the most arrogant person I've ever met. I know him from a friends car shop that he takes his "buck-I-car" to and he literally carries around a purse or "satchel" if you will, with pictures of himself in it. <— NO LIE, HAND TO GOD. I ran into him at MSU last year and tried to say what's up to him (why? I don't know) but he was a COMPLETE douche bag. Next time I see him I'm going to ask him if he read this article and most importantly if he read the comments on it from some real Ohio State fans.
Don't feel bad for him! He's going to get this year of experience and be another Kenny G type of back up next year with two years left after that! He should be as excited as we are! This is a good year for us to show how deep we really are!
Completely agree!! He really is a class act and I think all of Buckeye Nation is thankful he has been the face of our team the past few years.
I'm gonna call it now. Preseason #1 for 2015. Everyone will be more enticed to stay for another year to finish with Braxton. Look out college football.