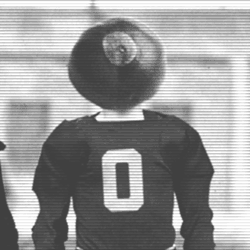 Bristol24
Troy, Ohio (via New Weston, Ohio)
MEMBER SINCE October 01, 2011
Favorites
SPORTS MOMENT: Sports Moment: Wright State beating Bulter to go to NCAA tournament in 2007.

Buckeye Moment: OSU over Notre Dame in the Shoe. My first BIG game.

NASCAR Moment: Jeff wins 4th in a row at MIS in 1998.
COLLEGE FOOTBALL PLAYER: Archie Griffin
COLLEGE BASKETBALL PLAYER: Freddie Banks
NFL TEAM: Cincinnati Bengals
NBA TEAM: Philadelphia 76ers
MLB TEAM: Cincinnati Reds
SOCCER TEAM: My Kids
Recent Activity
How is Outdoorbuckeye not a Mod?
Pay this man!!!
Two questions:
1. Do you think you will become a fan of OSU? If so, could you see yourself wearing OSU apparel when you go back home to visit?
2. Cats or Politics...or Neither?
He is done.
It was the third time he was caught cheating...
At 6-8, that is understatement!
Winner of UCF & Notre Dame game should get an automatic bid!
/s
Spot on assessment!
Returning to the team, gives OSU the depth and experience that great teams need.
Yes it is...without a doubt!
I believe we need a new LB coach; Ryan Day knows what is best for the team. He has a relationship with Bill. Coach Day may just change the scheme and OSU will be fine.
I would consider bringing in Ryan Shazier as GA like Brian Hartline...if he has the health and desire at this time. Ryan could be a great LB coach one day!
I will be attending the game with my son, friends and family.
OSU will win 63-0!
Same here...love Lucas Oil Stadium!!!
Football is not his sport of record which I understand he picked late in his athletic career. Track & Field is his sport of record...which he will likely participate in college.
I may be a little mistaken on parts of this reply...
Go Trojans!!!
Never heard of that cat you call DJ?
Nick Bosa will be back at 100%. It is more of a when then if. The Bosa family will champion the effort. Nick may not be in a Buckeye uniform again, but I would like to think he would be back by Michigan game.
Last week, he was walking normal to and from the locker room for the Indiana game...which is upgrade from the twitter video from 2 weeks ago.
BTW - Nick gave high five to every kid between the locker room and the field last weekend. It made my son's day. He is a class act!!!
Are you talking about practice??? Practice!!!
(I had forgot. Good memory.)
Urban: "Don't f---ing touch that guy."
We know how that ended...
A commenter said it best:
Mac you know better than this. As for a TCU fan I am glad that the Carter will not be full of OSU fans now. Love my Frogs but lets be real, being outnumbered 2-1 as a hometeam would look very bad on TV. I know Jerry World is close to home but I can accept it being called a neutral site and have no issues with fan ratio there.
Disappointed that Andrew left. He made me forget Birm which I thought was impossible.
Good listen!
It is worth your time.
Love the background story. It is why I love 11W...well done Andrew!
#GoingFromBusToTrain
Congrats to Jim Harbaugh! He can finally build a trophy case!!!
I was in that 98 MSU picture with the Neutron Man. He did not want his picture taken that day. That loss hurt.
In fact, Neutron Man walked behind him me to avoid getting his picture taken. He put his hands on my shoulders as we felt the pain of the loss. (Everyone was stunned...were getting ready to storm the field if we scored.) Then, a somber fan was walking toward us on our left and he reached out to hug this fan and me at the same time. The picture was taken.
I spoke to him a couple years later about it...a good man. He passed so after.
#RealFan