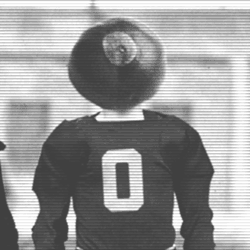 Bristol24
Troy, Ohio (via New Weston, Ohio)
Member since 01 October 2011 | Blog
Favorites
SPORTS MOMENT: Sports Moment: Wright State beating Bulter to go to NCAA tournament in 2007.

Buckeye Moment: OSU over Notre Dame in the Shoe. My first BIG game.

NASCAR Moment: Jeff wins 4th in a row at MIS in 1998.
COLLEGE FOOTBALL PLAYER: Archie Griffin
COLLEGE BASKETBALL PLAYER: Freddie Banks
NFL TEAM: Cincinnati Bengals
NBA TEAM: Philadelphia 76ers
MLB TEAM: Cincinnati Reds
SOCCER TEAM: My Kids
Recent Activity
#Boom
I still miss Beano with the Herd! RIP
2002 for three reasons...
1. It lead to a NATIONAL Championship. OSU has dominated the Big Ten since that game.
2. I lead to multi-decade dominance of Michigan. I grew up in the 1990s.
3. It happened in my lifetime. That is my individual basis.
Agree or disagree. I think everyone gets upvotes for OSU wins over Michigan!!!
I didn't blame the NFL.
The nugget that I was trying to add that losing owners become jealous of winning owners...and welcome/push investigations to be drug out along with being overly punished in hopes of hurting that team's future success.
Deflategate was way over blown and Tom Brady received 4 games. Patriots lost 2 draft picks plus $1MM fine. It happened because other owners did not like the Patriots with their success and pushed the investigation beyond reason.
It happened again today.
There is not complete harmony among owners. Losing owners like to hurt winning owners.
Jerry Jones should have had Robert Craft's back...instead he was ok with what happened to Brady/Patriots.
#Karma
BTW - Not a fan of either team.
If you earned 4 gold pants, your opinion is worthwhile regarding OSU football. Congrats!!!
I could see Les Miles. However, I want Les in the Big Ten!
Exactly!
Schiano may or may not have the desire to be a head coach again...since has been there and done that. He and Larry Johnson could be long-term defensive assistants with Urban...with the opportunity to be National Champions every year.
A couple different decisions and Torrance could be WR draft prospect coming out of Ohio State next year.
Fortunately, Torrance still has the oppurtunity to do great things in football and receive a free education.
Best of Luck!!!
Welcome to the Buckeye Family!
Michigan & Appalachian State Rivalry
I am renewing. See you in Indy!
You are correct. Thank you!
Please no down votes, I appreciate everyone being "Lynn"ient.
Oh Brutus, the truth hurts especially when you are so right.
#StJohnsArena
The James saved my wife's life. She is a mother of two.
I have nothing bad to say about the James. Nothing. You will have administrative challenges at any organization. In Columbus, we have the best Cancer hospital in the Midwest. We are so so lucky!!!
Kent State has been very good and was in the NCAA 3 years ago.
I would suggest that Wright State Baseball is the best program in Ohio over the past 5 years.
The is pure gold, Jerry Pete!!!
Thanks for sharing.
Yes, it is a team "that plays in an aircraft hangar."
Arena matters in basketball if you are attending a game. I prefer an average Bucks team at St. Johns than Good Bucks team at Schott...when buying a ticket.
FYI - I went to Hinkle Fieldhouse already this year and I going to Mackey Arena to watch Purdue/Michigan State in couple weeks.
How many of their greatest hits are on Little River Band's 8-track?
The answer is obvious to anyone older than 40!
#1 had to be Michigan.
#LegendofTHEgame
Video always helps both ways...weather you are Ray Rice or the Minnesota football players.