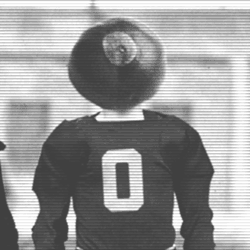 Bringer of JUICE
---
MEMBER SINCE November 16, 2014
Recent Activity
Vitamin C, thank you for coming on and contributing to an intellectually stimulating/ respectful topic. You are welcome any time around here and good luck to your team. I do think the ACC is probably better this year than people are giving them credit for. Not great, but respectable. Pitt, for example, was very close to beating PSU this year, granted it was earlier in the season. And Clemson has been woodshedding everyone in sight, save for early season snooze matchups. If you switched up our schedules they would woodshed everybody in the B1G as well (except OSU). They are alert, focused, and hungry due to the lack of respect nationally towards their team. Etienne is averaging a whopping 8 ypc. and looks like the most explosive back in the country. And T Law is the absolute best qb prospect I have seen in my lifetime, and he's got two baby Randy Mosses to throw to. This is an interesting year, because there was no marquee OOC game from our conference to really get a feel for where we are at. Wiscy, Michigan, PSU, and OSU didn't really play a name brand member from the other power 5 conferences outside of the traditional rivalry games and so we're left with a strong OOC record to pump up the rankings. I will say Michigan thumping ND gives me confidence that the B1G is legit this year as ND thumped a lot of people in the ACC, but that game was played in a monsoon so who knows. All in all I am really excited to see where we are at on the 28th as both of these teams have had the most impressive regular seasons in recent memory. Very exciting.
Troy S*ith leading the charge on senior day with his fist raised and his legs sta*ping side to side. ICON.
https://www.youtube.com/watch?v=DKAu2bf9Jds
its in the first 5 seconds or so.
Honorable *ention is Shaun Wade absolutely decleating that TE last year. Oh, lawd! And KJ paying ho*age to the afore*entioned Troy reference.
https://www.freep.com/story/sports/college/university-michigan/wolverines/2019/11/25/michigan-football-ohio-state-1969/4275143002/
I was thinking about creating a topic on this, but felt this was more appropriate. To su**arize, the article tells the story of the 69 upset fro* TTUN players perspective in that ga*e.. It is a great article and you should read it if you have the ti*e.
I will say; this ga*e is going to be WAR and we better be able to match their intensity because they are wounded animals that will play the ga*e of their lives. Throw out the stats, records, and accolades because this ga*e will co*e down to the hu*an spirit. Who is going to co*pete and bare their soul and leave it all out on the field. BC I guarantee they will. The fans too; we need to be *entally and spiritually ready for the *ost difficult ga*e in years. Lets bury those chirpy bastards for not putting respect on our effing name. THE OHIO STATE UNIVERSITY!!!
Mike Doss #2 - National Champion
I'm hoping Bama steamrolls then so we can get a little underdog narrative back in our favor (provided we win out)
This one is in the Mount Rushmore of GD trailers
A National Title would feel slightly tainted w an L to those scoundrels up north. I'd still take a natty, but would prefer eat my cake too. Agreed w posters above. Let's win the whole damn thing starting with the terrapins!!!!
James Franklin would be a home run hire for them. He is a really really really good program builder (not necessarily a great in game coach) but him turning around PSU after their sanctions was incredible in hindsight. And him being able to recruit to SC makes his job a whole lot easier than it was in Happy Valley.
It wouldn't surprise me at all if Urban goes to USC. He literally works with two prominent ex SC players and is out in LA like every other weekend. You're telling me that he isn't, at the very least, having a cup of coffee with boosters while out there!? I'd maybe be less inclined to think so if he gave a definitive answer regarding coaching again, but he answer in a way that leaves open the possibility he returns every time. And honestly, I wouldn't care provided he doesn't blow up OSU's situation with Marotti and Pantoni while doing so, but I have a feeling he will, which would ruin all good will in Cbus if it went down like that.
but then again I wouldn't be surprised if he is done done as well so... who knows Enjoy this season like its your last bc our boys are playing great!
Chase Young is the answer. OSU could do a lot from a marketing standpoint to showcase Young is the right choice, and although America doesn't know it yet; the Nissan Heisman House needs to have a Predator roaming the halls and stalking his prey.
I honestly think he has a great shot bc we potentially have three marquee games on the docket whereas the other contenders will have one or two...
Ah I missed that detail. Good catch.
So that's gotta be Chris Ash, right? Scarlet N Grey Texan, Chris Ash becoming an analyst at UT. Very cool story and thanks for sharing.
This sort of thing is Prideful folly. Maybe it's the 90's in me, but we have a back to back with Penn State and TTUN. Very difficult. Additionally, no team in the glorious history of OSU football has won 8 straight against those scoundrels. It will be extremely difficult on that last November Saturday. It is better to be grateful for our success and leery of a wounded animal by that is what they will be.
That is some pretty solid shade if I do say so myself.
I really hope the light show happens! How awesome would it be if before the players came out of the tunnel the stadium goes pitch black!!!!
You know, Chase Young didn't do much in this game last year. Obviously, I hope he has a huge game, but they held him relatively in check last year. Should be a good game and competitive, I am not expecting a blowout personally, but do think we win.
Not to mention, Wilikes had his breakfast, lunch, and dinner vs our O-line this year. I think some of our weaknesses (Fields holding onto the ball too long, mainly) might surface this game making it closer than the general public would have you believe. I tend to think this game is as much about heart as it is X and O's, too. A lot of Ohio boys on that team that wanted to be buckeyes and it will require our guys to match that intensity level. (which doesn't always happen) Good luck to you guys and may the best team win.
SpartanAshy, thanks for coming over and contributing. I agree that your offense is better than the eye test would indicate. Also, Dantonio is of the Tressel coaching tree; meaning, he always saved a wrinkle or two for the big games that catches you off gaurd. Dantonio doesn't have many games left against OSU, and I am totally nervous about some Dino Vodoo magic.
Several Questions, how do you feel about your O line matched up against our D Line? Last year you guys did a great job neutralizing Chase Young, which I think will be interesting to see how that plays out this year.
Also, when ASU came to town you guys let a freshman qb keep the final drive alive by sending receivers out and him tucking and running, eventually leading to the win. Haven't watched the IU game, but I know they had Penix against you and not against us. Do you think this has been corrected or do you feel confident w one of your LBs spying Fields? I would say for us our best strategy is to spread em out and throw and letting Fields pick and choose when he wants to take off.
More Bulletin Board material from TTUN.
https://971theticket.radio.com/articles/harbaugh-michigan-prove-we-ll-be-darn-tough-beat?fbclid=IwAR2C6hEjJtITWUY_Tv1Uk6pU7u8WJ5zvoEptPBKeAL_e0q3WeKRIAZLcKA4
talking about Wisconsin after defeating Rutgers.
"We definitely embrace it, because we know that we're going to see them again in Indy in my hometown for the Big Ten championship. So I don't really mind hearing about it because I know when we see them again, we're going to smack them in the mouth."
Cam Mcgrone (sp?) of Michigan talking that ish again. Complete disrespect for your remaining opponents. I hope this makes it's way toward the woody!
Absolutely! It screams of sour grapes on his part by not going the extra mile. Remember, effort is free.
Harbaugh could have easily said, while still being truthful mind you, "Although we do not have documentation of James Hudson's mental illness during his time at UM, we are in full support of his stance and would strongly encourage the NCAA to grant him immediate eligibility." I think this is the crux of what Fick is getting at; no one, at least from my perspective, was saying to compromise your morals, but to actively stand in support of a kid.
Oh and by the way, one could reasonably infer that, Harbaugh by stating that he was not going to lie or however he worded it, doesn't believe the stance that the Hudson's are taking. Just my two cents
Man, this is disappointing news if true. It does seem like it could potentially be a ploy to drum up some excitement for his commitment, no? I mean, a few days before he is set to commit we get info that he isn't coming any more; all this coming off the dead period? Idk, guys, but lets see what happens before we freak out.
I think if you just kept the Red Block O, changed the jersey color to black, and got rid of everything else except for a nike swoosh the jersey it would look amazing. You could call them "The Woody" after Woody Hayes Famous Hat. Pants could be white to replicate his shirt that he wore. Black Helmet too.
I'd be cool with changing Hang On Sloopy as well. It is a nice tradition, but heading into the fourth Q you don't want to be "nice"