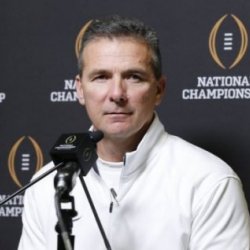 brbrbuckeye
---
Cincinnati, OH (via Columbus, OH)
MEMBER SINCE September 07, 2012
Favorites
SPORTS MOMENT: Touchdown! Touchdown! Michael Jenkins! Holy Buckeye....
COLLEGE FOOTBALL PLAYER: JT Barrett
COLLEGE BASKETBALL PLAYER: John Diebler - well was...
NFL TEAM: Dallas Cowboys
NHL TEAM: Dallas Stars
NBA TEAM: Dallas Mavericks
MLB TEAM: Texas Rangers, CIncinnati Reds
Recent Activity
Gotta love Cardale's "cheap hit" when he ran over playrrs tryingbto tackle him. So cheap....rrrrright.
Lol at the cheapest, dirtiest, team in football whining about cheap shots.
I predict we will have 3 turnovers, at least, against Clemson.
You know, Malik Hooker already announced he's coming back to Ohio State next year. I guess it's possible to change his mind with a NC. But it would suck if he went back on his word.
That ans the fact we won't have bad weather to deal with.
It's going to be rainy and windy for the Tulsa game? Thank God it's not Michigan State then.
I thought I was the only one who noticed Smith gained wait between the Michigan game and the Florida game. He ran WAAAAYYYYY slower.
I wonder what will happen if Georgia beats Bama? They will probably lose like 1 spot LOL.
2 teams that do nothing but run the ball beat two of the SEC's best. Then there is the whole 85 yards and a cloud of dust thing we did to Bama! I love when people hold on to every last shred of something dead like the SEC.....reminds me of....
https://www.youtube.com/watch?v=ikssfUhAlgg
If a team that can't pass the ball can beat the second best SEC team, I'd venture to say MSU would be just fine. Their QB is solid and Dantonio will have a decent enough running game even with the loss of Langford.
LOL, they can argue what they want. They have a big "L" next to their game against Sparty.
Michigan St and Penn St are going to be tough games at home. Penn St is going to get better under coach Franklin and I think they could beat some teams in the SEC, why not? They have in the past.
Yeah, I think this says it all!
https://www.youtube.com/watch?v=w9xnH62qc9M
Not to mention seeing Evan Spencer "wipe the field" with Bama.
Maybe if they just play Milwaukee all year!
One thing I loved about the OSU vs Bama game was hearing 12 Gauge called "Cordale Jones" all game.
You know what's weird about this NC team? That they were one of the most imperfect National Championship teams I've ever seen. Yet they overcame every single mistake they made and never made excuses. I think that makes them more likeable than any National Championship team in recent history.
I definitely believe Braxton is a Buckeye come 9/7.
https://www.youtube.com/watch?v=-qvNg-SOpO4
But but but but......we lost to Virginia Tech!!!!
I recommend a Trev Alberts show!!!!
This is why this team surprised Urban so much. Everything about them should not have been ready to win it all. But they came together and overcame EVERYTHING thrown their way (being by their own mistakes or just plain misfortune).
Luckily for those teams, it wasn't JT.
Indiana gave us a tougher game than Oregon. Just food for though...LOL!