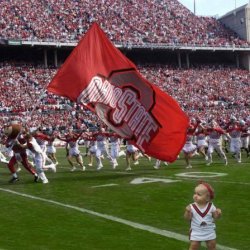 BrazilianBuckeye
---
from Dayton
MEMBER SINCE August 19, 2016
Favorites
SPORTS MOMENT: Watching Archie's first game in the Shoe.
COLLEGE FOOTBALL PLAYER: Spielman
Recent Activity
And no one mentioned Beth Mowins ...
Larry Johnson is the Buckeyes' twelfth man on defense.
I agree about this being a Pandora's Box. I smiled when I read this gem:
"protect the recruiting environment and prohibit inducements to select, remain at, or transfer to a specific institution."
What could possibly go wrong???
And no one suspects the answer might be PEDs .... why is that? I say INVESTIGATE! ;-)
Turned out great, but Wilson nearly ruined the opportunity for the Buckeyes to score by running the squibbed punt east and west, instead of getting what he could straight ahead then getting down to preserve as much clock as possible. Freshman mistake.
I hope one of the goals over the bye weeks is that none of coaches or players attempt to become famous.
He isn't doing anything that a smart, efficient, goal-oriented student enrolled in a modern university shouldn't consider doing. He is using his time wisely and mastering his moment.
He is in school, not necessarily seeking for school to be in him. I can respect that. Now, if he refuses to participate in Carmen Ohio with his teammates, that would be a different story.
Fields would probably agree that spreading the love around right now is a very good thing.

David Wertheim, would be very surprised if Miami scores 17.
Cincinnati should be ranked. They got up and had a GREAT game Saturday, after being trampled the week before. Fickell is a very good coach!
He's a brother, not a clone.
"The 12 Position Defense." I like that!
I'll never forget the way Cardale ran back to the bench after that first TD pass to Devin Smith against Wisconsin. It was as if he was saying, "I CAN do this!" And of course, he did. Three times. What an improbable story that was.
"... or pull in the highest-rated quarterback prospect in program history ..."
Fields is not the highest rated QB in OSU history. That would be Terrelle Pryor, who was rated one spot higher coming out of high school.
And that's the great big 'if" ain't it?
I recall when new HC John Cooper was asked by a journalist if he would be continuing the Woody tradition of practicing at least one play per practice to be used only against Michigan? Cooper was incredulous and said, "Why would he do THAT?"
It took him a long time, but eventually Cooper might have gotten The Game; right there at the end.
Tamara, on behalf of Buckeye Nation, thank you. And Happy Mother's Day.
Murray going #1 is just slightly less absurd than Manzell going at #1
I sure hope the Browns will draft one of the Buckeye trio of receivers at some point this draft, to give the Browns another target for Baker.
"... your spot can get took." Ah, the college sophomore taking advantage of English classes at the old university. .-)
Not seeing Kyler Murray's NFL appeal. Great performer in college, but at the next level, poor little guy is an injury waiting to happen.
Could you imagine the additional chaos if the "Snow Bowl" had happened at night?
It is considered the greatest annual rivalry game in sports not because of WHEN it is played. Saturday at noon is where it has comfortably evolved into a tradition. Change that, and there is a chance it's tradition might slowly melt to a lesser status. Shoot! The weasels have been doing all they can to diminish the importance, as it is.
How many top national recruits chose OSU over some other blueblood program because of the existence of Real Life Wednesdays? I hope Urban's focus, over time, elevates that program to higher and higher stature with corporations, service sector giants and political organizations nationwide.