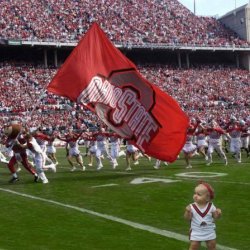 BrazilianBuckeye
---
from Dayton
MEMBER SINCE August 19, 2016
Favorites
SPORTS MOMENT: Watching Archie's first game in the Shoe.
COLLEGE FOOTBALL PLAYER: Spielman
Recent Activity
And unusually thin. Looks like her head could suddenly flop down to one shoulder or the other.
Hope the Coach Larry Johnsom train continues to churn out these top quality DEs this year and the following seasons! It is such a pleasure to watch the pressure.
It's the end of the world as we know it.
It will be strange to just hear squeaking shoes, encouragements from the benches and the reverberation of the dribble when the announcer is not talking. Maybe they'll play music over the PA to add ambience.

For 4 kids who were in high school a month ago, these young men have really got the right attitude to make it big, if they live up to what they've all said here. Impressive!
Good to see Jonah Jackson's transfer strategy paid off. Surprised Rashod Berry did not make the cut.
Victor's huge paws make that college football look like the pee wee version.

Well, for one thing, he threw that pass like a girl.
Unlike college ball, post-season in the NFL has its own record book. Regular season stats end after 16 games.
I really feel it will happen ... for all the marbles. Destiny.
Another corollary to the 2015 Sugar Bowl. I recall a lot of Alabama fans were skipping the preliminary game in order to have enough for the finals.
I don't even care that Christman threw that pass just like one of those girls throwing into a Dr. Pepper barrel. It got the first down.
I still recall the moment during John Cooper's first season as head coach when a reporter asked him of he, like Woody Hayes, would be devoting a bit of time each practice to concentrate on TTUN. He seemed incredulous as he responded, "Why would he do that?" I knew then and there the Buckeyes were in trouble. And to think, he was hired almost solely based upon his bowl win drubbing of the Wolverines the previous season. Cooper was a good coach, but a terrible Buckeye.
In the early 80's I had a job that put me in Ann Arbor for 3 years, I worked among the most arrogant football fans on earth! I guarantee that should OSU lose Saturday, go on to win in Indianapolis and then beat LSU and Clemson for the CFP Natty, over the next year we will hear how the Wolverines are the real National Champs because they beat the fraudulent champs! Guarantee it!
To borrow from Drago, "We must break them."

This poster is going to draw a flag.
Awesome!
That GIF from last year's PSU game never gets old. Watch OG #71. He's like, "Where'd everybody go?"
And no one mentioned Beth Mowins ...
Larry Johnson is the Buckeyes' twelfth man on defense.
I agree about this being a Pandora's Box. I smiled when I read this gem:
"protect the recruiting environment and prohibit inducements to select, remain at, or transfer to a specific institution."
What could possibly go wrong???
And no one suspects the answer might be PEDs .... why is that? I say INVESTIGATE! ;-)
Turned out great, but Wilson nearly ruined the opportunity for the Buckeyes to score by running the squibbed punt east and west, instead of getting what he could straight ahead then getting down to preserve as much clock as possible. Freshman mistake.
I hope one of the goals over the bye weeks is that none of coaches or players attempt to become famous.
He isn't doing anything that a smart, efficient, goal-oriented student enrolled in a modern university shouldn't consider doing. He is using his time wisely and mastering his moment.
He is in school, not necessarily seeking for school to be in him. I can respect that. Now, if he refuses to participate in Carmen Ohio with his teammates, that would be a different story.
Fields would probably agree that spreading the love around right now is a very good thing.