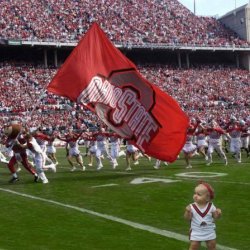 BrazilianBuckeye
---
from Dayton
MEMBER SINCE August 19, 2016
Favorites
SPORTS MOMENT: Watching Archie's first game in the Shoe.
COLLEGE FOOTBALL PLAYER: Spielman
Recent Activity
Tamara, on behalf of Buckeye Nation, thank you. And Happy Mother's Day.
Murray going #1 is just slightly less absurd than Manzell going at #1
I sure hope the Browns will draft one of the Buckeye trio of receivers at some point this draft, to give the Browns another target for Baker.
"... your spot can get took." Ah, the college sophomore taking advantage of English classes at the old university. .-)
Not seeing Kyler Murray's NFL appeal. Great performer in college, but at the next level, poor little guy is an injury waiting to happen.
Could you imagine the additional chaos if the "Snow Bowl" had happened at night?
It is considered the greatest annual rivalry game in sports not because of WHEN it is played. Saturday at noon is where it has comfortably evolved into a tradition. Change that, and there is a chance it's tradition might slowly melt to a lesser status. Shoot! The weasels have been doing all they can to diminish the importance, as it is.
How many top national recruits chose OSU over some other blueblood program because of the existence of Real Life Wednesdays? I hope Urban's focus, over time, elevates that program to higher and higher stature with corporations, service sector giants and political organizations nationwide.
"I'll have to earn my stripes."
Well, no, you'll have to earn getting rid of it. Speaking of which; does anyone posting here know if Day will keep Urban's black stripe tradition going?
I still have nightmares in which Borland turns to look incredulously at a runner/receiver behind him moving downfield, then giving futile chase in his waddle-like macro speed, hoping a safety or cornerback can do his job for him.
Looking for Blue Smith to emerge in 2019. Kid's got skills!
Is he still considered a(n honorary) team captain?
I remember that article-highlighted route against VT. As I recall Thomas cleared the DB by 15 yards and still had to slow and wait for the throw from "Noodle Arm" Barrett making the TD closer than necessary. Haskins to Thomas would have been epic to watch!
Not that Barrett was not the better QB, but it is a shame this guy sat last season and we only get to watch his surgical touch for a single year. Come back, Dwayne!!
Is the term "Slobs" still used? Always liked that, but don't read the players using it anymore.
You are correct Buxki, Archie was not a bust in the NFL, by NFL standards. He had longevity and always has had talent! I should not have used that single-word adjective.
It is interesting that two of the QBs are about the same size as Archie, who was honestly a bust in the NFL; and then there is Haskins, who is about the same size as Eddie George, who was a huge success in the NFL. I think scouts may notice this too. Let the other two fight over the statue, Dwayne gonna cash out big, come draft day!
Most upper echelon recruits with many offers have enthusiastically said that "Real Life Wednesdays" was the deciding factor for them in signing with OSU. Just imagine the corporate doors Urban could unlock through his fame. And how effectively he could administer RLW were Urban involved on a full time basis.
Interestingly, had that play happened this season, Shazier might have been penalized for targeting. Football sure ain't what it used to be!
Plus 'Blue' Smith will be coming into his own next year. The receiving corps should do just fine.
I merely feel he need not leave Columbus. Bosa could get the best rehabbing right here. A captain should hang with his brothers. Ask Dremont Jones how he feels about this.
I understand fully the Bosas' decision that Nick play no more this season. However, he is a captain. We were told during fall camp that he was a leader, a stabilizing force for the underclassmen. How can he just abandon the team, especially as the defense seems in flux?
I guess $$ is the measuring cup of character in the Bosa family. I understand that too.
Hope Day calls lots of screens and wheel routes to slow down Purdue's pass rush. They WILL be coming after Dwayne with 5 and 6 guys all night!
Missing Kerry Combs much more that I thought we would.
Love that shot of Tatum stalking and headhunting.