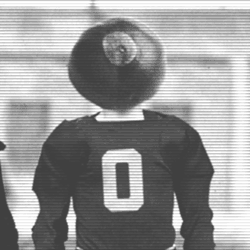 Braxtonkeepsit
---
MEMBER SINCE November 06, 2015
Recent Activity
Ladies and Gentlemen, Shawn Wade 2.0
Neither do I. I do like that we get it after a bye, then get an extra day to prepare for Whisky. All things considered, best case scenario.
The dream is Georgia in the semifinal and LSU in the final. Justin's old team and then the former Buckeye.
Nebraska looks competitive with our second team. That's much farther along than they were in 2017. Throw last year out.
He's gonna be a headache for Carman Jackson in January.
Play Ohio/MAC schools. Keep the money in state.
I'd incentivize that agent's Players on snap count and games played. If the Bosa's are 10 games a season type guys then pay them like that. I love them, but it's hard to build your staff around unreliable leaders.
So many Buckeyes in the NFL right now. Seriously.
World renowned epidemiologist and vaccine expert Jenny McCarthy disagrees, lighteyes. You need to get with the program.
We have Wypler, Paris, and TONS of depth, two of which are for sure 4 stars by Thanksgiving. We have put a fair share of 3 stars in the NFL, you know that. Midwest linemen are notorious late bloomers.
Mom not DVing you, but when ever did a 5 star, 1-3 4 stars, and some 3 stars equal a bad line class?
The more bye weeks the better. Stretch a 12 game season out as long as possible. For example, I can dwell on Northwestern for 13 days instead of 7, no problem.
Play breaks down, Fields rolls out. Ruckert mirrors him 12 yards down the field and can't be single covered. That is 8-20 yards all day long.
I don't think everyone realizes just how much speed we graduated last year.
I don't know about that. 12 personnel on first down and no huddle... You can stay that way all the way down the field. Then you're in the red zone, time for 12 man again.
HC is different. That's pretty big. KW is a stud. Don't overlook him just because sometimes Urban couldn't get out of his own way.
What he said. KWilson is going to go nuts this year.
We are still going to pass like crazy. Fields is not as accurate as DH. We also don't have quite as much speed outside as we did last year. Those three facts mean that TE will be used much more. Big target, close to the line. Good blocker. 60 catches at TE this year.
Ohio for development projects. USA for skill positions. A little Tressel and a little Urban. Clearly the best QB and WR now want to come here. The best Dlineman already do and we are tied for ground zero for CBs. We'll be alright.
Your logic is sound, but Title IX is corrupt in practice.
Think about all the college guys we cherish that are out of the league too quickly. This could be a nice little something for them. All the guys from 2014 class would play on forever
We look a lot more like Tressel in the trenches and Urban in the skilled. Locking down 5 year Oline prospects like Tress, keeping them from Sparty and the rest of the B1G. Urban never got WRs or pocket passers like this. We are different than either, but still scary.