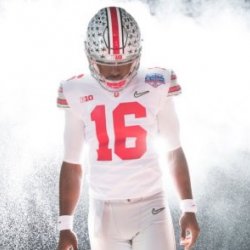 BraxtonBarrett5
---
MEMBER SINCE October 17, 2017
Recent Activity
After thanksgiving but before the conference championship game
i know pryor personally, PSU is a big player in his recruitment. his older sister goes there as well
Pryor hurt his shoulder the other night, sounds like the doctors don't want him to play but he believes he'll be out there Friday.
I'm friends with the Joe Gibbs' family. The two oldest sons Jackson and Miller play at App. St which is kinda cool.
Sending everyone prayers from NC.
Who's the big guy in the red shirt standing close to the camera, lined up behind the nearest DL in that video with Larry Johnson?
i lold, thanks for the laugh
Per Nevada over at rivals
"the kid is sold on ohio state
Getting a lot of pressure from family to stay "closer" to home"
https://ohiostate.forums.rivals.com/threads/the-absolute-latest-on-bijan-robinson.94653/page-2
I hope you realize that these threads have been like this since well before we were down to only a few targets
https://i.imgur.com/fETMbYH.gif
I almost cried during that. Was so glad that scene ended so I didn't end up balling. Not to say I didn't like it, it was a great moment.
Nevada gave the ==== on Carrico
I go to school with Evan. Runs a 4.39. Good kid
I remember when these threads were strictly recruiting news. I would see 5 new messages, oh look some news! Now I just clicked on 43 new messages, and the only news I saw was the Henry Gray news.
Nice.
I know Evan Pryor personally. Go to school with him. Heavy heavy Penn state lean, talks about them 24/7, always posts Penn state edits, pictures of the white out, etc. Ran a 4.39 not too long ago.
Sherman played receiver too
Michael Jordan was an All-American lol
Nick Starkel is ass, my dude.
*Most likely* will be on campus next weekend