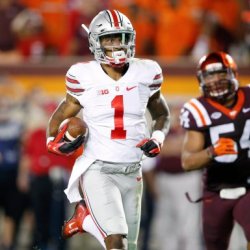 Braxton2Devin
---
Member since 14 October 2012 | Blog
Favorites
SPORTS MOMENT: Braxton Miller's TD pass to Devin Smith in the waning seconds versus Wisconsin.
COLLEGE FOOTBALL PLAYER: Braxton Miller
COLLEGE BASKETBALL PLAYER: Aaron Craft
NFL TEAM: Atlanta Falcons
NBA TEAM: Cleveland Cavaliers
MLB TEAM: Atlanta Braves
SOCCER TEAM: Real Madrid
Recent Activity
ESPN still says that we have like 6 national championships too...
Have never been critical about 11W articles before... but what exactly was the point of this article? I feel like I've read this a million times.
This year is the ultimate decider of Barrett's legacy. Will he be remembered as a loser or winner?
Hope Barca can pick up one of Coutinho or Dybala.
Bengal, from your experiences with him, what's your opinion on him? Is he actually a decent guy? He gets a lot of (justifiable) flak for his actions and words, and some have even gone so far as to label him as a sociopath.
That "warm", "hot", and "cool" shit is all a crapshoot really...
He has pace, is young, and has scored some clutch goals. I think he has potential to be an impact sub-type player for this squad for years to come.
Urban blows a lot of hot air, using exaggerations constantly and propping up players that never end up materializing in production.
lmao. glad to know i have a following ;)
It would be silly. He still needs to develop, and Ligue 1 is one of the best leagues for him to do so.
At what point does this sarcastic joke get overused?
Two thoughts:
1) Della Valle was the most overhyped and overrated flop of recent memory. Just thinking about the hype that once surrounded him makes me laugh, knowing that in the following months we would see that he wasn't even decent at his only "specialty".
2) Who would've known that Laquinton is playing in Uruguay? Didn't even know they had a league. He can't be making more than 30 grand
Furthermore, why the hell is the NFL separately investigating this situation? Do they think that they have more competence than an entire police department? That they're somehow better detectives than people whose careers are devoted to this?
Looks like he lost some weight and put on some muscle.
Except for Jae'Sean Tate. He has as much energy and is as much as a team-first player as anyone that's played for the Buckeyes, it's just a shame that it's overshadowed by how dogshit the team has been while he's been a player.
Well, my numbers are correct, because I got them from the fucking FBI. Don't try to blame some "system" or "the man" for all the violence.
95% of black murders are black-on-black. Almost half of all homicides are caused by African americans (a demographic that only accounts for 13% of total U.S. population). Facts.
You're an idiot if you think it's that simple.