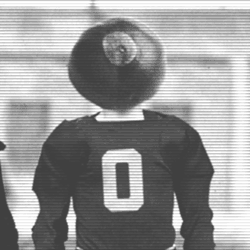 Bratwurstcapitalbuckeye
---
MEMBER SINCE November 01, 2015
Favorites
SPORTS MOMENT: Grant sacking Dorsey in the desert
COLLEGE FOOTBALL PLAYER: Jack Tatum
COLLEGE BASKETBALL PLAYER: Jay Burson
NFL TEAM: Browns
NBA TEAM: Cavs
MLB TEAM: Tribe
Recent Activity
What the hell is tryna?
I think he said F em to Drake as well. The look on his face at that press conference said it all. If it's ND in a year or two, it won't surprise me. He could have a good run and still retire again at 60. I hope he doesn't, but I think it is sure possible.
It doesn't look like a tough schedule to me. Michigan loses a lot and Penn loses their QB. Nebraska sucks no matter what people are saying. They are several classes away from beating the Buckeyes. Sparty has zero offense. Wisconsin can't score with Day's offense. I'm not saying this is a great OSU team, but I think the schedule lines up pretty well. I was at the NW game. The speed isn't even close.
It was fun to go back and watch the two speeches from Coach Tressel and Coach Meyer. Such different speaking styles, yet both very effective orators. Let's hope coach Day has a long successful career here.
Only KBD can say if it was the right move. Lot of opinions on here, but that's all they are. I sure wish he was wearing the Scarlet and Gray though.
I don't think Gene would be comfortable in that space.
What does "this is a process " mean? Coach speak is such horseshit. I went to class, paid my own way, and worked 50 hours a week. I guess that was a process.
No need for an apology in my opinion. You could read our coaches lips saying to the ref that it was two bulshit calls. Everyone so offended these days. Those officials know what they're signing up for.
Steelydan, I commented earlier that skin color doesn't matter. Maybe I should have said skin color shouldn't matter. I get your point to my comment. I do think at some point we have to stop singling out races. We're all people. Certainly we can all agree to that.
Not even close and I'll bet Meyer would say the same thing.
Skin color doesn't matter!
I wish you would have brought that motivation against Iowa and Purdue. Urban could have really put himself closer to Saban if they would have won those two games. Who knows how the seasons would have ended.
Unfortunately you can look at recruiting to see how the team will be. This team does not have the talent yet. Next year they will. It's going to be close whether they make the big dance this year or not.
Gene has done ok in this space. Let's not forget how he screwed up Tressel's deal and Urban's deal this past summer. He's done good stuff as well. Not sure he's our best ever, but not the worst either.
Talent is just not there yet. I think they are an overachieving team. I think next year when they get some big-time talent they will do great things.
Washington needs to stay on the floor. That kid is going to be a player.
I just don't know how ESPN functions in this space? A possible quote by mean Gene!
Eugene sure likes to use the word space a lot. Every article I read about him he is quoted using the word space. Anybody else notice this? Good to see coach thrive in his new role.
Did the distance change from WVa. To Columbus during the year he was committed?
How many more can they take this year?
Rutgers? Not sure about that, but the coaches must know?
He seems awfully attached to his grandchildren to leave Ohio. I'll bet he doesn't coach anywhere unless it's Ohio State again.
Was Drake around the team after this years Rose Bowl? I hope he was. Would have been a nice gesture after the way he handled the situation in August.
Same people saying once a Buckeye always a Buckeye are the same fools that said that about Herman. When you leave the program, not a Buckeye anymore! So to clarify, once a Buckeye, not necessarily always a Buckeye.
Spielman can be a real ass. I met him once, and I hope I never do again.