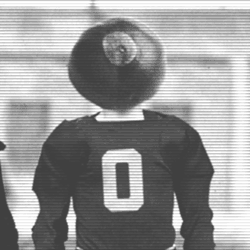 Bratwurstcapitalbuckeye
---
MEMBER SINCE November 01, 2015
Favorites
SPORTS MOMENT: Grant sacking Dorsey in the desert
COLLEGE FOOTBALL PLAYER: Jack Tatum
COLLEGE BASKETBALL PLAYER: Jay Burson
NFL TEAM: Browns
NBA TEAM: Cavs
MLB TEAM: Tribe
Recent Activity
Football decision is paying off. Hair decision? He better come back one more year!
I'm trying to not get ahead of ourselves here. We haven't exactly play anyone yet that's worth a damn. If we can run the ball like that against Michigan State then I think we can get ecstatic. Right now we just don't know what we are. But it sure looks good against the competition we faced.
Anyone that thinks ESPN isn't biased is not playing with a full deck. They really don't even try to hide it at this point.
Doesn't give off a good feeling that Hoak still has a stripe. I still don't like this stripe thing. They are Buckeyes when they commit to The Ohio State University.
It's not Dobbins. Our O line is not run blocking very well right now. They pass block really good though. If there is a hole Dobbins will get yards. Day is covering for the line, not blaming, as a good coach would do. I think they'll get better, but I don't think it's a great line to run the ball.
I feel like coach he's covering for the line for some reason. Probably wanting to build confidence. I watch the game twice there were not very many holes to run through. It's the same type motivation Urban Meyer used.
Not sure our depth is as good as we think. Sure looked like a drop off when the 1s were out. Hopefully ours are better than Luke's.
One thing I know about Luke is he could whip any other college coaches ass. The youngsters on here don't know what a bad man he is. Might be the best wrestler Ohio High Schools have ever known.
Kid from Rutgers is not very good. Why not plug NPF in even if it's not his natural position. The line is being handled by FAU. That's the only real worry I gave. Love the use of TE.
Those same guys may very well be the best we have. But, that doesn't make me feel real confident going into the season. So the coaches may very well be right and what they're saying, but maybe they missed on all the linebacker recruits. Let's hope not. I know all us Buckeyes want to see the Silver Bullets back.
We have won with better coaches and players. I don't like the talk, but it doesn't change the outcome.
Stover will be the next Sam Hubbard in my opinion. I see him growing into DE and being a stud in a couple years.
Herbstreit has gone too far against Ohio State for his own gain. He has sold us out numerous times. The same people that like Herbstreit are the people that like Tom Herman when he left and we're rooting for him. Wake up America
Michael Thomas dominated early at those spring games, but Urban wouldn't play him. He sure missed the boat not featuring him and getting him the ball. Saying stuff like he has to do good on special teams and coach talk like that while he sat the bench. I'm an Urban fan, but some of his thinking cost himself and our beloved Buckeyes some big wins in my opinion.
Urban also screwed up with Zach Smith. Not the best decision maker lately.
He is very cool and confident. A good mix of Tress the senator and Urban the motivator.
Mo C. has turned it around, but the drunk driving a few years ago was really the worst thing he did. Could have killed a family or himself. Amazing how people skip right over that.
You guys with the Disney aged kids make sure you enjoy every minute of it. It goes by in the blink of an eye and believe me, you will miss it.
Hope he is better this year. He needs to hit the weights a bit.maybe Andy Katzenmoyer could put some muscle on this young man.
This is still Earle's grandson. He's not going to try to hurt OSU I wouldn't think. He could have done that during the Urban witch hunt if he wanted to harm OSU.
I was also at OSU during those great Cooper teams that should have won it all several times. I say troll them any chance you get. They are dying to get us. Let's hope it never happens.
Well, what are they waiting for? Let's get some boys committed! Talking about it while Bama and Dabo load up isn't going to get it done.
Looks more than qualified. I was hoping Mean Gene was given the job though.
Brutus, I feel the same way. I was a lazy average student and while I work hard at my job I don't give everything I've got. This guys maturity is unbelievable.
Unless you are in a rock band is a full arm tattoo a good idea? He better be good at football!