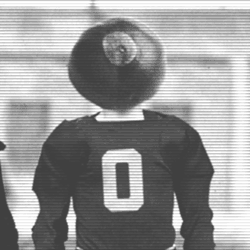 Bratwurstcapitalbuckeye
---
MEMBER SINCE November 01, 2015
Favorites
SPORTS MOMENT: Grant sacking Dorsey in the desert
COLLEGE FOOTBALL PLAYER: Jack Tatum
COLLEGE BASKETBALL PLAYER: Jay Burson
NFL TEAM: Browns
NBA TEAM: Cavs
MLB TEAM: Tribe
Recent Activity
He needs to play. Don't hurt yourself protesting. He deserves to play.
Get the ball to Washington and let him score. Coach holds guys back too much. If he wants to get major talent he needs to let them shine.
No interviews! Respect my decision. Lol
I think Haskins one season is the best I've seen. I hope that changes this year.
You don't have to be a lawyer to know that he would get off from the curfew charge.
No way a curfew is constitutional. Judge will throw it out if he has a decent lawyer.
That great Stadium will still be standing in 200 more years. That thing was built to last. They can make all the upgrades they want, but the Horseshoe stays.
Thanks for the story. I've had great meet ups with Clark Kellog, Mike Vrabel, Jim Lachey, and coach Bruce. Even a nice chat with Justin Fields last year. The only one that was bac was Chris Spielman. He was an ass, which doesn't jive with what he's doing now. I guess he is growing up.
He has plenty to lose. A college degree, or advanced degree, playing with his Buckeye brothers, the college experience, college girls. He should enjoy all that for one more year and then head to Europe. Who wants to travel these days anyway?
Let's wait until these kids sign before we get cocky. We were sitting good for rb at this time last year too.
I grew up idolizing Spielman, then I met him.
Respect my privacy. Lol, these kids crack me up.
If Walker shoots it like he did the last few games we will be fine. Carton was not the shooter I hoped he would be. Tournament advancing teams have guards that can film it up.
Is this dude crazy fast? I don't know recruiting like mist of you. What's his specialty? Day is kicking butt!
NASCAR is still running minus the good ol boys in the stands. I'll probably watch. We need some kind of competition to fill our weekends.
Did he get his degree already? I hope he has and is working on a masters. At least he will have that to fall back on.
I'm not messing with either of those dudes.
These guys will likely end up back up north. I don't love the hires, but hopefully I'm wrong.
The perm helps me know who it is easily though. It always takes me awhile with freshman.
I root for this team every game, but I'm just not enjoying it. They are so inconsistent and undisciplined. I'm not sure recruiting has been good. I know on paper it is, but I don't see big time talent there right now.
I actually love it there. I am lucky enough to get to go to a game at least once every other year if not one every year. I enjoy the hell out of it. Just being around the campus and the young students is so fun for me. I can't imagine complaining about any of my experiences there.
Glad to see Cardale and Sprinkle doing so well. They didn't take the easy path, but what great examples they are.
He would never say it to Luke in person. Not and walk away anyways.
Smartest thing they did was to play in a small stadium that looks full rather than a huge team with no people in it. I thought that made a big difference viewing it on TV.
I'm not sure he's just peaking. He's finally getting to play. Should have been playing all along.