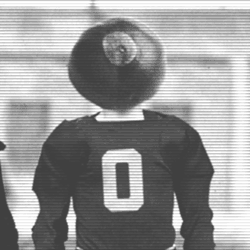 Bratwurstcapitalbuckeye
---
MEMBER SINCE November 01, 2015
Favorites
SPORTS MOMENT: Grant sacking Dorsey in the desert
COLLEGE FOOTBALL PLAYER: Jack Tatum
COLLEGE BASKETBALL PLAYER: Jay Burson
NFL TEAM: Browns
NBA TEAM: Cavs
MLB TEAM: Tribe
Recent Activity
He's not an I dotter. Gene just wouldn't fit that space.
Herbie is an ass. He doesn't know anymore than us, but he's a jackass ESPN pundit and he has diarrhea of the mouth.
The only two things I would root for PSU to win against would be the devil and Harbaugh. And I'm debating the devil?
I never like any politician like Drake to tell me that we must. It's their opinion, fine, but not we must. I just hope it doesn't hurt the game we all love. I am happy if kids get paid, just protect the game ye old wise administrators that know it all.
Hate to think like this, but this may be a game that sends Urban to South Bend someday. Kelly may find his seat hit after a showing like this.
On dry Turf we will beat them by a lot more. Jump Around All You Wish.
Hate em both, but hate scum more.
They aren't a great team. They are solid, but let's not pretend. They can't math Ohio State's speed or depth.
He was speaking as if he were Lincoln Riley, not that he himself wants the job.
Looked to me like Jones should be in there at least for run blocking. That dude was mauling people.
I don't have any information to help you oh, but you sure are a real fan. Have a great time shirt on her Buckeyes!
For what I pay for tickets I'll wear what I want. I have always participated, but that's because I want to. Too many youngins on here thinking it's that big of a deal. It's a football game for fun. We alm love it, but chill out a little worrying about what people wear. Most men don't have a clue what someone is wearing.
Wilson looks so much better than the rest as the returner. He reminds me of Teddy back there. Won't be long before he breaks a big one.
Was it even necessary. It seemed to me it was behind runner, so he should not have done it whether it was a block in the back or not.
What's Dixon doing? If we don't agree with him we have a problem? He should be in government.
Tressel had us very much a national program. Nobody won more BCS games than he did. Talk about a lack of respect.
Practitioners in the space? What is he talking about, and why does he always use the word space? It's like someone dated him to throw the word space in everytime he speaks.
Roger that Roger. The millenials like it though. It's like star wars or something I guess.
Chris Campbell Wilson looks like a Chris Gamble type of athlete. He looks like the type of kid that can change a game. I think we will see a lot of him this year still. And the next two years I think he'll be the star. You should definitely be returning punching kicks for us.
It's pretty obvious to me. Browning looks like a stud Ohio State LB, and Borland looks like a good MAC LB. Remember, they let Haskins sit on the sidelines while JT played. Coaches don't always get if right. Many of them aren't very smart. See the one in Ann Arbor.
Football decision is paying off. Hair decision? He better come back one more year!
I'm trying to not get ahead of ourselves here. We haven't exactly play anyone yet that's worth a damn. If we can run the ball like that against Michigan State then I think we can get ecstatic. Right now we just don't know what we are. But it sure looks good against the competition we faced.
Anyone that thinks ESPN isn't biased is not playing with a full deck. They really don't even try to hide it at this point.
Doesn't give off a good feeling that Hoak still has a stripe. I still don't like this stripe thing. They are Buckeyes when they commit to The Ohio State University.
It's not Dobbins. Our O line is not run blocking very well right now. They pass block really good though. If there is a hole Dobbins will get yards. Day is covering for the line, not blaming, as a good coach would do. I think they'll get better, but I don't think it's a great line to run the ball.