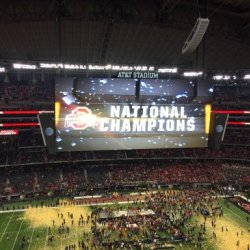 brandonbauer87
---
Member since 30 March 2012 | Blog
Favorites
COLLEGE FOOTBALL PLAYER: Braxton Miller
COLLEGE BASKETBALL PLAYER: Jon Diebler
MLB TEAM: Cleveland Indians
Recent Activity
Raekwon should've been playing in his place anyway. Amirite?
If you get roasted, it'll only be because you brought up your personal agenda without anyone asking for it.
Not news. And not important. He's a professional. He lives in the emotion of the game. He'll call it as he sees it with no bias.
I'd like them to be good from time to time. I like the National spotlight. And we actually do need to lose occasionally to keep the fire alive. But that's a big picture idea. Come the last Saturday in November, I want to stomp them into submission.
Honest or not (probably is), it's smart business to play nice with Ohio when you want to recruit Ohio kids.
It's a shame the Iowa game happened for so many reasons. J.T. would look like a serious Heisman candidate without that mess on his resume.
Mayfield proving there's more to the Manziel comparisons than just the skill set.
I'd be salty if I were on the other side of that call. We discussed it at the time. There was no basis to overturn the call on the field. It's the same thing that happens 99% of the time on a challenged spot. If he's called short on the field, we lose that game.
No offense to you, but this gets brought up anytime there's coaching chatter. The only time Urban ever specified a two-year minimum was with his original Ohio State staff. Everyone has just assumed this to be a standard Meyer rule, but he's never said anything of the sort. Maybe he always requires a two-year commitment, but as of now, we have no proof of that.
We'll see if Frost can keep his team together. Herman's Houston team fell apart last year when the Texas rumors heated up. I think ego management is a weakness for Herman, so we'll see if Frost is any better at it.
Holtmann is doing and saying all the right things right now. If he can actually coach, we might have a serious contender again. I'll watch the games because I can't help it, but it sure would be a nice bonus to watch a team give some effort. I don't expect an instant turnaround, but as long as we're not getting beat by inferior talent, I'll consider it an upswing.
Historically correct. 7/10.
He couldn't locate anything. And it looked like he was coming across the plate more than usual. In hindsight, pretty easy to see he was compensating for an injury.
Could be historic if they can avoid the injuries that plagued them this year. Nothing major, but there was always someone out or playing through something.
Kind of endearing, actually. There apparently is a soul in there somewhere.
He's only going to be better next year. Same thing for Carrasco and Bauer. With Clevinger not far behind. Next year's staff could put up numbers to put this year's record staff to shame.
I think they've discontinued it and it's not coming back. But they're still (I think) going to honor players in the stadium in the "ring of honor". Troy Smith has already been added under that category. I believe there was mention it will only be for Heisman winners going forward. For that reason, I say no to J.T. the bar is set, and there shouldn't be exceptions.
Another week of D.J Durkin lingering creepily on the phone. Waiting.
You get more hate than you deserve around here. And all the asshole comments in reply to your posts. Not all Ohio State fans are like this. I just wanted to let you know that I appreciate your posts here and welcome the opposing viewpoints. I don't think everyone needs to disrespect Michigan to hate them. And disrespect you by extension. I hate Michigan. I hope for no future successes. I don't think that needs to go to a personal level.
I Think Burrow may be the best QB on the roster. Period. I still think it should be J.T. as the starter, though. But, I'd love to see another Braxton type purely for my entertainment.
Always bet on the Buckeyes. They're somewhere around 80-90% against the spread since Urban walked through that door. Bet every week and you'll win more than you lose.
The possibility just got real. Still incredibly unlikely, but the door is ever so slightly open.
They abandoned it early in the 2nd quarter. Long before there was any reason to.
But when they forced J.T. to keep the read option he gained at least 5 yards every time. And they still abandoned that. 5 yards is a win in my book. If J.T. gets you 5 every time, you let him march you to the promised land.