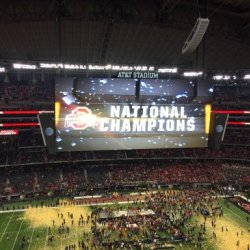 brandonbauer87
---
Member since 30 March 2012 | Blog
Favorites
COLLEGE FOOTBALL PLAYER: Braxton Miller
COLLEGE BASKETBALL PLAYER: Jon Diebler
MLB TEAM: Cleveland Indians
Recent Activity
The thought of signing even further over 85 makes me itchy.
I've always viewed it as a charicature, so I don't find it offensive. The same goes for Fighting Irish, Rebels, Musketeers, etc. I'm not crazy about it anyway, so I'm not exactly torn up about it.
So you're saying your ethics have a price tag?
I'm shocked by all the people recommending legal methods. Quite the opposite of when I was critical of alibaba OSU jerseys.
Urban has said multiple times he wants guys with head coaching aspirations. Paying big salaries would play against that.
The 2014 version is still in there. If you can tap that and build upon his mental improvement, he can be a serviceable QB. I think the glowing reviews from this week are a very positive sign for his career.
Probably would've been a good idea on January 17th, 2018.
Myself and all others I know invested in crypto are fearful. That's why it's important not to overextend crypto investments. Don't risk what you're not willing to lose. It's a casino with unknown odds.
I think the idea is just that this maximizes the safety of the helmet. Not that it makes it any safer.
Does this satisfy the crowd crying for higher assistant salaries? This is what it looks like to spend more for a reason. Competition controls the market, and this is the first recent case of there being a need to compete.
I switched from Sling to DirecTV Now and actually prefer it. In my market, I get 2 ABC affiliates, 2 FOX affiliates and 1 each of NBC and CBS. There is more buffering, but not to the point of being unwatchable. The stream quality is better, in my opinion, for live sports. I think they actually use a 60FPS stream. Live sports on Sling always felt like I was watching on a computer where DirecTV Now looks like a broadcast.
Penn State likes our QB more than we do.
Yes, without a doubt. You could say some feel that way, but far from most. I don't think ignorance is quite that widespread.
There's no position change. He'll either make it as a QB or not make it at all.
It looks even better when you compare it to the Herman/Houston situation. I think Herman is held in pretty high regard around here, but he really botched the transition. His Houston team fell apart when the Texas rumors started swirling. There were plenty of unkind words from his players after he left. Conversely, I haven't heard a bad thing about Frost, and his team stayed together. That pays dividends in recruiting. Also when you're all over your guys to practice harder. You'll get more buying in when you have their genuine trust.
That's a pretty broad generality.
My only problem with what he said is the fact that it looks like it was tweeted by a drunk person. So many caps and exclamations. Why? It discounts what you say.
It's just a good college football market. Just like Columbus is always in the top 10 for other games.
I still disagree. The receivers didn't do him any favors. He struggled at times, but there were far too many drops to go with that. And I still say the offensive scheme was a mess for most of the year. It's the staff's responsibility to put its players in a position to succeed and they didn't do that far too often. What he did to PSU was masterful. That game plan was well put together. We even saw flashes tonight when they actually attempted something resembling a passing game. He's not the passer Darnold is, but there's a reason he's projected at the top of the draft. Those guys are incredibly rare. There's a short list of QBs I'd have over JT, and right now the only one I can say with certainty is Mayfield.
To each their own I suppose. JT could beat Clemson, but not with the playbook we saw for most of 2017. He can sling it accurately up to about 25 yards. I don't think you need more than that.
I can't wait to hear the JT haters when next year's starter inevitably struggles at some point. It's a shame he won't be appreciated as he should until he's gone.
I'd argue OSU looking efficient in all (except return) phases showing they deserved the playoff spot. This isn't Maryland or Rutgers. This is a real opponent.
I've said it over and over. This team can thrive on singles and doubles. There's no need to hit the home runs.