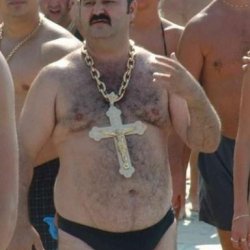 Brah Zhole
---
MEMBER SINCE August 23, 2018
it involves meat, cheese, and the pumping of the fist.
Favorites
SPORTS MOMENT: Rocky
SOCCER TEAM: Azzuri
Recent Activity
Comment removed for violating the site's commenting policy.
Random side note: been listening a lot to the Last Waltz again, despite RR's dickbagedness, and I've always loved Joni's Coyote.
so I hunted down other live versions and found a whole show of her playing with JACO, METHENY and BRECKER, live in California.
there are some cheesy parts of course but some amazing aspects as well
Comment removed for violating the site's commenting policy.
Except you can get it again. So there's that.
They basically should have done a list called ALL DECADE TEAM NOT INCLUDING ALL OF OHIO STATES PLAYERS OBVIOUSLY
Oddly, I'd love to attend the RYDER CUP overseas, preferably Spain or Ireland.
for some reason that always looks like the best time.
Sorry, don't think twitters news desk in Khartoum is going to be sufficient for me, or it's take on markets.
i prefer real newspapers
Nothing cheaper than in a parking lot of a golf event I attended for free.
We made it like 5-6 songs. Once that dude dropped we basically saw that as a cue. And it was getting damn cold.
I have tickets. There's about a .001% chance I will be attending this game, assuming it happens.
I want to thank Texas, Arizona, Southern California, Oklahoma, and everyone else, for doing next to nothing when it comes to controlling this virus.
Bravo!
Not even kidding...in September I went to the Safeway Pro/Am Golf event in Napa, and Bad Company was the concert after the event. The buttery chardonnay was flowing aplenty.
As Paul Rodgers was singing "Bad Company...to the day I die..." some older, out of shape guy, just dropped to the ground and I believe had a heart attack. At first we thought he was kidding, but then realized it was no joke. This dude was stretchered out during this song, and while obviously really tragic, it was nearly impossible not be laughing about on some level. The guy was really into the band and song, and he dropped DURING THAT SONG!

Wasn't able to find news on whether he survived.
Comment removed for violating the site's commenting policy.
You miss the point
He is taking away something the school and supporters love.
What morons are voting down these takes?
oh, ignorant people. My bad.
Our fans are going to be loud and hopefully Jack Mike can perform
Van Halen was my first concert, before I was 10, 1984 tour at MSG
I know every lyric of every song.
just thinking a MAH birthday thread is a bit much
btw I'm one of the original brahs that started jambase. I know my shit.
Mike Gordon is a fine bass player and if he wasn't next to Trey the dude would be playing in the opening act on the Acura stage at jazz fest
Sorry, brah, but there were many luckier dudes than Michael Anthony.
I'll start with anyone playing next to Trey Ansatasio.