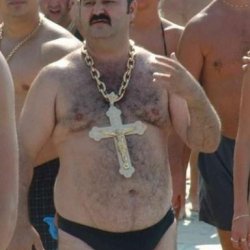 Brah Zhole
---
MEMBER SINCE August 23, 2018
it involves meat, cheese, and the pumping of the fist.
Favorites
SPORTS MOMENT: Rocky
SOCCER TEAM: Azzuri
Recent Activity
Comment removed for violating the site's commenting policy.
Comment removed for violating the site's commenting policy.
True Story.
I used to go see this RIDICULOUS EFFING BAND in New York City called Krantz, Carlock and Lefebvre. One of the most unique bands in the history of fusion/rock/jazz. They played a small venue/bar called the 55 Bar in the Village every Thursday night. It was truly epic, and tons of famous musicians and what not would roll through.
One night the band finishes and it's like close to 1 AM, and this dude tries to walk in as the band is packing up. Bartender Sheila looks at me and says, "Brah, don't let that guy in."
I walk over to the door to stop him and he casually says, "Aye, mate, I'm here to see the drummer. My buddy sent me." And he breezes right past me. Took me a second but I'm like in my head, "Is it Joe Strummer?"
Sheila yells, "Hey, the bar's closed." He ignores her.
Walks over to the band and says to Keith Carlock (maybe best drummer in world), "Sorry I'm late. I meant to get here earlier."
Wayne Krantz and Tim L recognize him immediately and say, "We'll plug in for you. No problem."
Sheila is still yelling. Tim looks at me and motions to go talk to her. I tell her who it is. She's from the UK, no less. He sits down at the front table with me and my buddy Dees. Sheila comes over with beers and puts a bottle of McCallan on the table and 3 Lord Chesterfield ales. She says, "It's on me. Whatever you want."
He says, "Now that's the type of service you just don't get anymore."
She locks the door. The band plugs in. They blast off. And I sit there and drink and chat with the band, Joe Strummer, and Dees until around 2:30 AM.
He died a few months later. All of this was kind of in the shadow of 9/11 still.
It was a great memory, for sure.
he gets fired, and that changes what in your life exactly?
12,000?!?!?!?

DAMN!!!!

Well, 13 Million people watch the Ohio State Michigan game, so that's like...wait, did you say TWELVE THOUSAND?!?!?
Who's the guy who was bashing OSU's "new female president" yesterday?
Comment removed for violating the site's commenting policy.
You don't recall us hanging on against a garbage Washington team, or Oregon beating Wisconsin last year?
Actually, multiple conferences have cancelled already. Except those conferences aren't big money, so all that "hard work" and "dedication" these "kids put into the program", doesn't really matter if you play for Eastern Illinois or Akron.
All that stuff only matters if you play in the B1G or the SEC.
Coaches didn't say a word when those other conferences and schools cancelled.
Not. A. Word.
This is about money. Just own it.
Who are the fastest runners in the world?
the best running backs?
the best boxers?
the best long jumpers?
the best distance runners?
From a physical perspective, black athletes are generally better. The numbers don't lie.

Spare me the PC thing because it's not even PC.
He's terrible relative to world class play. Not better than altidore
Bump
breakup the monotony
I love guys like you that don't understand lawsuits and science.
One kid from another school gets sick, passes it on to another, and it's out of the bag.
One kid who's a backup lineman, that weighs 340 lbs, who eats terribly, he dies.
Enjoy your barbecue, brah.
The hardest thing about keeping American kids into soccer is the fact that there aren't many obvious rewards, not just for the kid, but the parents. A lot of dads like saying, "My kid scored 12 points...my kid scored 3 goals...my kid had 9 catches..."
You don't get that with soccer. "My kid had a 92% pass completion rate!" Nope.
I see it all the time with coaching kids, and my own idiot brother-in-law and nephew. Pushed him into Lacrosse, which IMO, is probably the worst sport on earth. But the kid "scores a lot of goals!"
If the kids don't love playing it, or love equally to another sport, rest assured that a parent who doesn't understand it is going to push the kid into another sport. And it's unfortunate because I literally played almost every sport on a high school level, and to me, soccer is the greatest pleasure I have. To this day the sport continues to get better while all the other sports are actually getting worse.
Have no doubt, Reggie Bush would have been absurd. Of course, of course.
Josh Miller, who I mentioned earlier, LOVES soccer. But his dad saw NFL as a path for him, especially since he had a learning disability. We talk about how he would have been a WORLD CLASS goalie, like better than Tony Meola, etc, had he chosen soccer. But it wasn't on the radar then.
Money is the driver, and over time the sport will grow here, but there are so many who will never get it. If you haven't played the game even slightly you have no idea of the difficulty in doing it. Everyone has caught a ball, thrown a ball, etc. But until you have caught a pass off your chest and one timed a volley toward a goal, it just doesnt' make sense to most.
Coaches are self-serving. Their kids want to play, so they're supporting them. But the coaches know it's not going to happen.
If you put the entire decision making process in the hands of Jim Harbaugh or Ryan Day, I would BET MY LIFE they would say "no football."
These coaches want to seem like they're supporting their players and the recruits.
I mean, after all, the President of the United States is pretending he wants eveyrone to play football, and he wants everything open, etc, but he has done NOTHING to make that a reality. He has blamed governors. He has passed the ball to the states. THAT'S ABSURD! It'd be like if Oklahoma was attacked by Iran he'd be like, "Well, Oklahoma has to fend for themselves and make their own decisions..."

It's easy for these coaches to say one thing when they don't have to risk someone's life.
People seem to have this expectation that scientists can figure out a strand of a virus within a day, when it could take decades.
And people want to blame the media for reporting what they're learning from the science community.
It's some really dumb shit going on in this country. We're pretty special.
Some people get it; some people don't. Some people transmit; some don't. Some people die; some don't. We don't have all the answers, and that's why we can't watch people play football for a year.
Josh Miller is a friend of mine. Was my baby sitter when I was a kid. He punted for Steelers/Patriots. Absurd athlete. All State high jump, long jump, hurdles. Great soccer player as a young teen, but lacked certain foot skills. Become NFL Punter. He could have been a professional soccer goalie. I believe he 100% could have been a NFL WR similar to Kris Durham. But he kicked.
He could never be a field player in Euro soccer because he was spread to thin, and probably lacked touch. Maybe back line.
Forget football as a comparison because it's a sport where you have a TON of guys who aren't even necessarily hand-eye skilled.
How many of these pro soccer players would be outstanding at Hockey, Baseball, Golf, Boxing, MMA, Tennis? OK, so in basketball you need size, and football you need some type of absurd physical skill. But that's not what makes an athlete.
We have enough people playing sports to excel. Hate to say it, but by and large, from a physical perspective, black men are better "athletes" than whites. Look at the NFL combine. Yet for whatever reason, teams from Africa do not excel in the World Cup, and yet some of the fastest men in the world come from there. So much of it is training and mental with soccer, which has a TON to do with the facilities and resources, not just the #s. We have enough people playing already. Pulisic's dad is as big a reason for his success as anything. I play currently with a lot of guys who were USDA, and they admit the training wasn't par. I played 4 sports, and that doesnt' happen with Pulisic, etc. Not with Claudio and Berhalter (high school/club teammates).
Claudio's best years were in Germany, and financially it didn't make a difference where he played at the time.
The Center Mid was a COMPLETELY different position then than it is now. It used to come out of the back and play entirely through the center mid, running box to box. It's totally different now when you have a 6 / 8 / 10 all playing that spot, and rolling in 7 / 11 from the sides. Claudio basically had to do what both a Modric and Kroos do at the same time.
And He was heralded. It's just that you had no coverage of it, and there wasn't 40 different shows/podcasts/social media to tout what he was doing.
An attacking wing player tasked with scoring goals is not a box to box player. Pulisic is not better than Kante, and Kante, imo, is on par with Claudio Reyna.
He stinks.
People telling me Jordan Morris is good. Jordan Morris might start on Luton Town. Might.