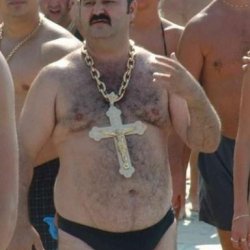 Brah Zhole
---
MEMBER SINCE August 23, 2018
it involves meat, cheese, and the pumping of the fist.
Favorites
SPORTS MOMENT: Rocky
SOCCER TEAM: Azzuri
Recent Activity
In the words of Vin Scully, 'it's only a rivalry when both teams are good...'
He wasn't awful but he certainly wasn't good. He will improve. Long before Murray was projected #1 I said the gap between these two QBs was enormous. It still is. I also felt Daniel Jones is better, and I believe it.
Haskins will improve, and he could end up being something, but right now he still looks like he has a lot to learn, and needs to perfect soft-touch throws.
Not sure but the ALL JOHN COOPER TEAM would beat both!
Assuming he wasn't coaching
He
Was
RUN
OUT
OF
SAN
FRANCISCO
FOR.....
BEING AN A$$HOLE.
That has followed him everywhere...
I'll take a Lathan over a Tathan....
Percy Harvin should be tattooed on Tim Tebow's face.
If Nerlens Noel can be considered #1 pick in the NBA draft, no reason that Gaffney kid can't be first team all Big ten
Actually moving to El Cerrito. Looking to buy a new mattress upon Arrival in a week.
condolences to the Mrs ;-)
You're in the NorCal sun, brah. Just tryin' to keep up!
Once bought a knock off foam and it was literally the biggest mistake. Caused my back crazy pain. High end foam mattresses are incredible.
I have kids, so I spend at best, 25% of my life in a bed. Half my life was ages 0-25.
Thanks so much. I also tore my left labrum playing soccer, but it was minor, so they didn't have to remove cartilage, and no bone shaving. Just a minor stitching to repair. Sorry for you.
I never considered my hip with regard to my mattress, so this is great advice.
I was considering the bed-in-a-box thing but to your point, I didn't want to get something I never tried.
Spending $1,000 on a mattress isn't that big of a deal to me. By my nature I'm cost conscious, but there are some things you just can't skimp on. That said, we bought our current mattress used from a guy who moved for a job, and had to leave back to Europe after 3 months. Guy spent $2200 on a mattress. I gave him $500 cash. Was weird buying a "used" mattress, but considering he was a seemingly well maintained dude from Germany I was fine with it. Deal's a deal, brah!
Return policy is important.
Thanks so much.
You know what a brah like me's gonna do t'athis mattress, brah. #GTL #DTF
There are going to be THREE Quarterbacks who played in the state of Georgia, at the Downtown Athletic Club when they give out the Heisman:
Jake Fromm
Jacob Eason
Justin Fields

Write it down.


Stopped reading at 'Terrapin Knights', brah.
assuming it only went down from there...
He wanted to be 3 hours closer to home.
That's gonna leave a mark....
he also owned Spice, Park and Sugar at one point as well as that Taqueria/Mexican place, and that beer bar in Short North, Pint. And I believe he's doing a hotel. His first purchase was actually the tanning salon above Not Al's on 15th back in the day. Crazy how you just keep growing from one thing to the next. Corso is a straight up great person.
I've known Chris Corso since my freshman year at OSU. As long as he's not leaving town (and he's not), the restaurant will be fine.
Most of what Chris touches turns to gold.
And Chris even once saved the ass of a RB making a mistake in a bar......