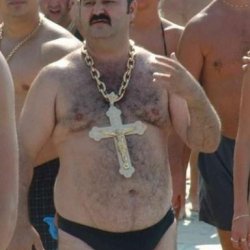 Brah Zhole
---
MEMBER SINCE August 23, 2018
it involves meat, cheese, and the pumping of the fist.
Favorites
SPORTS MOMENT: Rocky
SOCCER TEAM: Azzuri
Recent Activity
Comment removed for violating the site's commenting policy.
If true, this brah, and all these other brahs, are bunch of bras. I mean, have some effing guts already. Maybe don't make it about you for once? This era is the goddamn worst. You never heard about this all the time in the past because kids STUCK IT OUT. They weren't told "YOU'RE THE BEST! YOU NEED TO PLAY!" They waited their time, and if they were good enough, they had their chance. I mean, you don't think Matt Cassel could have transferred?

EFF THESE BRAs.
I live down the street from Marv Sr's bar in Philly. Maybe I'll go in there to tilt the cup...orrrrr....maybe I won't....some rough brahs over there.
Btw, brahggeeeole, what in my post leads you to yours? How do you get from me commenting on footwork, to then asking if I watch him play?
Y'all realize the dude threw to 3 NFL WRs, right?
I've watched every throw he has ever made, brahgge.
And nothing in my take would point out that he can't throw.
Geno Smith could throw.
I don't doubt his ability to be a good QB, but he's not nearly as good as Murray is RIGHT NOW.
And lets not pretend the Big Ten has these vaunted Defenses. Pat Mahomes and Baker Mayfield look alright...
All you conspiracy theorists haven't a clue.
murray is great because his footwork is incredible, and I'm not speaking about his ability to run.
Haskins has questions because his footwork is poor. He can't find time in the pocket. He has all the physical gifts but he lacks a natural feel to avoid negative plays. That's why he MAY fall.
Someone may think they can teach him, or he can learn it, but others may think it's too big a risk.
best scenario for him is he falls to 20+ and lands behind a Phil Rivers or Big Rape.
either way he's not ready to start now and it's evident, hence the possible slide.
Someone needs to explain why Brahs bounce certain threads and not others. Yesterday's thread on Haskins in CBS Sports about if he's a risk was removed.
we could use a Diallo (everyone could).
Brah will have time for his family once the ship leaves the port and gets into open water. That's when he will start to relax a BIT, and become more of order-giver. But for now, before you've coached your first game, you want to make sure you do EVERYTHING. Like any business.
I actually do think Murray throws dimes.
hes Russell Wilson imo but more talented
Around here you can't see one negative thing about a Buckeye player unless it's EXTREMELY obvious like Dwayne Haskins isn't a burner. But I still believe despite his vision, arm and intellect in college, he lacks a few things which make him a sure fire pick. And as a Giants fan I wouldn't take the risk at pick 6. Maybe 17, but not 6.
Now I know you brahs have to hit the down arrow because you struggle with someone's opinion, but this is my belief.
i think DH has very bad footwork for a pocket passer and if he plays in Year one he may get killed. I still maintain Murray is far superior despite the size and I even like Jones. Dwayne has tremendous upside but he needed another year at OSU.
hopwfully I'm wrong.
Pffff, brah, get a grip.
this dude is Russell Wilson at worst.
he sees everything, makes every throw and his footwork is other worldly. Dude is gonna be a star.
Please, I've said it for months...Murray is far and away the best QB in the class, and QBs go early.
i think Nick and QW are by far the best two players . We're talkning Donald/Watt level dudes.
Only Bosa concern is he's had 2 big injuries in 4 years.
Comment removed for violating the site's commenting policy.
Either way, it's not the best sentence...
Bummed about losing Kam Brahb, for his sake and ours, but I think this is much a do about nothing. Having 7-9 WRs with talent isn't an issue, especially with Brah Fields in control.
Yeah, I'm not really sure what Andre's skills are. I think he's a strong kid who can guard bigger brahs, but he's not quick, creative, and can't really score. But he gives effort, and we lack players, so.
Not to be taken the wrong way, but every player on the team has a bigger flaw than they do a strength. And yet they managed to overcome that and get to tourney.
onward and upward.
Net positive in the end.
we lacked shooters, ball handlers, shot blockers and just overall athletes, yet still won a game in the dance.
id prefer to have seen Washington play more than some others but I guess there's next year for that.