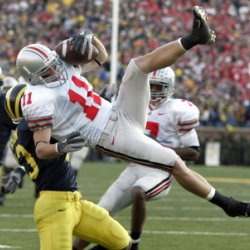 BPOSU
Hilliard, OH (via Westerville, OH)
Member since 05 February 2014 | Blog
Favorites
SPORTS MOMENT: 2014 National Championship
COLLEGE FOOTBALL PLAYER: Ted Ginn Jr
COLLEGE BASKETBALL PLAYER: Jon Diebler
NFL TEAM: Denver Broncos
NHL TEAM: Columbus Blue Jackets
NBA TEAM: Team LBJ
MLB TEAM: Cleveland Indians
SOCCER TEAM: Meh...Crew??
Recent Activity
Just curious... Who on OU's roster is from IMG?
Think you hit most of the key reasons for these two particular coaches having sour grapes.
1. Texas is so deep and talent rich with high school football talent. Coaches feel that if players are already willing to go elsewhere in highschool then it lessens their chances to keep a kid in state.
​2. IMG isn't located in Texas. Let's ask Jim McElwain his thoughts and I guarantee you get a different response.
​3. By taking this stance, you're essentially siding with Texas high school football coaches, which can't hurt when trying to build relationships with the coaching staffs. It's like Urban constantly stating how player's families should get more and more benefits with Travel, Stipends, Etc. Does nothing but help with his reputation in recruiting, while taking the opposite stance could be detrimental.
​
The fact that it occurred on the first day of the fair makes me lean towards there being some type of human error whether through installation or operations.
we have another Hooker in the fold
Hugh Freeze, is that you?
I'm sure he will.

​Also Tress famously changed the code at the woody to 4114 after the loss to Florida
Watched the trailer... Still have no idea what it's about
Purdue was too good for Les Miles, so there's that...
Think that last tweet by Wolken hit the nail on the head. Think only way they consider him is if sanctions come down and they know they can't get a younger and better guy to take the job because of it
Sullinger has to get picked up by somebody. He was dominate
The Cavs...
The Cavs own his rights until 2020 right? Call his bluff. If LBJ leaves a year from now, Kyrie still has the exact same value as before, trade him then if he wants out still.
That's not how betting odds work. It's not 1,500/1 just +1500 He's got it right.
Sanctions are coming. Can't imagine him leaving for that. Especially when there might be some other high profile jobs available (Tennessee, Notre Dame, A&M)
In the 50 year history of the award, a defensive player has only won three times (Manti Teo, Charles Woodson, Hugh Green) An offensive lineman has never won it.
While I don't agree with the rule, I really don't think it will have much of an impact in general outside of this year. Universities will still take advantage of having teams play on their campuses, they will just have it happen in September-November.

​It just sucks from a timing perspective for this year. They couldn't just wait to implement it until 2018 to not throw the entire high school football landscape in a logistical mess?
As bad as Tim Beck was as a play caller, you could make the case that he was just as instrumental in recruiting Texas as Herman was during his tenure here.
I am a Nike snob. If Ohio State switched to Adidas I probably wouldn't own any buckeye gear. Away games are more fun to attend than a game in the shoe. Even Purdue, Illinois, Yes. Michigan has a nicer campus than OSU. Facilities, nightlife, you name it. I've said this one a couple times on this site but I'll say it again... I wanted OSU to throw the money at Bob Stoops instead of Urban to become our coach post tatgate.
Well at least he didn't use the word basic...
This is probably the ammunition the NFL needs for a "short suspension"
Instead of claiming the suspension from the alleged "domestic incident" they will say the suspension is from multiple incidents of "conduct not in align with league standards"
Thought I saw somewhere if they won it was going to charity
The problem I have is players (the high profile ones like Zeke, Boss, Barrett, etc) not being able to profit off of their own likeness. But at the same time I understand you can't open Pandora's box and allow each player to benefit on the open market, thus making it a bidding war. My solution is to have signed memorabilia sales through the university with the specific players receiving a percentage. Also, there should be a cap placed on the amount a single player can receive each year. I don't know what that number should be... Maybe 10 grand? For example, you can go buy a JT Barrett signed picture from the university website for 100 bucks. JT receives 50 percent, university receives 50.
I don't understand how there can be a "Short Suspension"

​Either he did it, or he didn't.

​If he did, then everyone agrees it should be at least a 4 game suspension. If he didn't, then he should get nothing. Where is the grey area in this situation that would justify a small game or two suspension?
Where do you draw the line with this though?

For example, if Ohio State sells a DVD of a game from 1987, do they have to compensate Spielman because he is in the video? Does a media outlet like Eleven Warriors now have to gain permission to use the image at the top of the article because technically it's "Profiting off of Spielman's likeness"

I don't have a legal background at all, but if the images are from his time at Ohio State, I don't see where he has a case. Heck even the middle school I work at requires parents to sign a consent form to release images. I imagine the University does the same thing.
I wish Holtmann would have just told Butler straight up "They paid me three times what you scrubs were paying me and no successful coach sees Butler as the place they want to spend their entire career, deal with it." Reminds me of UC fans when Brian Kelly left for ND. Accept the fact that you're a stepping stone and move on
Man with Sully added to the team they have to be considered the favorites now. Arguably the best player in the tourney. Making me have flashbacks to 2011. Since Penn is a little busy now, Matta should just coach them for old times sake