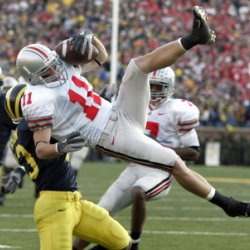 BPOSU
Hilliard, OH (via Westerville, OH)
Member since 05 February 2014 | Blog
Favorites
SPORTS MOMENT: 2014 National Championship
COLLEGE FOOTBALL PLAYER: Ted Ginn Jr
COLLEGE BASKETBALL PLAYER: Jon Diebler
NFL TEAM: Denver Broncos
NHL TEAM: Columbus Blue Jackets
NBA TEAM: Team LBJ
MLB TEAM: Cleveland Indians
SOCCER TEAM: Meh...Crew??
Recent Activity
Just unplug it and plug it back in.
Johnnie Dixon only had 18 receptions? For some reason seemed like a lot more than that. Felt like he last had more than Mack.
While I am an overall supporter of Gene Smith, giving him credit for Holtmann is a little deceiving. He waited until the summer to "part ways" with Matta, when every "hot name" coach was already scooped up. Then he offered the job to Greg McDermott, and at best case scenario we had a Schiano situation where the backlash called for Smith to pull the offer and reach back out to Holtmann. So ultimately I would look at it more like Holtmann saved Gene Smith's ass.
Also, Beerfest
Yep same. Asked a cab driver once if road pops were okay...he said sure... about 3 minutes into the ride, he realized what we actually meant and made us dump em out. Apparently it isn't quite as well known as I had thought.
As a true midwesterner, we do indeed say "Road Pop"
I can't be the only person that thought this was going to be an extremely sarcastic post complaining about a mod deleting a post. Congrats though!
I'm assuming St. Brown has to be the brother /related to Equnamious (Or however you spell it) St. Brown from ND?
Shazier would have had a strong case had he not got hurt.
There is something underrated about a player that knows his role on the team, and doesn't try to do something outside of his capabilities.
I feel like the limit on this excuse only lasts the first 2 years. If you're not winning in year 3 and beyond then you're the problem whether it be getting talent to commit or coaching the current talent that you have
Think the only reason I listen is because during my morning drive-in (6-7 usually) there are pretty much no other options.
Mike and Mike essentially monopolized the timeslot for so long (In terms of sports talk), that it kind of has just become a habit to tune in every morning. I think Golic and Wingo will be fine just because during that time slot what most people want to hear is just a recap of what happened the day before. You don't have to serve up any hot takes or plan any hilarious bits for it to be successful. So in that sense it "Gets the job done"
I think it's important to realize that sports radio shows serve very different purposes. You have informative shows like Golic and Wingo. Shows that spew debate like Cowherd, and pretty much 90 percent of local sports shows. And of course you have the Lebatard's and Common Mans that have the main goal to entertain through clowning around but still maintaining somewhat of a sports focus.
Ultimately for me, I enjoy all three types, but of course there are specific one's I enjoy and hate as well despite them having the same type of focus. Example: Hate Lebatard, Love Common Man.
but he's growing
There you have it folks, Tate Martell is indeed, still growing after all!
Miss St, Fresno State, LSU, Texas A&M, Clemson. If you can't use the postseason win over Clemson to argue their case over UCF then why should you be able to use UCFs win over Auburn ?? UCF literally had 1 win over the power 5 before playing Auburn and that was Maryland. Fresno is on par with the two "best wins" UCF had in the regular season like Memphis and USF, and that's like Bama's 5th or 6th best win. I hate defending Bama but I just don't understand how all of a sudden everyone is fine with UCF being considered champs over them when we just saw what they could do to a team like Clemson.
5, to answer your question. You use the transitive property with UCFs bowl win to say UCF is greater but ignore the same thing right in front of your face with Alabama destroying Clemson in their bowl game who beat Auburn. Not saying they can't claim it. Saying it's stupid they're attempting to claim it when they didn't play anyone of merit in the regular season and then essentially "won the NIT" in the postseason by beating Auburn. Amazing how OSU can play the same level of opponent that UCF did (Auburn/USC) and now everyone is fine with UCF claiming the title when not a single person would have put them in ahead of OSU after the Wisconsin game.
If OSU got in over Alabama and then proceeded to beat Clemson, you wouldn't be seeing the same amount of love for UCF's claim
Alright, I'll be the one to say it...
This is stupid.
I know I'm taking this way more seriously than I'm supposed to, but this sounds like something out of the Butch Jones "Champions of Life" playbook. Hang your banner for your conference championship, celebrate your undefeated season, hell... even chant "The SEC is our bitch"
But claiming a national championship when you played 1 team in the top 15 and only 3 teams in the top 50, is laughable.
Was going to say Browns at 4... But he might not get past the Giants and Colts at 2/3 who both need RBs
What did you want them to do instead? Dobbins and Weber weren't getting much up front at all...couldn't reach the second level... they mixed in some Campbell sweeps that worked. They attempted to throw downfield, but JT couldn't connect. Yeah they didn't convert on 3rd and short a few times in the second half where they opted for JT runs, but you really would have rather seen them throw the ball in that situation with the way the defense was playing and risk turnovers? Understand the offense wasn't explosive and some of that does fall on the coaching staff in general, but what plays did you want them to call in those situations instead? Insert Herm Edwards gif here. First world problems
Man if only this was done a couple of years ago. No time for it nowadays. Cool concept though
Right, I'm aware of that.
And that is the problem. I guess you could say my problem is with the word "Commitment"
If the kids just came out and said "Right now, Ohio State is the leader in my recruitment," then I would feel much better about it. But that doesn't carry the same reaction and "Congratulations!" on social media as "IM COMMITTED TO OHIO STATE #SAVAGE18"
We are getting to a point in recruiting where more kids are going to "Commit" twice than once.
We live in an attention seeking society where everyone wants to be told "Congratulations" and how awesome they are every waking moment.
Position coaches/coordinators stay at schools for how many years on average? 3-4? And you only get them for 3-4 if you were a Freshman during their first year.
Naive on the part of recruits and their families to choose a school based off of the position coach.
So I'm assuming this is a cumulative GPA, given that the Fall Semester doesn't end until next week?
With the Potter injury, this team has been playing small ball for extended minutes with KBD playing the 5 on defense. Is this something they will be able to still do against other Big Ten opponents?