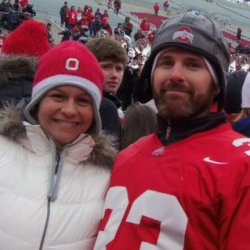 bowthrock
---
Columbia, SC (via Waldo, Ohio)
Member since 17 February 2012 | Blog
Favorites
SPORTS MOMENT: Meeting my childhood baseball heroes Joe DiMaggio and Ted Williams when I was twelve.
COLLEGE FOOTBALL PLAYER: John Simon
COLLEGE BASKETBALL PLAYER: Dennis Hopson
NFL TEAM: All of the ones with Buckeyes playing for them
MLB TEAM: The Big Red Machine
Recent Activity
This was the first thing I thought of when I read the headline! I was trying to think if Hopson had been involved in something scandalous that would prevent this but as I recall he was a exemplary student-athlete, Truly baffling indeed.
Last Tuesday may have got a little out of hand hound.
FIFY
"I've got two words for you, Joe F-ing Walsh--okay?!", Denis Leary
Chef, where is the twitter?
life in the redbone
Never mind. I'm an idiot.
Am I missing something? I clicked on your link but it went to my profile. WHAT DOES IT MEAN!? TELL ME! WHAT DID I DO!?
Awwww shit! You're gonna get downvoted for commenting first on your own post!!! LOL
I think that great leaders lead no matter where they are positioned. I also think that if there is a leadership issue that there would be a lot of in-fighting with the team and staff thus making Darron Lee's comment about there not being any of that a lie. I sure hope he is not lying!
I would love to know how many people that are screaming about the play calling right now (and wishing Herman was here now) were the same ones screaming about Herman's play calling last season up to the MSU game? I can remember wanting to pull my hair out during some of the games last season because of the play calling!
What is this social media that you speak of?
I'll bet the most of the players are excited to wear these uniforms. I'll also bet that the ones who aren't excited to wear them aren't bitching about it. I care about whether the team wins on Saturday. If it is announced that the school plans on changing the lyrics to Carmen Ohio, permanently changing the school colors or changing the mascot to the Serval I will probably show some disgust.
Then there would be two assholes in there!
Maybe you should have just said there are too many politicians in office.
Jim Harbaugh kicks puppies. Hope Chase is returned safely.
Get dumped then, whore.
Gotta go with the winning combo! We've only lost four games since I've been wearing this ensemble!
I'm rocking the same outfit I have on in my icon. Leatherhead helmet, Laurinaitis jersey, leopard thong and work boots.
I remember waking up Friday mornings just so I could see that epic thread continue thriving! It really became an entity on the site! If there was one thread that could have been saved and brought into the new server I wish that was it.
I'm thinking about changing my icon and starting a thread about it. Is that a good idea?