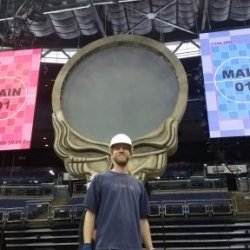 BornNbredAthensBuckeye
---
Athens, Ohio (via Groveport, Ohio)
MEMBER SINCE January 27, 2016
Favorites
SPORTS MOMENT: Rushing the field at The Shoe after the #1 Ohio State vs #2 *ichigan game.
COLLEGE FOOTBALL PLAYER: Teddy Ballgame
COLLEGE BASKETBALL PLAYER: Aaron Craft
NFL TEAM: Ohio
NHL TEAM: Blue Jackets
NBA TEAM: Believeland
MLB TEAM: PFFT!!!
SOCCER TEAM: Crew
Recent Activity
It looks like he was taken aback by the cops response
Incorrect. Rutgers did NOT say yes to nearly 6 mill in assistant salaries and the article clearly states that Rutgers will "consider" building the facility you claim was already planned.
Cream of the B1G? Is it the spring game already?
Didn't he raise like $100 million for cancer research?
I work as a rigger for WWE when they come to my regional arenas. I work about 5-8 a year. They are filled with grown men. Thousands and thousands of adult men yelling and screaming at the villains and losing their minds when a wrestler they like wins or loses.
Class of 97 baby! Couldn't field a team in the 13 years I went to Groveport schools, happy the tide is turning. The only playoff game that I'm aware of in my lifetime was a loss starring our own Le'veon Bell. Let's go Cruisers!
He was a decoy
I prefer proven coaches, not exclusively great players with no coaching experience. Hartline is not the norm. Let's enjoy how rare it is to have hire a first time coach who ends up being one of the best in the biz.
Only someone on a high horse would state their opinion as fact.
Winner plays Tennessee
I believe he thought you meant reclassifying class, not position. Most reclassification talk in recruiting seems to be about class.
Soooooo... nothing will come of it.
#AllRightNowHasNoIdeaWhatTheHellHesTalkingAboutAndShouldStopVictimShaming
Our society glorifies those who are good at recess much more than those who are good at class.
I ubered for a little while a few years back and drove around 5 or 6 Buckeyes, Arnett, Baker, Webb, etc. I fanboyed out to all of them and they were all so nice answered all my questions, often complementing me for my knowledge and not asking the same questions they always get asked. They all posed for a selfie with me when we got to their destination. When I drove Hawkins to the Woody one day I asked him how is was to a buckeye or some generic opening question. He sighed and talked about how hard it was. How he never thought it would be so hard. How his whole life is Football. How he dreaded working out and watching film on his own time and all the expectations of him to do so much on "his time." I felt so bad for him, but also knew then that he was going to transfer. About a year later, after not seeing him on the field at all, he transferred. It was a good reminder that it takes a truly rare rare bread to be able to emerse themselves that deeply into something in order to truly get the best out of yourself.
That's what it sounds like to me. I concur.
The coaches don't have a single obligation to any of you for an explanation. He signed with VA. That should tell you everything you need to know.
You remember incorrectly, Troy was a solid 4 star.
Sorry to be that guy, but it's a pet peeve of mine when people use meaningless, thoughtless sayings like "no nonsense." Like our previous coach was all about nonsense. He'd always goof off and fart in his hand and put it in his players faces. Thank goodness we have a no nonsense coaching LB's now.
Wrong on in a few ways
Hey hasn't had any class yet, why would he start now?
Assistant to the Head Coach
Why don't we watch Urban fail before we tell him what's best for him. At this point, he's got the track record to have faith. If you told buckeye fans that this transition had a 90% chance of succeeding, most would take it. Urban seems to average making the correct decision 9 out of 10 times. For every mistake he makes in return he makes 9 excellent decisions. That's how you become one of the best to ever do it. If someone whose batting .900 wants to help, give him the rope.
Were any of the previous teachers generally considered one of the best 2 teachers in the entire country and maybe one of the 10 best to ever do it?
Well, you've always known more than Urban, so I trust you over what Urban thinks is best.