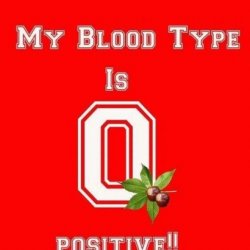 bornbredbuckeye
---
Convoy, Ohio (via Johnstown, Ohio)
MEMBER SINCE July 19, 2015
Born in University hospital in 1975, raised on a farm in Johnstown, Ohio till I joined the U.S. Army and moved south. After 20 years down there I finally got the chance to move back to the holy land (Love Ohio). Just enjoying OHSAA athletics after years dealing with the south.
Favorites
SPORTS MOMENT: Every time the Buckeyes win
COLLEGE FOOTBALL PLAYER: Andy Katzenmoyer
COLLEGE BASKETBALL PLAYER: Jon Diebler
NFL TEAM: Bengals
Recent Activity
The second Wiscy DB took the targeting call because the first targeting call wasn't deserved.
When I first read the title, the movie "The Cell" instantly came to mind. Going into the mind of Harbaugh would be like going into the mind of a mad man!
Urban admitted himself on The B1G Show that it was his fault he didn't have his teams prepared for Iowa and Purdue. He is a legendary coach and won a ton of games, but he also lost some he should have won.
He does look like a man amongst boys, but he lacks some of the college/ pro level skills some of his upperclassman already have learned.
Gus Johnson-I don't think anyone in this conference can beat this team. Joel Klatt-You don't think anyone can beat this team from this conference? Gus- The only team that can beat Thee Ohio State Buckeyes is themselves. I have to completely agree!
Nope, that would be Rutger.
I did when I worked government contract.
You can't just pay the football and men's basketball players. Some colleges have many more student athletes than others, OSU has 36 sports. This means some colleges would have to shell out more money than others or less money per student than a college that has less sports.
I work with a scUM fan and after asking what is up with his program this weekend. He stated he is not watching football any more this year.
Hold on everyone, don't you know scUM is just fooling everyone in the B1G. They are waiting until Wiscy to really open the playbook up! LOLOL!!!
They are mad they are not ranked higher like back in the good old days. They are blaming it on the new formula processes. Damn refs!
Wow, that is pretty impressive. Sounds like Drew against MSU last year and denied.
Michigan State is also $55,000 a year for out of state students.
I will approve your "to go buy more" theory.
I used to love TP's stiff arm also, he could reach out and drive someones helmet to the ground.
Sorry, are Wyoming and GA State not in the FCS?
Wow, people are incredibly stupid!
Although the FCS or lower tier FBS schools that played some of those sec teams actually won!
You are absolutely right. It's not the guns fault!
August Heisman. Oh no August is over. LOLOLOL
I'm commenting here just so I can find this post later. These recipes are amazing!
Or nearly any other QB in the B1G
Oh how I remember that game with me being in Balad, Iraq and our Production Control Sergeant being a huge UM fan. We messed with him constantly after that game.
But at least they are still "LIFE CHAMPIONS"!!!