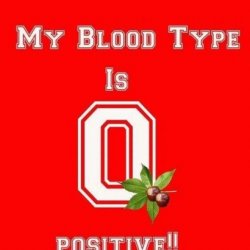 bornbredbuckeye
---
Convoy, Ohio (via Johnstown, Ohio)
MEMBER SINCE July 19, 2015
Born in University hospital in 1975, raised on a farm in Johnstown, Ohio till I joined the U.S. Army and moved south. After 20 years down there I finally got the chance to move back to the holy land (Love Ohio). Just enjoying OHSAA athletics after years dealing with the south.
Favorites
SPORTS MOMENT: Every time the Buckeyes win
COLLEGE FOOTBALL PLAYER: Andy Katzenmoyer
COLLEGE BASKETBALL PLAYER: Jon Diebler
NFL TEAM: Bengals
Recent Activity
Having assistants that work against you doesn't help much either.
Being an Indiana kid, he is big on Purdue right now. It would be a big get for Holtman if he could pull it off.
And his sister is a 6'1" seventh grader. She looks down at me during VB games.
The whole team was clearly better, especially after playing together for the last 6 years.
If we are looking for a center for 2021, might I suggest Caleb Furst, 6'10" from Ft. Wayne Blackhawk Christian. Took his team to their first State Championship.
Search Twitter, they are posted all over there.
He is not an inside guy, he is a fast breakaway take it to the board and an excellent outside shooter!
Biggest mistake the Cardinals could currently make. Murray is gonna be a bust, they just threw their money away for the next 4 years. GUARANTEED!
No, the legend Ray Etzler still coaches 7th Grade.
Thank God they didn't move the JV coach up
Convoy, OH. NWC conference
Option 2, all of those saying Burrow is average need to look at the WR's LSU has. They couldn't hang on to a ball to save their lives last year, however here at OSU we have proven pass catchers. Burrow, their RB's and their defense saved a lot of games for them last year.
Let me guess, Oklahoma has to play in UG in 2023 and UG in OK in 2031. If this is the plan, then the return trip will never happen.
Did you see him standing between Marty Smith and Robin at the draft? Dude is shorter than 5'10".
Even good teams play down to bad teams. See OSU vs PU.
I'd like to upvote this comment 10 times!
I've always heard it as "prior" planning. I guess both work though.
Please don't remind me of that crap. I would be yelling at the TV "hurry up" and they would have to call a time out. So many time outs wasted with those two clowns.
He was kick returner for a few games.
Don't forget Ed Warriner helping to call plays as well.
Did something happen to Pat Elflien in Minnesota? Why did they take a center as their first pick?
Did something happen to Pat Elflien in Minnesota? Why did they take a center as their first pick?
Yeah, but Harbaugh is the true QB whisperer!
And how did the outcome of Apollo's match end up after this show for the fans?