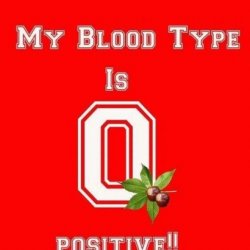 bornbredbuckeye
---
Convoy, Ohio (via Johnstown, Ohio)
MEMBER SINCE July 19, 2015
Born in University hospital in 1975, raised on a farm in Johnstown, Ohio till I joined the U.S. Army and moved south. After 20 years down there I finally got the chance to move back to the holy land (Love Ohio). Just enjoying OHSAA athletics after years dealing with the south.
Favorites
SPORTS MOMENT: Every time the Buckeyes win
COLLEGE FOOTBALL PLAYER: Andy Katzenmoyer
COLLEGE BASKETBALL PLAYER: Jon Diebler
NFL TEAM: Bengals
Recent Activity
Hoping to get suspended for the game vs tOSU.
OSU is trying to save on the light bill.
I would actually call for more than that, unless you are saying he gets pulled after getting sacked 4 times.
Good guys 56
crab cakes 3
NC? I was in Erwin a few years back.
Love Joey Big Bear being mic'd up. Dude is hilarious!
I don't agree, but a lot of voters think Clemson is the National champions until they lose a game.
You must not have been reading the same content I was reading. "If only they could have played that same way against PSU they would be ready for a playoff bid. They now believe everything is fixed. ND was a top 10 team after all."
They are tied or below Indiana right now in the East, I before m.
The big 12 has no defense! Just watch that KSU and Oklahoma game again, absolutely horrible tackling.
And then it starts chewing its legs off to get away
I was thinking the exact same thing because Notre Dame sucks and we will find out this weekend
Until we sing "Carmen Ohio"!
That's close to the same price of a Hellfire Missle.
I get in free to all the home games anyways, so me not going won't make a difference except at the concession stand.
No, I didn't forget. I know, just my opinion of the sport. The baseball is like golf or tennis, the only time I would want to watch is if I'm physically there.
I'd be good with another game just like that.
He's definitely just weird!
Does anybody even watch baseball anymore anyways? Just show the highlights on the news, its not that exciting of a sport.
Just wait till he picks his nose and eats it. That would kill the dinner right there.
Oh God, MSU's pass defense was absolutely horrid. Every 3rd and long you knew they were going for a short slant pass and wide open.
Cincinnati will be ranked after this week, especially after their only loss is to number four Ohio State.
I don't think their defense is overrated, in fact it is very good much like our 2016 defense. Their offense is a lot worse than our 2016 offense also, so I believe their defense will eventually fizzle out being on the field so much. (Clemson)