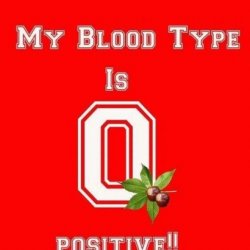 bornbredbuckeye
---
Convoy, Ohio (via Johnstown, Ohio)
MEMBER SINCE July 19, 2015
Born in University hospital in 1975, raised on a farm in Johnstown, Ohio till I joined the U.S. Army and moved south. After 20 years down there I finally got the chance to move back to the holy land (Love Ohio). Just enjoying OHSAA athletics after years dealing with the south.
Favorites
SPORTS MOMENT: Every time the Buckeyes win
COLLEGE FOOTBALL PLAYER: Andy Katzenmoyer
COLLEGE BASKETBALL PLAYER: Jon Diebler
NFL TEAM: Bengals
Recent Activity
Nah, we can hang a hundred on Iowa too.
Who and why would someone downvote this?
https://m.facebook.com/story.php?story_fbid=10159366361952448&id=757647447
Lying Dr. Facci just said the CDC miss labeled approximately 44,000 deaths as Covid deaths because of financial gain. Who knows how many more were wrong.
Then they shouldn't allow non-athlete students back at the University's. I just checked my son in on Saturday at OSU. Being that he is in good health, I have no problems with him actually attending classes. Most of his classes are online now.
I would like to upload this a thousand times, yet I cannot
That was the first year Kirk Ferenzt won Big Ten Coach of the year.
When considering canceling the season, these presidents need to think of the mental health impact it will have on these young men. When you devote so much hard work (basically devoting your life) to something, just to have it ripped away with nothing you personally can do. It has a tremendous and terrible effect. I know they have support systems for these young men, but thoughts of taking your own life (God forbid) could be a result. They feel like they have lost everything.
Down here in Alabama the local radio show had a interview with Brett McMurphy a couple days ago. He told them that the Big Ten would cancel their season. I believe it is Media people like him that start these rumors looking for a big story.
Really spring? why not just cancel all sports all together. it seems like they only bring about racism and separation and greed anyways
The sec was the last of the P5 conferences to make any decision, so if your saying they are the only ones who have balls. Then who is holding their balls for them?
Wish I could upvote this a million times!
Wish I could get so lucky.
Let us not forget incoming freshman Cameron Martinez for a RB choice. I believe he had quite a few yards on the ground.
Will Kerry Combs be the next Brett Venerables. I believe he will be even better.
I don't think many of us had concerns over the offense, we knew Coach Day had done a great job with it in the years past. I think we "all" had concerns over the pathetic 2018 defensive scheme and how a brand new head coach could get the change needed to improve.
Damn good on jet sweeps too!
Wrestling, women's Vball, men & women's hockey
So with LSU losing their heisman QB, their QB coach and their top DC Aranda. Can anybody add the "Waterboy's" Rob Schnieder "oh, we suck again" GIF?
Let me make a correction for you... Trevor Lawrence is a LOSER...finally
Who is officiating the game tonight btw? I would love to see a Big Ten squad just call horrible calls both ways and hear the sec and acc fanatics cry.
I won't be watching because although I love watching college football, I just have no interest whatsoever in either team. I will spend that time with family and hear about it the whole next day on the radio.
Opposing team's QB's would have absolutely no time what so ever with CY2 and little bear coming on both sides.
I'd much rather watch rugby!
I will agree with your point of having a great offense these next few years, but my worry is more on the defensive side of the ball. With the coaching changes and the lack of big time recruits in the last couple years. At least we have good player development.