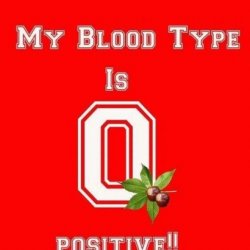 bornbredbuckeye
---
Convoy, Ohio (via Johnstown, Ohio)
MEMBER SINCE July 19, 2015
Born in University hospital in 1975, raised on a farm in Johnstown, Ohio till I joined the U.S. Army and moved south. After 20 years down there I finally got the chance to move back to the holy land (Love Ohio). Just enjoying OHSAA athletics after years dealing with the south.
Favorites
SPORTS MOMENT: Every time the Buckeyes win
COLLEGE FOOTBALL PLAYER: Andy Katzenmoyer
COLLEGE BASKETBALL PLAYER: Jon Diebler
NFL TEAM: Bengals
Recent Activity
Will Kerry Combs be the next Brett Venerables. I believe he will be even better.
I don't think many of us had concerns over the offense, we knew Coach Day had done a great job with it in the years past. I think we "all" had concerns over the pathetic 2018 defensive scheme and how a brand new head coach could get the change needed to improve.
Damn good on jet sweeps too!
Wrestling, women's Vball, men & women's hockey
So with LSU losing their heisman QB, their QB coach and their top DC Aranda. Can anybody add the "Waterboy's" Rob Schnieder "oh, we suck again" GIF?
Let me make a correction for you... Trevor Lawrence is a LOSER...finally
Who is officiating the game tonight btw? I would love to see a Big Ten squad just call horrible calls both ways and hear the sec and acc fanatics cry.
I won't be watching because although I love watching college football, I just have no interest whatsoever in either team. I will spend that time with family and hear about it the whole next day on the radio.
Opposing team's QB's would have absolutely no time what so ever with CY2 and little bear coming on both sides.
I'd much rather watch rugby!
I will agree with your point of having a great offense these next few years, but my worry is more on the defensive side of the ball. With the coaching changes and the lack of big time recruits in the last couple years. At least we have good player development.
I should have checked the comments before I made my own. LOL
I would think placing Miller at center(his natural position) and Myers at guard would be the smartest move, but I don't see these guys perform day in and day out. On second thought Myers didn't have any mis-snaps this year to my memory.
Hang 70 on every single team this year! And next!
OSU's RB's stats
Chambers: 19/135 avg 7.1 Crowley: 25/237 avg 9.5
McCall: 18/122 avg 6.8 McMahon: 1/10 avg 10
Teague: 135/789 avg 5.8
Groshek: 42/194 avg 4.6 Schipper: 8/25 avg 3.8
Shaw: 18/116 avg 6.4 Watson: 74/331 avg 4.5
A.J. Taylor: 6/34 avg 5.7
Add all these up and it still doesn't surpass what Teague accomplished.
Sorry, but I can't stand broadcasts on cbs/nbc. They still seem like they are stuck in the 80's.
If I'm watching an out OOC game other than the Buckeyes, I tend to cheer for whoever is playing against the sec/acc and ttun. If they are playing each other I hope for a meteor strike.
This is not a put down at all, but imagine if he had caught the 2 passes against Clemson. Then he would exceed Taylor with possibly 1 or 2 more touchdowns.
Not to mention that it was one of the fastest targeting calls ever passed through review.
Those were blatant holding calls. I'm talking anything that might need to be reviewed.
I was almost over this loss until reading this mornings skull session, then my blood began to boil again thinking of the all the calls that went the way of Clemson and thinking were there any calls at all that may have benefited the Buckeyes. Can't really think of any.
Add in the fact Clemson wasn't called for a single holding call on offense when they were blatantly holding outside the shoulder pads.
Absolutely, I was was born in University hospital in 75 and got nothing but a love for my Buckeyes!
Those poor unfortunate children will probably get bullied and laughed at by all the children wearing the "bama" 2019 conference champs gear.