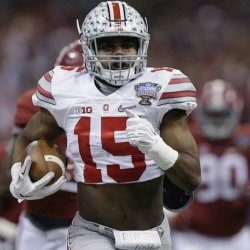 BornAndBredABuckeye
---
MEMBER SINCE August 12, 2015
Recent Activity
You're right. I hope the change of scenery and scheme will let him shine.
Good for Lee. The Jets are a shit show and I hope they never draft another Buckeye. They never deserved Mangold.
At least he's living up to his podcast name. Can't be a menace to society if you're a do gooder that helps little old ladies walk across the street
Their playoffs spot got us a championship and a win against Bama. They need to take a lot more to break even
OSU broke TCU. At least that's what I tell myself.
Sorry this isn't a current CFB coach, but I'd like to kick Pete Carroll in the nuts. He just seems like a douche. He screwed USC over and got off clean. That deserves a second kick in the nuts.
And with the first pick of the 2020 NFL Draft, the Arizona Cardinals select, Tua Tagovailoa. QB from Alabama.
Confirmed on his Twitter too
I hope he has a long, successful career in the NFL
This will age well when he wakes up one morning and realizes he committed to a terrible passing offense and chooses to decommit.
Weber to Dallas
The OSU FB Twitter account is killing it
I was hoping GB would have picked him up
GB. Ugh.
I was hoping they were going to show NYG fans after Haskins got drafted
As a Packers fan...
Now I kind of hope Haskins goes to Washington and owns them for 15+ years
Hopefully the camera man that attacked JT Barrett on the sideline isn't working the Draft tonight
Don't you wish that on him!
I guess PEDs weren't the only things being snuck into sandwiches at Clemson
The Georgia bagmen laugh at the puny $10k accusation of Larry Johnson
For some reason I just read Haskins Sr's lines in a James Earl Jones voice. Also, Jersey is the armpit of America.
Sometimes players just need to find the perfect fit to succeed. I hope he finds his and doesn't give up. He definitely has the potential
Just look how much they pay Harbaugh, apparently they don't give two shits about burning money
That's what I was thinking. It makes no sense