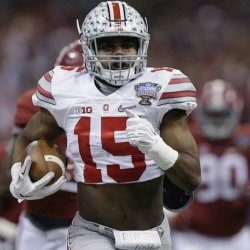 BornAndBredABuckeye
---
MEMBER SINCE August 12, 2015
Recent Activity
Whoever hit the most home runs.
Sounds like someone is just trying to get paid.
I give them props for scheduling tough opponents (this can change pretty fast though, look at us and TCU), but how many of these are/will end up neutral game sites in favor of SEC territory? I love home and home games because each team get somewhat of an advantage. Plus if you go on the road and win, it looks better. Like us vs Oklahoma.
Beat me to it.
Georgia was skurred.
I think this is a tough decision for the schools. As others have said, it's a business. Same goes to the recruits. There's nothing stopping them from signing with another school on National Signing Day, leaving the school to find a replacement. I'm sure this is really hard on both sides if a recruit does everything right. It's easier to accept when a recruit commits but does not follow through with the expectations, eg: academically.
I wonder if the "insiders" know what Ricks had for breakfast. They're diving way too deep into his recruitment. It's getting weird.
Current status of LSU recruiting sites.
To be fair, you can't exclude the two years Urban couldn't claim a B1G Championship in 2012-2013 if you include Tressels 2010 B1G Championship. Some of the other numbers may not vary but this is a big one.
While I can't imagine anyone here would be upset if Bresee decided to flip to us, you can't argue with the results Clemson has put on the field and the draft. It's been crazy these past few years for them.
Cooper is a senior already? Jesus, why couldn't my first 3 years of college go this fast
I agree that Urban could create a ridiculous team at USC if he decided to go there. I'd imagine he would take the highest talent all over Cali/West Coast with the exception of players who value education over football (Stanford). The California teams and Pac 10 are not good. He could sweep all of it if he wanted to. A part of me wishes he doesn't do that though. I hope he stays at OSU in case the HC position opens back up, on a high note hopefully
3 national championships then Urban comes back rejuvenized and ready to kick ass and chew bubble gum, but he's all out of gum. Hell yes! The new Urban realizes that bad hires/renewals caused his health problems and vows to never let another man break him down. Day leaves for the NFL, Drake gets canned, Urban comes flying back to the OSU football riding a bald fn eagle ready to take the program back over. Never to be second guessed again, he installs a world class staff and goes undefeated for 10 years before he finally calls it quits, due to lack of competition. Bert McMurphy moves to Timbuktu to never be heard of again.
Stick it in your hall... of fame
I don't see how any RB wouldn't want to be a part of this class. Miller at QB plus all of these studs at WR? There's no way they can stack the box.
You could say that Hartline did it all for.... The Mookie. Come on. The Mookie.... I'll see myself out.
Patterson, mediocre on the football field, mediocre on the Twitter field.
I can second the company Bedinabox. I purchased a memory foam bed from them a few years agos and love it. I just rolled the dice when I purchased it, never thought about going into a Tempurpedic store first. That was a good idea. I believe they have a good trial period, although you should read up on it before purchasing just in case it doesn't work out.
Someone tweet this to Ricks! /s
I like how to seems that the LSU fan base/media are sort of pushing him away from staying with LSU. Their paranoia will only get worse until he officially signs with them. Hopefully he chooses the good guys.
I buried those memories deep. Back to the shrink I go...
Great topic. I'll give the podcast a listen after work. This gives a good behind the scenes look at recruiting. I'm glad the staff at OSU don't sugar coat the process just to get a highly ranked player. Let's them know what to expect.
Come on down surprise commit! Friday is your day!
2. The Menace2Society Podcast brought to you by men's spider enhancer thong triple c....