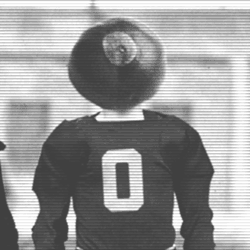 boostinbob
---
MEMBER SINCE December 31, 2016
Recent Activity
they always say that...its like they forgot that the "loaded roster" went 6 - 7.....
Wisconsin is fucking horrible, just shows how bad our Offense really was
yeah, he has his hands on Meyer's offense. Which consists of QB runs in the draw and power formats. Roll out passes to the short side of the field resulting in a throw away and passes 3-4 yards short of the first down on 3rd and 5
It was never not vanilla. The only thing OSU did that was different or even remotely creative was that reverse with Paris and it only worked once and had been done earlier in the season. The game plan on offense was fucking horrific.
If the offense is not changing next year, no way in hell should we want haskins in at QB. That is not a knock on him. Burrow or Tate has to be the guy. If Wilson can finally put his hands on the offense Dwayne all the way
hes scared of getting torched
Oregon fucking sucks though
They have gaming houses where they live together and workout together.
You are comparing the Kardashians to every day Joes?
Wow you are ignorant, and apparently proud of it. Those 12 year olds are not the ones playing at a high level and CoD is not a great esports game. It hasn't been since Cod2 and 4 with promod. [mod edit - be nice]
I competed in over 8 lans (not including the 100s of online tournaments) winning all of them but 1 in which we placed 3rd. Playing games from Battlefield 2, CSGO and BF3. Played CAL Invite for DMX and Exertus in BF2 and I have been lifting since I was 15. More pro esports players are in shape than you think. It is not a South Park parody. This is even before Esports are as big as they are now. We shared little earnings and made most of money winning peripherals and hardware. Just a lot of ignorance thrown around about esports. Wish I could still play at the top level for the prize pools they have now. Especially in Overwatch and CS.
also nice it is not 2 fps. Lots of shitty gifs are posted here
Meyer is sounding like Butch Jones with all this leadership crap
first sack of the game? jeez they suck
This defense is worse than 2013
Dixon wide fucking open on that third down and JT didn't throw the motherfucking ball like every other big game loss
JT is so fucking slow in the pocket, don't want to hear shit about him being a heisman dude
WHY ARE YOU R"UNNING JTTTTTTTTT
you have not been watching, we need Dobbins.
WORLEY WTF IS THAT SHIT? just covering grass this team is so fucking bad
2nd and 6 and the only thing on Meyer's mind is JT up the middle. Where the fuck are the motion plays in the run game?
JT not throwing the ball on time for fucks sake