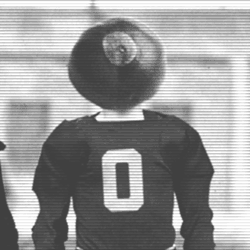 Boom777
---
MEMBER SINCE May 15, 2012
Favorites
SPORTS MOMENT: Every good stiff arm!
COLLEGE FOOTBALL PLAYER: Jack Tatum
NFL TEAM: Cleveland Browns
NHL TEAM: People actually watch this stuff?!
NBA TEAM: Cavaliers
MLB TEAM: Indians
SOCCER TEAM: What's soccer?
Recent Activity
So are the Buckeyes rare? Because they whoop that ass every time...
This is so pathetic it's hilarious... how Low can you go? How mad can you be, it is desperate
They needed the test when it got close but it could have 35-3 without the self inflicted wounds... Penn state did a good job making it look close
Nailed it! Nobody watches minor league baseball. The xfl paid players and nobody cares. Arena football, who cares nobody watches it. There is heritage in a lot of football. Change it and see what happens. But I don't think it will stay the same. Ohio state brings in a lot of money but what if colleges, say Bowling Green decides to pay their players more than OSU to "gain a competitive edge"... it will break universities trying to compete
They are not a school employee, but soon they will be. If the school is paying them and the vast majority of people pay to go to college, why shouldn't they? I get why they "sweeten" the pot, free school and get paid but if you're now an employee of the school and go for free that's like paying the music scholar for showing up to class. Now if they are selling albums... maybe they should get a cut. Video games should pay these people for their likeness as should a music student producing an album and the school selling it should get a piece of the pie. But the school shouldn't have to pay them twice, scholarships and a pay check? They should be able to profit anyway possible from there likeness but I don't get paying them double. Should they get every penny the university makes off them?
Bucks win by at least 21...
So do they have to pay to go to school or just play school. If they get paid they can pay for school like every other adult.
Great game but the best part was after when Urban pretty much called Matt leinart soft on the after game show hahahaha the difference between Ohio and California killed me!!!
Kinda petty but I expect that from fans... pretty soon you'll get banned for booing the other team...
He should patented "painted hairline" but I guess he grew out of that...
Nope kinda feel like we're going the Alabama route... just go undefeated it doesn't matter who you play if you're in a power 5 conference
Yes please! He's electric! And back in Ohio is the perfect place
Lmao we've already seen this movie... it was a horror show. And I didn't get over it till Urban came to Columbus.
East on 71... it goes north south
As they did under Urban Meyer... Day hasn't even coached a game yet... still Urban's players
9 units strong blah blah blah... most important unit on the team is d-line.... 2007 is a reminder of ghost of d-line's past...I know Urban broke even but that shit stung!
Exactly!!! He's not an employee... He's wearing a block "o" on his shirt gotta be news worthy
It's not business when one side gets paid. They are both mobile quarterbacks, Fields has a higher ceiling. These kids are treated like race cars. They think one is better than the other. And they dumped the other
I thought the same thing! Lmao is this Alabama's schedule!?
It's an "elite" place apparently...
Who da fook is that guy?! Jk best of luck to him
How could depth be a problem when the staff had to know bringing in a transfer like Fields might cause people to leave...