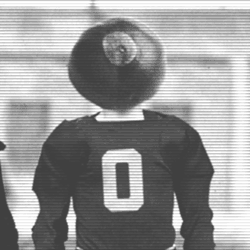 boojtastic
---
Member since 05 January 2011 | Blog
Recent Activity
i might be the only one, but i think the black stripe looks pretty damn sweet
to be fair, you can find fault with any of the services, but yeah, ESPN is #3 of the big 3. (Although I'm sure TAMU thinks they're great.)
Not to be needlessly contrarian, but I believe ESPN has the class at 6. That kind of undermines the "consensus" element of the "consensus #2 class" phrasing.
This work? http://imgur.com/ySthYLB
I liked this so much, I put it in flowchart form.
http://www.elevenwarriors.com/forum/football/2013/12/counterpoints-for-winners-in-flowchart-form
i was under the impression that a "fiddle of gold" was the standard unit of wager against the devil.
I'm sorry, are we just going to let it go that that dude's name is fucking Clinkscales?
Damn kids...GET OFF MY LAWN!
The sports media isn't biased; they're just tremendously, outrageously, colossally lazy.
Maryland, meet woodshed. Woodshed, Maryland.
That gif is decidedly not great. Prolonged exposure has been known to cause erectile dysfunction.
CURSE YOU, AGATE-INDUSTRIAL COMPLEX!
I don't have an issue with the style of it, but the design looks like the "A" is raised quite a bit, which means that those edges could definitely smart a bit when you've got a facemask against your arm as you're being driven to the turf.
Seems like a player safety issue, no?
Today, I learned what inverted veer means.
(The more you know!)
34-7 Buckeyes.
We're still doing football, right?
I feel the haters side is underrepresented. 21-18 OSU.
That's as much disrespect as I feel is safe to exhibit, given that, you know, John Simon exists.
That I can understand. I wasn't trying to be preachy either.
Despising Miami (OH) is kind of like having a rivalry with a toddler. You're better than that.
Can we please all stop a moment and acknowledge that Miami University is in Oxford, Ohio, whereas the University of Miami is in the state of Florida?
Thank you.
Interesting take. I don't think that Urban is looking to either Cooper or Tressel as guideposts for his tenure. He's as experienced as a new coaching hire can be and rightfully has a lot of his own history to draw from.
Doesn't make reminiscing any less fun though. The offseason is BORING.
While he's grotesque and incomprehensible to us, we want Jim Bollman on that wall. We need Jim Bollman on that wall.
...are we not doing A Few Good Men?
I can't help but think of Meyer as a viking on the recruiting trail, raping and pillaging at will. Sadly, I think Jim Bollman would have enjoyed the abundance of mutton and mead.
Why is it that playoff proponents think that those not on board are doddering buffoons that choke on split pea soub and lose shouting matches with clouds as we burden society by making relatives--souls crushed by the shattered remnaints of their own abandonned dreams--dab drool from the corners of our mouths and contemplate suffocating us with a pillow? (That may have been a run-on.)
The playoff is not inevitable. The playoff benefits no one. Vive la resistance!
The plus-one system takes all of the worst attributes of a playoff and the worst attributes of the BCS ad crushes them together in an orgy pre-digested ESPN drivel. No playoff!