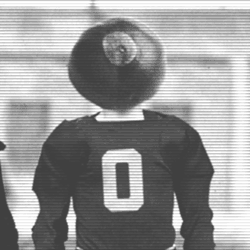 BoohBah Buckeye
---
from Westerville
Member since 10 March 2012 | Blog
Favorites
SOCCER TEAM: Columbus Crew
Recent Activity
I'm waiting for this class to 'drop' a national championship on these 'raters' heads!
I love them both preferably on the same day.
Bosa. WOW!
Chase Young. Film amazing.
Matthew Jones. Film is incredible.
Sheffield. Dude is a force.
Baker. He's the perfect hybrid with amazing instincts. NFL abilities on defense.
Joe Burrows. Wait Wait he'll show why later.
Note Our best talent is coming up the line!
Waiting for more info: Jalen Gill, Master Teague, Brandon White, Michael Jordan, Denzel Ward.
Three rules for down voting. Bambi rule; Forest Gump rule; Dos Equis rule.
"If you can't say something nice don't say nothing at all."
"Stupid is as Stupid does."
"I don't down vote very often but when I do it relates to Michigan."
There you go.
I can't help but feel there are some X Factor players.
Wilson seems to like quick players in his offense.
DeMario McCall just seems too talented to keep off the field. EGW likewise appears to have a ton of talent, and love the fact he is moving to offense. KJ Hill was supposed to be slow but I found him to be quick and fast. Binjamin Victor also appears to be a mismatch in the making. Alexander performed well in limited action as a TE receiver. Austin Mack also may emerge; however that is based only on posts about him that I have read.
I think we may be surprised with players who will emerge under Wilson.
Also, I can't help but feel that Wilson wants QBs who are naturally gifted at quickly reading the defense and accurately getting the ball to the hot receiver. I'm sticking my head out by saying that Burrows bubbles to the top here.
Wohlabaugh was once reported to be the most likely Center for next year and is developing nicely. Perhaps that was before Price decided to return. I worry that Price may not have the mental wherewithal to be center. Hard not to put Price at Center since that gives him more pro potential I suspect.
One area of need for OSU might be the tall/big receiver who can high point the ball. PSU used this to perfection. With smaller corners the mismatch might be the tall WR who can go over the corner physically.
Love seeing the two alternatives are tall receivers!
To counter my devilish post, Meyer does emphasize recruiting as his number 1,2,3rd highest criteria for an assistant coach. From all accounts Beck had a stellar recruiting record.
I guess 'good riddance' is an endorsement.
(Devil made me do it)
Ramsey and Right On are both the same name!
I have no problem with this decision Go out on an amazing high!! Get as much money as you can!! Glad to have had had him for a year!
Prince was capable early in the season. He had some very good games. I do think that the grind of the season got to him, however. He did not bend we'll and lost fundamentals late in the season. Also, JT Barrett also did not step up into the pocket making Prince's problem's more profound.
I think, with the extra time to work on fundamentals and get over the first time starter impact of the grind that he will play like he did in the first part of the season.
IMHO
Blessed I was in Norman when we won against Oklahoma and I was in the stadium when we beat Michigan. The only two games I was present!
We played open and went for it in Norman and it showed with a fantastic showing. We played not to lose for 3+ quarters against Michigan and then we unleashed.
My hope is and I think we do it, we played crazy hair on fire football in this Championship series and we go for it. If we do we beat Clemson and then we need some element of luck against an amazingly physically talented Alabama team. BUT we've done it before!!!!
I would NEVER beat against Urban in these situations NEVER!!!!!
I'd buy a hat and shirt! And wear it when I go to Michigan on business EVERYWHERE!!!!
I'm working on selling my two oldest to buy these tickets! Come on man be a FAN!!! (TIC)
BIG TEN COY is synonymous with the 2nd best coach in the league.
The National Lampoon is alive and well in this thread! LOL!!!!
So, does JT give Joe his first name back?
The QB switch seemed seamless! WOW!
When all the evidence is presented and cross examination allowed, the Pennsylvania jury found for the former assistant coach.
For me that is telling.
FWIW!