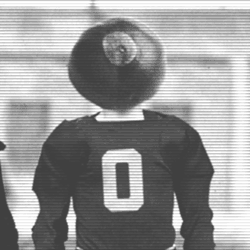 bobsegersilverbulletband
---
MEMBER SINCE December 30, 2017
Recent Activity
Small point...Hartline didn't go to Massilon, he went to Canton Glen Oak.
Here's hoping your SWAG is 100% correct. That would be a helluva class, especially for a head coach who can't recruit.
I was in agreement prior to the playoffs. Now I waiver,
All of the mentioned could help the Giants. Sigh.
Realistic. I might kick Okudah's up a bit. If he progresses from his Rose Bowl performance I'd put him at 75% or better. Other than that I think you are dead on with the others although barring a real breakout I think their chances of going in the first are zero.
If he shrinks again he could bolster Zone 6
Actually they will get to see their mistake everyday. Only get to see Haskins 2x per year.
How can it be anyone but Cardale & the NC run?
Yikes! This is not good.His explanation makes me wonder. Is he really homesick or does he just not want to sit behind Fields for 2 years. I'm guessing its the latter.He's already missed a year redshirting and now will lose another by transferring. He's unproven at the college level. Hope this turns out ok for him but he looks like he's on a downward path at the moment.
Awesome. Just effin' awesome.
He just signed a big extension. I think you;re stuck with him.
Crucial game. Lose and ghosts of last year start to creep in. Win and its looking good. Can't bury 18 seasons of frustration until horn sounds and 4th win is in the books.
I'd like to see Phil get his 4th or Spieth find his game and get his 2nd. Highly unlikely on both fronts.
Finau is a good dark horse.
I
I'll go with DeChambeau or Fowler as the winners.
I'll
After watching the NCAA tournament I don't have great expectations for the Bucks next year. Things that could change my mind:
Kaleb Wesson learns how to play without fouling. Also somehow improves quickness and tenacity.
The 3 newcomers perform above expectations.
Overall the team improves its shooting.
If things break great a Sweet 16 is about the best I see. More likely a 2nd round loss.
He's going to be in a TV studio, yes?
I think the rule should go as quickly as possible. Let the one & doners go to the pros and quit screwing up college bb. Let's see if K & Calipari et al remember how to build a program and develop kids rather than loading up on the best of the best and coasting to conference titles and #1 seeds.
I'll be rooting for Sparty to knock off the Dookies today. Izzo will flourish in the post-one and done era. Not that he has done poorly with the rule in effect.
Kyle Young transferring? LOL.
I think Zion charged twice on 1 play. I thought the kid who rebounded the missed foul pushed off.
I agree the alley oop was an overly aggressive play at that point in the game.
Game as changed a lot since I played; much more physical which makes fouls harder to call imo.
Bottom line I think UCF got hosed at crunch time.
Lucas
Jackson
Hoskett
Havlicek
Conley
Tough to compare guys from different eras. I"ll add Aaron Craft as my favorite.
No. If you read through previous threads about 2020 it has been discussed quite a bit. The consensus opinion, I believe, is that having a few Ohio 3 stars is okay to good for the program but Ohio should not become the primary recruiting area.
Having said that I am a bit concerned that the Bucks are tilting a bit too much in that direction and I am hoping a lot of the in state offers extended and to be extended are not commitable at this point. Time will tell.
But not a lot of powerhouses in their respective offers either. A couple of these kind of recruits is good but I hope the Bucks limit these types.
How did Harry Miller not get listed at least at 3c?
Edit: OOPS only one center spot so author only went 2 deep. I missed that first time around. I think Miller could wind up as the backup.
Not sure it is all about momentum but it sure has a lot to do with it imo. If you're a 5 star guy and all of a sudden the other 5's and 4's start committing elsewhere it would have to make you wonder. On the other hand if guys are committing left and right the natural reaction is I better get on board. May be an oversimplification but to me it is a very important factor.