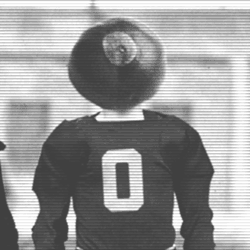 bobsegersilverbulletband
---
MEMBER SINCE December 30, 2017
Recent Activity
Brian's Song
Friday Night Lights
Remember the Titans
Hoosiers
I've been gone from Columbus for a bit over 10 years. One thing I don't miss is all those places that cut the pizza into little rectangles. A pizza was made to be cut into triangular slices that can be folded over so that the oil runs down your arm when you take a bite. Although I think Massey's has a uniqueness to it that I haven't seen replicated anywhere. For the record I would take a large pepperoni & sausage with extra cheese from places that cut like I described.
I was going with this. Same as I told my brothers-in-laws when Miami U changer to Red Hawks.
Great analysis and a lot of work. If you ever do this again I'd include an average per player which would help compare classes with uneven total number of players. Obviously I'm too lay to do that. LOL.
Johnny Cash doing Springsteen's Further On Up the Road
Springsteen doing Tom Waits' Jersey Girl
Janis Joplin doing Kris Kristofferson's Me & Bobby McGee
Willie & Merle doing Townes Van Zant's Pancho & Lefty
Yeah, I wondered about that one being in the original list. Just bustin' you a bit.
I have always thought they should have kept the nickname and changed the logo to a potato...Proud OU grad
Sheila - Tommy Roe
Catch Us If You Can - Dave Clark 5
Either a young gun or like me too old to remember. :-)
Me & Bobby McGee - Janis Joplin
Badlands - Springsteen
The Boxer - Paul Simon
Sunday Morning Coming Down - Kris Kristofferson
Positively 4th Street - Dylan
,,, on as in love on, hate on, good on,etc.
Acrossed the street
lack of adverbs as in he played poor opposed to he played poorly.
Another DB whose name starts with J.
I assume you were being sarcastic? Texas Western were the champs in '66.
What every one else said. He was a great lyricist. RIP.
You can't cure stupid and this thread is living proof.
I thought he moved to DE also. There were mentions of him being a Sam Hubbard-like guy. Stover at TE seems a waste.
I think there are two issues here - one will they be found guilty in a court of law? the second is their behavior and how it reflects on OSU and the team. To me there is enough smoke to believe their behavior brings a cloud to OSU & the program and for that they should be immediately dismissed from the team. It is no different than a company discharging an employee for a violation of company policy.
As to whether or not they are guilty as defined by law, we all know, or at least should know, that a good defense attorney, whose job it is to defend his client can present evidence and question the victim in such a way to get a not guilty verdict returned when anyone with half a brain can see what happened. OJ case anyone? Being found not guilty isn't the same as innocent.
I lost my son to mental illness. Many of you should do some research on the matter before you spout off your asinine comments. I will take him at his word and hope for the best for him.
Great songwriter...needs to be in R'n'R HOF. Hasten Down the Wind is one of my faves not previously mentioned. Love the irony in his lyrics. Definitely gone too soon.
Treg Lee with the baseline jumper to knock off Indiana in double OT. Don't remember the exact year but it was in the JJ & Funderburke era when Indiana had Damon Bailey, et al.
Assuming all 5 mentioned above declare that leaves 13+18+34=65. That leaves 65 guys on scholarship or room for 20 recruits. Lots of possibilities that could be put forth to get the number up but I'm talking pure numbers.I can see 2 logical transfer candidates so 22 is doable but without some pushes that's the most I see.
I was looking at the scholarship grid and several things popped out:
Counting RS's the Bucks will have 34 freshman next season.
Accounting for the seniors and 3&4 year guys who will leave early I calculated 66 spots filled leaving only 19 spots for the 2021 class.
Obviously some guys will transfer out or have medical reasons to leave. I only see 2 guys who are logical transfer candidates so unless some other guys voluntarily leave or are encouraged to do so I think this class is going to be to the lower end of Spooner's comment that most classes range between 20-25 recruits.
To accomplish the OP's question I would suggest joining the ACC in the division Clemson isn't in, relocating the campus to Spartanburg SC and lowering the recruiting standards to include players other than those with upstanding reputations./s
I think Browning as a MLB is miscast. He either needs to be an OLB or switch to DE. I'm not sure there is enough time left to develop him as a full time DE but as an edge rusher when circumstances call for it he could be great.

Checked last year's first go round and we landed 1. Hopefully this year brings many more from the first list. Not being critical just pointing out the way things change.